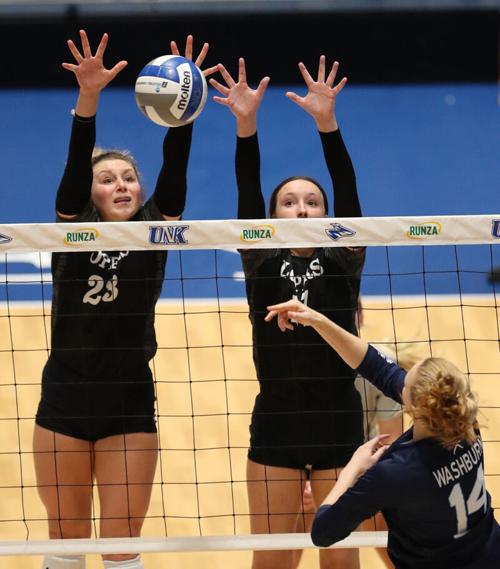 KEARNEY — The perch atop the national volleyball rankings proved to be a bit slippery, and the University of Nebraska at Kearney volleyball team fell off.
No. 3 Washburn blasted the Lopers 25-22, 25-20, 21-25, 25-21 Saturday night at the UNK Health and Sports Center.
The Ichabods (9-1) had 65 kills in the match compared to UNK's 47. They also had 14.5 blocks to UNK's five, and hit .240 to the Lopers' .172.
"They just kind of out worked us, out played us, out-coached us, all that stuff," UNK coach Rick Squiers said.
There was little doubt the Ichabods came in with a purpose. And when they had a little success, they confidently attacked the Lopers (8-1) and put them on their heels. Meanwhile, the Lopers couldn't get the Ichabods off their heels.
Only one missed serve on the UNK side of the statistics sheet showed, 'You're not serving tough enough. ... We were not able to make them uncomfortable in serve receive," he said. "The one stretch where we did have some success, it was because we had a server back there who was bothering them. Breanna Jones kind of helped us win the third set."
Jones stepped to the line after UNK had gone ahead 19-18. She immediately served an ace, one of a team-high three that she had, and rotated away with the Lopers on top 22-18.
Jones also had 16 digs, second on the team to Lindsay Nottleman, who had 22. Setter Maddie Squiers was next in line with 13, a number that cut into her assists.
Her sister, Anna, led UNK with 13 kills and five blocks while her reflective middle hitter, Bailee Sterling, had 11 kills. Outside hitter Emerson Cyza had 10 kills.
Washburn had four hitters with 13 or more kills and always seemed to be in system.
"They have too much firepower to let them run whatever they want to," Rick Squiers said. "
Meanwhile, the Lopers spent most of the night scrambling, unable to run what they wanted to.
"It's that age-old volleyball issue: If you can't be in system and run whatever you want, then you're throwing a lot of balls to the outside and we just couldn't score out there, consistently," Squiers said.
Cyza had some success, which Squiers credited to her experience playing at Wyoming. Freshman Asha Regier had five kills and hit a negative .073.
"We made it tough on Asha by throwing balls out to her when that was the only option we had so they hat two blockers and they play good defense and that was an issue all night long," Squiers said.
UNK will have a chance to regroup Monday when the Lopers host Hastings College for a 5:30 p.m. game at the Health and Sports Center.