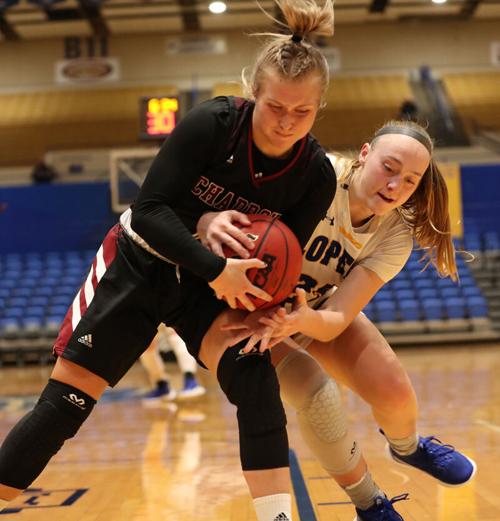 KEARNEY — When the three-pointers fell, so did Chadron State.
Hitting five three-pointers in the fourth quarter Saturday afternoon, the University of Nebraska at Kearney women's basketball team pulled away for a 71-44 win over the Eagles.
While the three-pointers delivered the stake to the heart, the Lopers' defense had already locked down the Eagles, holding Chadron to 13 points in the first half.
"We continue to say it and that's kind of what we built our program on — we're going to defend and rebound and make sure that we give ourselves a chance in every game whether or not our offense is clicking on all cylinders or we're struggling," UNK coach Carrie Eighmey said.
The Lopers (5-1) are also going to go inside.
"That's where our advantage was, in the paint, and we knew that kind of going in. ... Every time we went in there, we were able to capitalize," Eighmey said.
Forward Shiloh McCool, starting in place of the injured Klaire Kirsch, led the Lopers with 14 points and 11 rebounds. Center Brooke Carlson added 11 points, becoming the 27th Loper to eclipse the 1,000-point plateau in her career.
Most of their points came in the first half and Chadron State (1-4) made a move, offensively, scoring 22 of its 44 points in the third quarter.
"In the third quarter we gave up some offensive rebounds and fouled and put them at the free-throw line and gave them some opportunities."
With a six-point run to start the fourth quarter, the Eagles pulled within 11 with nine minutes left.
But that's when Haley Simental swished a three-pointer from the left wing. She would add another before the end of the game for her only points.
"If you're not necessarily shooting it great and they're double teaming your post players, you find ways to put the ball in the basket. We were able, especially in that fourth quarter, to move the ball a little bit more … get some good ball reversals, inside touches and then we're able to get outside threes," Eighmey said.
Megan Holt — who joined Simental, Trinity Law and Samantha Moore with two three-pointers apiece, finished with 10 points to give the Lopers three players in double figures.
UNK will be back in action Thursday night, opening MIAA play at Emporia State.