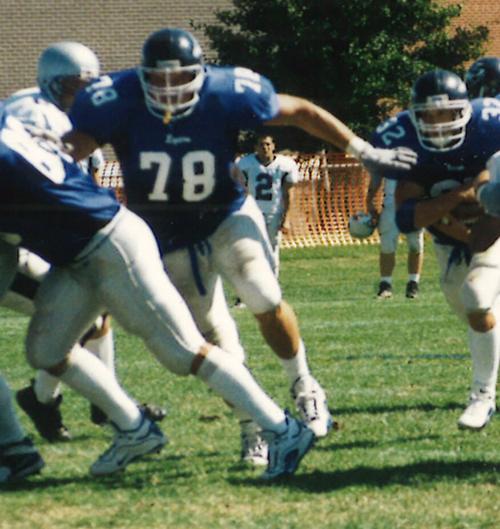 KEARNEY — Brett Wetton often gets asked what he was doing at the University of Nebraska at Kearney.
"I was probably recruited by, I don't know, 50 or 60 Division I schools. I was 6-foot-8, 305 pounds in high school and basketball was probably my best sport. I could dunk."
But when Claire Boroff offered a "big scholarship," Wetton became a Loper.
Wetton, who graduated from UNK in 2002, was one of the most memorable offensive linemen to play for the Lopers and the school record-holder in the 35-pound weight throw. Hard to overlook because of his size, Wetton came close to forging an NFL career.
Descended from American missionaries and British colonialists, Wetton was born in Rhodesia, now Zimbabwe, and came to Nebraska at the age of three, leaving behind a nation in political turmoil.
His father had a sister living in York, and the family, which included two younger brothers, settled in Geneva.
"My father left when I was about five and so my environment was a single mother with two younger brothers and myself trying to figure out how to, navigate everything," Wetton said. "So when it came to being recruited, not really having a father figure in my life, I didn't really understand it. I received letters from Nebraska and Wyoming and Missouri and Iowa and Iowa State and I could go on and on. I didn't understand what that meant."
He had decided he wanted to stay close to home and Boroff's offer sounded good enough. It's a decision he's never regretted even though it has caused others to shake their heads.
"I think I ended up being in the best place that I could have been, honestly," he said. "I get asked quite frequently, 'Why don't you play at Nebraska? Why not here, why not there? You should have had a long career in the NFL.
"Even the NFL scouts would ask, 'Why are you here?' They thought something was wrong. It was like I just seemed out of place. But honestly I say the very best place I could have gone to college and if I had to do all over again, it would be the University of Nebraska at Kearney. I had fun."
He did have a brief brush with the Huskers.
After his redshirt freshman year, he started the transfer process, joining the Big Red for summer conditioning.
"I thought, if I'm going to play football and put all this effort into it, maybe I should go to Lincoln and just go give it a shot. When I did it, I didn't realize that you have to sit out for an entire year. And so I spent about two weeks there that summer," he said.
He called UNK coach Darrell Morris and they made a deal.
According to Wetton, Morris said, "If I cut you, you better bleed blue and gold. If you'll accept that, then we would love to have you back."
"They honored my scholarship and I came back that next year. Ever since then, 18 years later, if you cut me I will bleed blue and gold. I will do my best to help the football team and UNK, in general, which played a huge role in my life," Wetton said.
The first in his family to get a college degree, Wetton found the role models he needed and forged the relationships that he values more than anything.
The coaches were like family to him and the players came to be his friends.
"For lack of a better term, going to war with your teammates, practicing day in and day out and going to school at the same time. … Really, honestly it's benefited my life to be able to get along with people," Wetton said. "Also with the coaches like Coach Morris and Coach Boroff, teaching you how to critically analyze, teaching you how to be savvy, teaching you how to control your emotions yet play your role on the team."
As a right tackle, Wetton's role didn't garner much public attention. He received as much notoriety as a member of the track team.
Track coach Andy Meyer found Wetton in study hall, remembering him from his high school days as a discus thrower and shot putter. But what Meyer had in mind was the 35-pound weight throw.
"Have you ever seen it? It's really kind of awkward," Meyer said to Wetton.
With permission from the football coaches, Wetton joined the indoor track team.
"I still had to do all the (football) practices, all the morning lifting … but I started tossing it around and I think that ended up going very well," Wetton said.
He set the school record and the Rocky Mountain Athletic Conference record in the event and was a two-time All-American. He liked the event because it had many of the same qualities of playing offensive line.
"You have to have control and you have to have technique, you have to have the strength, you have to have the explosiveness and I just loved the sophistication that was wrapped up in being a good weight thrower," he said.
The 35-pound weight wasn't the only thing Wetton could throw. In pregame warm-ups, he would put on a show throwing the football all over the field.
"If you were to ask me, or you can ask any offensive lineman, what they want to do when they grew up, you want to be a quarterback. … I can throw all the routes. I can throw it as far as 80, 85 yards. I can still throw. Just one of my little hidden gifts," he said.
The skill helped him lock down the role of long snapper for the Lopers and it was a skill that he hoped would get him into the NFL. But he was trying to squeeze into a position occupied by players who have been nothing but long snappers throughout their careers and their experience gave them an edge.
Still, Wetton gave the NFL a shot.
"I needed to exhaust that so I have no regrets that I did my very best to pursue a career in professional athletics," he said.
He tried out for the Seahawks, the Chiefs, the Colts and the Rams. He played indoor football for the Omaha Beef, Kearney's Tri-City Diesel and the Rapid City Flying Aces, making the league all-star team with each team.
"I know the Seahawks thought I would be a good combination to be a tackle and then have this hybrid ability to be a tight end in certain situations," Wetton said. "At that time I was in really good shape at 335 pounds and I ran very well."
But they wanted him to lose weight, get down to 275 or 280 pounds.
"At that time I didn't have much excess to lose so the prospect of losing that much weight, just didn't seem like something that would be a fit for me," he said.
He believes he was very close to making it in the NFL. His agent said the final cut came down to him and another player.
"At the end of the day I think it's a really thin line between the people that make it and don't and I think I was right on that line and really grateful for the opportunity to represent my family and UNK and just didn't make it."
When his indoor football experiences didn't present any more NFL opportunities, Wetton gave up the game.
He now lives in Kearney with his wife and three children — Lokk, Evelyn and Alta — all under the age of five.
"It really gives you a lot of energy to keep up with them and helping them navigate this world and all those things. It's been a lot of fun to do that with them. I really enjoy them," he said.
Professionally, he's been focused on the medical world for quite some time, doing everything from distributing pharmaceuticals to consulting and investing. For the past five years he's been with Zoll Medical, a cardiovascular company.
Be the first to know
Get local news delivered to your inbox!