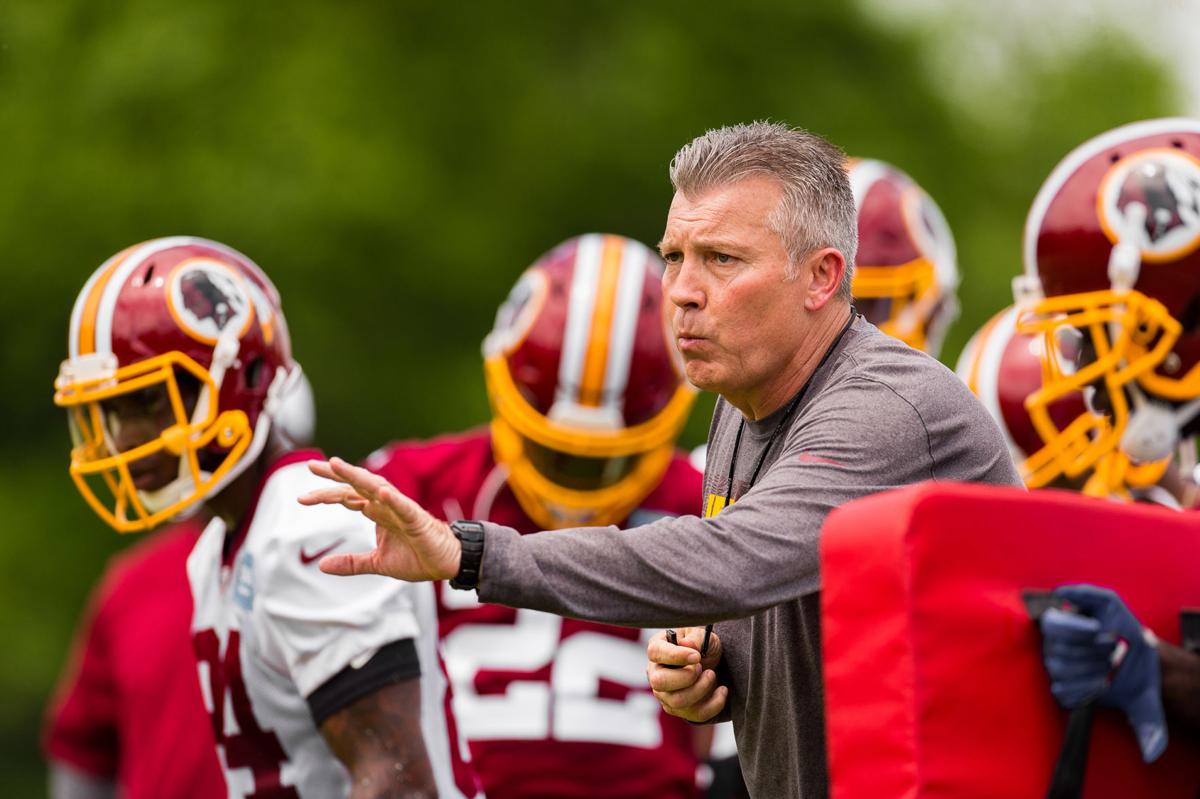 KEARNEY — Nate Kaczor has a mini helmet of each team he's coached on a shelf at his Virginia home.
One of those helmets is from the University of Nebraska at Kearney where Kaczor served as the offensive coordinator from 2000 to 2003.
It was the first coordinator position he held and that helped him move up the coaching ranks. Five years after he finished his last season with the Lopers, Kaczor earned his first NFL coaching opportunity with the Jacksonville Jaguars.
Kaczor is in his second year as the special teams coordinator with the Washington Redskins but regularly thinks back to his time with the Lopers.
"An old coach when I was at UNK named Terry Renner always had a saying that, 'You only know what a Loper is if you've been one,'" Kaczor said.
Kaczor served as an offensive assistant for nine years at his alma mater, Utah State, from 1991 to 1999. He coached tight ends at Utah State, which allowed him to understand the passing and running games. Kaczor didn't have experience as a coordinator or calling offensive plays, though.
That didn't stop newly hired UNK head coach Darrell Morris from taking a chance on Kaczor.
Morris hired Kaczor as the offensive coordinator in 2000. Morris entrusted Kaczor with calling the plays and continuing what head coach and offensive coordinator Claire Boroff had built in Kearney.
"The chance he took on me on paper was a big chance," Kaczor said. "He's been a big mentor throughout my career. I will forever be grateful to him for giving us that opportunity.
"He basically, with guidelines, allowed us to put our fingerprints on a very successful offense and make it our own in certain ways. He wanted us to blend a little bit of new with what was in place and he allowed us to have ownership of the offense. He entrusted me with the offense with his guidance."
One of Kaczor's biggest tasks was working with star quarterback Justin Coleman in 2000. Coleman had excelled in his first three collegiate seasons and was a finalist for the Harlon Hill Trophy — the Division II Heisman Trophy — his junior year in 1999.
Despite the Lopers transitioning from Boroff to Morris, the offense remained prolific under the new regime. Coleman earned Rocky Mountain Athletic Conference Offensive Player of the Year in 2000 and departed UNK with 11 Division II national career passing records.
Kaczor said coaching Coleman was one of the highlights throughout his four years with the Lopers, Kaczor said.
Kaczor also was a part of the Lopers' first-ever RMAC title and Division II playoff appearance in 2002. The Lopers posted a 9-2 record that season, which included victories over Nebraska-Omaha, Wayne State and Chadron State.
Kaczor spent one more year with the Lopers in 2003 before moving up to the Division I level as the co-offensive coordinator/tight ends coach with Idaho.
Kaczor hasn't forgotten about his time with the Lopers.
He grew up in Scott City, Kan., and always has been familiar with the state of Nebraska as his father's side of the family is from Boyd County.
He remains in contact with Morris and players from those Loper teams, he said. He also is thankful for the opportunity he had to grow as a coach in his four years at UNK.
"I will never forget a quote that Darrell said to me when I interviewed because I was coming from Division I football, and he said, 'Nate, these guys on fourth-and-1 feel just the same as they do in Division I on fourth-and-1,'" Kaczor said. "Basically after those four years, I learned that success or the level you're at is all relative. No one really cares. You're in the NFL or you're at UNK — when you win, people love it, you're all in it together and the team experience and camaraderie are amazing."
Kaczor isn't the only coach on Morris' first UNK staff who has gone on to the NFL. Todd Wash, who was UNK's defensive coordinator from 2000 to 2001, is now the defensive coordinator with the Jaguars.
The two former UNK coordinators remain in contact and regularly meet up in the offseason, Kaczor said.
"When we were in Kearney, even with as bad of a golfer as I am, I could've hit a chip shot to Wash's back door from my apartment up by Windy Hills Elementary," Kaczor said. "It's awesome. Darrell gave Todd and I ownership on our side of the ball. We were having a blast. Darrell did a great job of collecting coaching talent. It's really ironic."
Kaczor coached at Idaho for two years after his time at UNK. He then coached two years at Louisiana-Monroe before the Jaguars hired him as an assistant special teams coach in 2008.
He worked his way up the coaching ladder, spending four years in that role with the Jaguars. The Tennessee Titans hired him as an assistant offensive line coach in 2012, and one year later, promoted him to special teams coordinator.
He was the special teams coordinator for the Titans for three years and then was in the same role with the Tampa Bay Buccaneers from 2016 to 2018.
Last year, Kaczor joined the Redskins as their special teams coordinator. The Redskins hired Ron Rivera as their head coach this offseason, and he retained Kaczor.
The 2019 season was disastrous for the Redskins, who went 3-13, but the special teams unit was a bright spot. Punter Tress Way earned a Pro Bowl selection. Undrafted rookie Steven Sims also provided a spark for the Redskins in the return game. He scored on a 91-yard touchdown in a victory against the Detroit Lions last year.
Although Kaczor grew up in the coaching ranks on the offensive side of the ball, he feels it was a natural fit for him to coach special teams.
"I started doing special teams with the idea of wanting to get back to the offense, but I did it to get to the NFL," Kaczor said. "I found out after a year that special teams fit my personality and I really enjoyed it in the NFL so I stayed on that track."
Kaczor and his wife Angie have been married since 1992 and have two children, Kaylee and Micah. Kaczor remembers Micah, who's now 22 years old, running around the Health and Sports Center during their time at UNK. Micah played collegiate baseball at East Tennessee State and pitched in the Colorado Rockies organization last year.
Kaczor is appreciative of the time he spent in Kearney and believes it's what has helped him reach where he is at today in his career.
"I am just grateful, and I hope I can help young coaches who are getting their start just like Darrell Morris did for me," Kaczor said. "I hope I can give back half of what I've gotten out of coaching."​