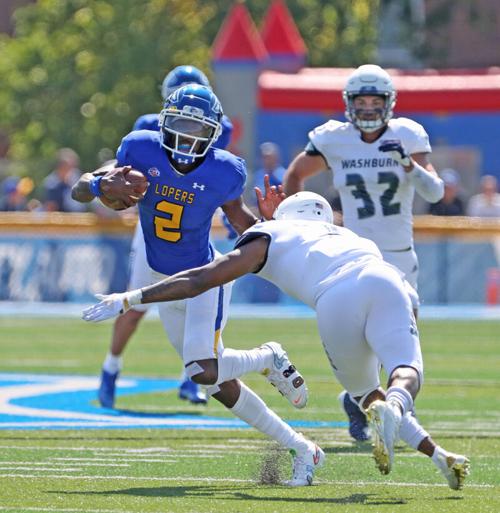 KEARNEY -- Quarterback TJ Davis scored from 8 yards out with 57 seconds left to play and safety Darius Swanson intercepted a pass to snuff a Washburn comeback as the University of Nebraska at Kearney defeated the Ichabods 28-24 Saturday afternoon.
The victory keeps the Lopers tied for the top of the MIAA standings with a 3-0 record while Washburn suffered its first loss of the season.
The Ichabods, who compiled 372 yards of total offense, had taken the lead with 8:34 left in the game on a 26-yard field goal by Kameron Lake. It was their second lead of the game and neither team led by more than a touchdown on a hot, steamy afternoon at Ron and Carol Cope Stadium at Foster Field.
The humidity contributed to a bungled snap from center during a fourth-down play by the Lopers on the drive before Davis' final touchdown as the ball slipped out of the center's hand.
It was one of many adverse incidents in the game that included 9 penalties for 88 yards and three fumbles by the Lopers.
"In the past, we necessarily don't win those games for certain reasons," UNK coach Josh Lynn said.
But in the past, the Lopers didn't have Davis. The third-year player from Colorado Springs had a career day, rushing for 258 yards and three touchdowns while completing 16 of 26 passes for 166 yards.
He scored on a 51-yard run in the first minute of the fourth quarter to put UNK ahead 21-14. He also had runs of 30 and 62 yards on one drive in the second quarter when Washburn had pinned UNK at the 1-yard line with a coffin-corner punt.
"When we needed a play, he made it," Lynn said. "We go when TJ goes."
Many of his yards came on run-pass options where he would set up to throw and wait for the defense to commit.
"We know we can hit those shots or just hit the check-downs and that's what we did today," Davis said. "When they started falling out, there was a crease up the middle and that's what we executed on."
Washburn's high-powered offense rolled up 372 yards of total offense. Quarterback Mitch Schurig completed 17 of 31 passes for 214 yards and a touchdown. Running back Taylon Peters gained 113 yards on 13 carries.
The Ichabods started out converting all of their first five third-down plays but were 1 of 6 in the second half.
"I think the drive of all the drives was when we turned the ball over and held them to a field goal," Lynn said.
Swanson, a redshirt junior from Aurora, Colorado, was among three Lopers who made eight tackles, joining Jaylen Perkins and Blake Bubak. Swanson also had two tackles for loss, a forced fumble, a pass break-up and an interception.