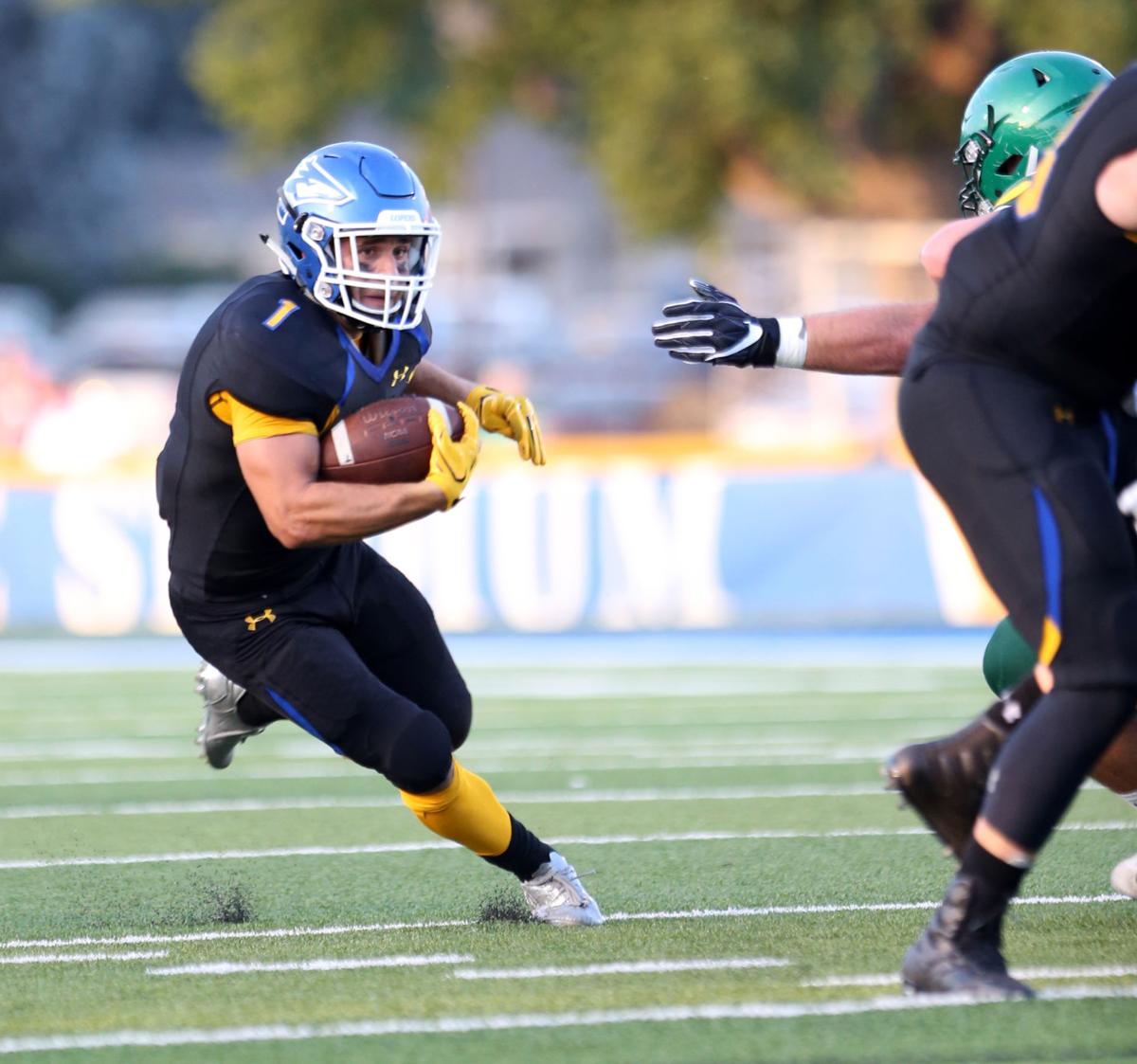 KEARNEY — Luke Quinn has experienced the highs and lows of University of Nebraska at Kearney football throughout his six years in the program.
The running back from Scottsdale, Ariz., has played under three coaching staffs in his six-year collegiate career. During that stretch, he was a member of the winless team in 2015 and also served as a key piece in the Lopers' success the last two seasons that netted them their first winning record this season - the first since 2011.
"As the years went by, you could notice that things were changing," Quinn said. "New turf, new weight room, things in the Health and Sports Center were just transitioning, we were getting more fundraising and coaching has changed and talent has changed.
"I remember back when I was a sophomore here there wasn't a lot of skill positions. Now, I'm probably on the most talented Loper team that has ever existed, I think. It's been a huge change, and they're going to continue to get better I believe."
Quinn never envisioned himself playing college football in south-central Nebraska. He originally committed to Wyoming as a walk-on out of high school until the program made a coaching change and hired Craig Bohl. Scrambling to find a college home, Quinn committed to UNK in 2014 under then-coach Darrell Morris.
He redshirted during the Lopers' 3-8 season in 2014 and then was the third-leading rusher on a winless team a year later.
In 2016, Quinn was a third-team All-MIAA recipient. He finished with 181 carries for 713 yards and nine touchdowns to go along with 23 catches for 255 yards and three TDs. He also passed the ball twice for six yards and a score.
After a 1-10 season in 2016, the Lopers experienced a coaching change.
Josh Lamberson left after tallying just one win in his two seasons, and Josh Lynn was hired.
Under Lynn, the Lopers have increased their win total each year. In Year 1, the Lopers posted a three-win season. Quinn redshirted due to an injury that season, but returned last year and had 69 carries for 295 yards and five touchdowns for the 5-6 Lopers.
This season, Quinn has had a different role than in previous years. He's worked out of the slot receiver position and has served as a valuable perimeter blocker when he hasn't received the ball.
Quinn has 11 carries for 37 yards and two touchdowns. He ranks second on the team with 14 receptions for 210 yards and one touchdown.
The Lopers are 6-5 this season and qualified for their 12th postseason appearance in the program's 113-year history. They face Winona State (8-3) in the Mineral Water Bowl at noon today (Saturday) in Excelsior Springs, Mo.
Quinn isn't surprised about the program's quick turnaround.
Lynn's ability to recruit, gain the respect of the players and implement a unique offensive system with the pistol-option offense have factored into the Lopers trending in a positive direction, Quinn believes.
"Those years we went 0-11, 1-10 were tough. It was really tough," Quinn said. "Then Coach Lynn came in here, and we got some recruits and we got some offensive weapons and you could tell that things were starting to change just by the way we were practicing and by the way we were running our plays confidently. It was just on the uprise."
Quinn hopes the Lopers can finish this season on a positive note with a victory over Winona State, especially after they ended the regular season with an unexpected 57-41 loss to Washburn at Foster Field.
Quinn is one of 15 players who've been a part of the program for at least four seasons. The commitment he and the others made despite the program's low points and the relationships built with teammates and coaches will stick with Quinn after he leaves UNK, he said.
"There was nights where I maybe had three or four hours of sleep because I wanted to be here," Quinn said. "I dedicated my life to UNK football, as well as the community around me. I will always remember Kearney for as long as I live."
Be the first to know
Get local news delivered to your inbox!