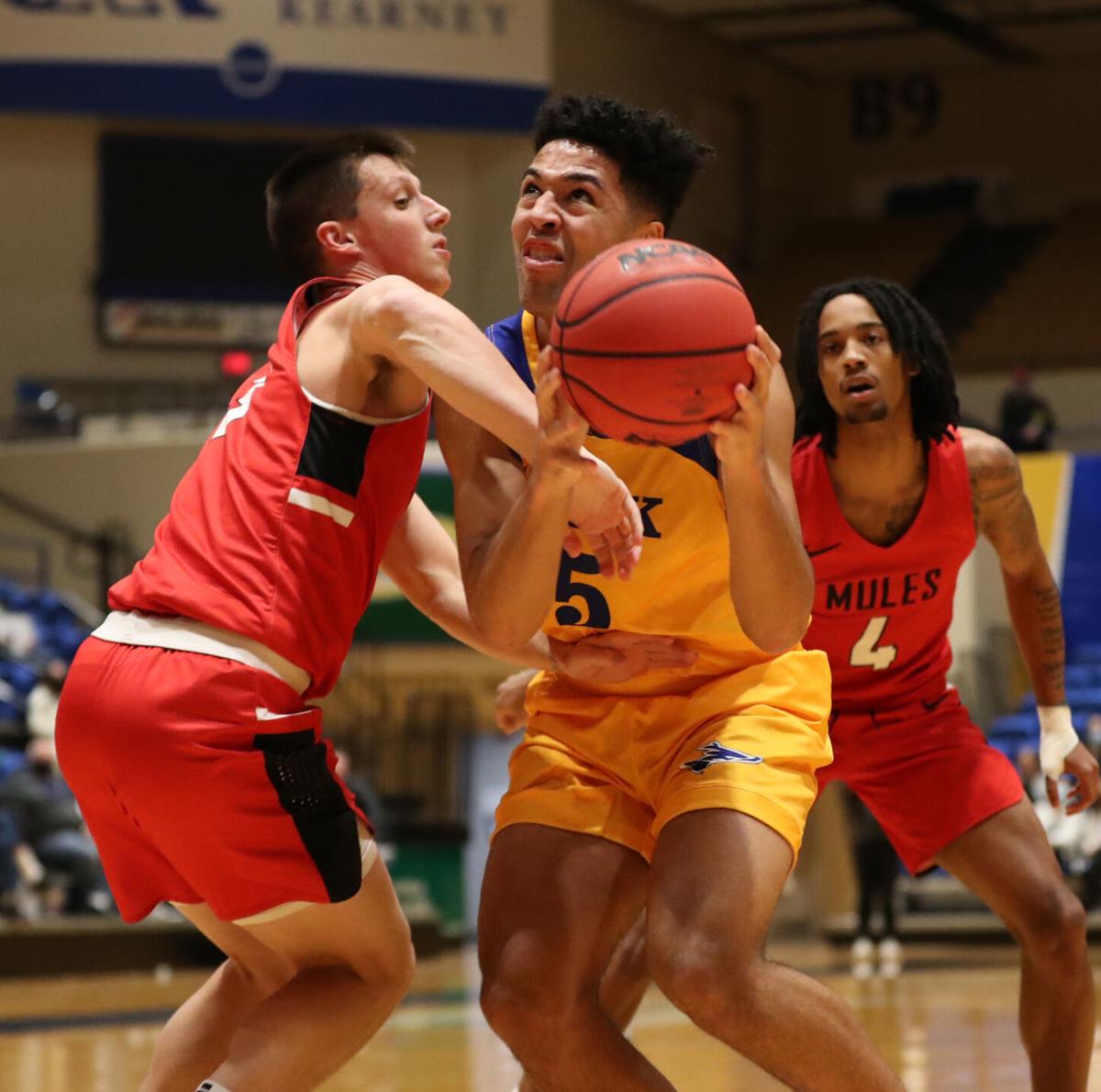 KEARNEY — The University of Nebraska at Kearney men's basketball team stayed on the path Thursday to qualifying for the MIAA Tournament with a blowout win over Central Missouri.
But the Lopers (8-11) likely will have to move forward without leading scorer Jake Walker, who is averaging 15 points per game.
The senior guard was dribbling the ball up the court late in the first half when his knee gave out and he fell to the floor. Coach Kevin Lofton said the extent of the injury won't be known until Walker is seen by a doctor, but from the coach's perspective, "It's serious."
The Lopers had built a 13-point lead when Walker went down and they went on to win 73-51. Fourteen Lopers saw action in the victory, including Kearney High graduates Collin Murray and Jaden Engen. It was Murray's first playing time, while Engen played two minutes earlier in the year.
"This was the first time we've had a margin this comfortable. ... It was a great team effort," Lofton said. "I was really proud of our guys and was happy to see that we were able to get some of the guys who have been working extremely hard in practice that hadn't seen the floor yet, they got a chance to get out there and give a good effort."
UNK grabbed the lead early in the game and had a double-digit lead with 11 1/2 minutes left in the first half. At halftime the Lopers led by 13. The Mules (6-13) opened second-half scoring with a free throw and never got any closer, falling behind by as many as 25.
"Our guys went out and defended at a pretty high level. I felt like we shared the ball at a good level. We had 21 assists and I think that's the second time all year we've done that," Lofton said.
Darrian Nebeker led the Lopers with 17 points, the fourth straight game "he's played at a really high level for us. When he gets off to a great start attacking the basket, that really helps us out," Lofton said.
Austin Luger and Matt Brien added 13 points each.
UNK shot 53% from the floor and 41% from the free-throw line. The Mules shot 33% overall and 25% from three-point range.
The Lopers will return to action Saturday afternoon when they host Lincoln University (10-9).
Halftime — UNK 42, UCM 29
Central Missouri — Cameron Hunter 14, Jalen Blaize 13, Koray Gilbert 11, Garrett Luinstra 4, Ante Sustic 4, Dillon Blain 3, Ja'Cor Nelson 2.
UNK — Darrian Nebeker 15, Austin Luger 13, Matt Brien 13, Winston Cook 8, Myles Arnold 5, Cedric Johnson 5, RJ Pair 5, Jake Walker 3, T.J. Fritz 3, Noah Valasek 2, Parker Badding 2.