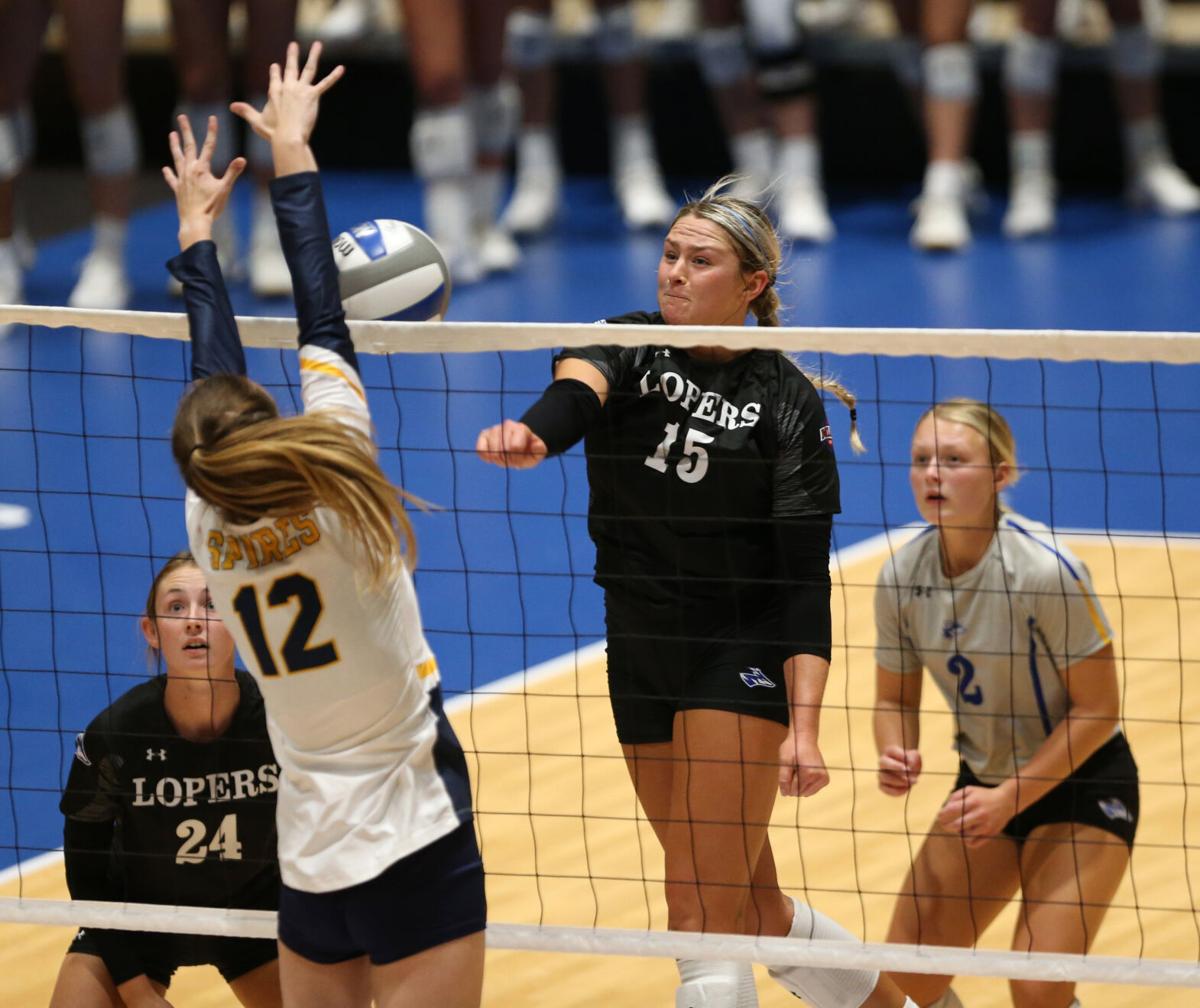 KEARNEY — One thing is immediately apparent: The University of Nebraska at Kearney volleyball team has plenty of depth.
Eight players recorded a kill, four more had digs and two others saw playing time Wednesday night as the No. 3-ranked Lopers swept St. Mary (Kan.) 25-13, 25-15, 25-17 at the UNK Health and Sports Center.
The Lopers (5-0) trailed three times but never after the Spires had six points.
The abundance of talent has coach Rick Squiers rolling players in and out while he aims to put together the best lineup. However, he said it's a good problem to have, especially with the continuing COVID-19 pandemic.
"You're already hearing about teams ... and people who can't play," he said. "If you have to choose between not enough and too much, we're going to take too much."
Sami Mauch, CeCe Beahm and Emersen Cyza led the Lopers with eight kills apiece and Asha Regier had six. Regier and Cyza played just two sets.
"It feels like we have depth in multiple positions, especially offensively and we just have not been in that situation," Squiers said. "As good as we were even in '19 — it was good offense and great defense — we feel like we could get to a point maybe where we have a great offense and hopefully still have good defense."
Squiers said he had two reasons for wanting to get a multitude of players in Wednesday's match.
"One because we need some of them to get more experienced and then the other reason is we need some of them not to have to play all the time," he said. "You have fourth- and fifth-year players out there and almost all have something they're rehabbing or trying to keep from becoming irritated so you want them to be fresh for the grinders that you know you're going to have coming up."
The onslaught of attackers played fairly clean, especially in the first two sets when they had a five attack errors and 33 kills in 62 attacks, hitting .452.
Performance at the net dropped off in the third set but Mauch blew the game open from the service line. With the score tied 6-6, the North Platte junior served four straight aces, then one more after a kill by Fallon Stutheit as UNK pulled away.
"That serve is just really tough to handle. You go back to the Gannon game and we win that match on a serve from Sami Mauch. It looks like it's going out and it falls straight down on the line," Squiers said.
Mauch is one of those with an injury history. Coming out of North Platte High School, she blew out her knee in an all-star basketball game and took a medical redshirt her freshman year at UNK.
She played as a sophomore, academically, before the pandemic erased her junior year.
She tweaked the knee again last spring and required another surgery, the kind of circumstances that cause players to question whether the rigors of rehab are worth it.
"I'm just not that type of person and I feel like I just never had the opportunity to play because every time I stepped out there I was hurt," she said. "Also, this team is special and it's a great program. I just wanted to have an opportunity to be out there."
The injury did force her to switch from being an outside hitter to the opposite side.
"That was strictly just because on the outside I land on my bad leg," she said. "So I just felt a lot more comfortable swinging on the right side of the net."
Squiers said, "She decided to make a really serious run at (the right side) and she's trained extremely hard in the gym all fall. She's gone after that position ... and she's getting comfortable as an attacker over there."
To go with her eight kills and six aces, she also had three assists, two blocks and 14 digs.
As a team, UNK had nine blocks dug up 54 balls. Senior libero Lindsay Nottlemann had a match-high 24 digs with senior setter Madison Squiers at 24 assists, five digs, three blocks and four kills.
UNK will be back in action Friday and Saturday hosting the Rosella Meier Classic at the UNK Health and Sports Center.
---