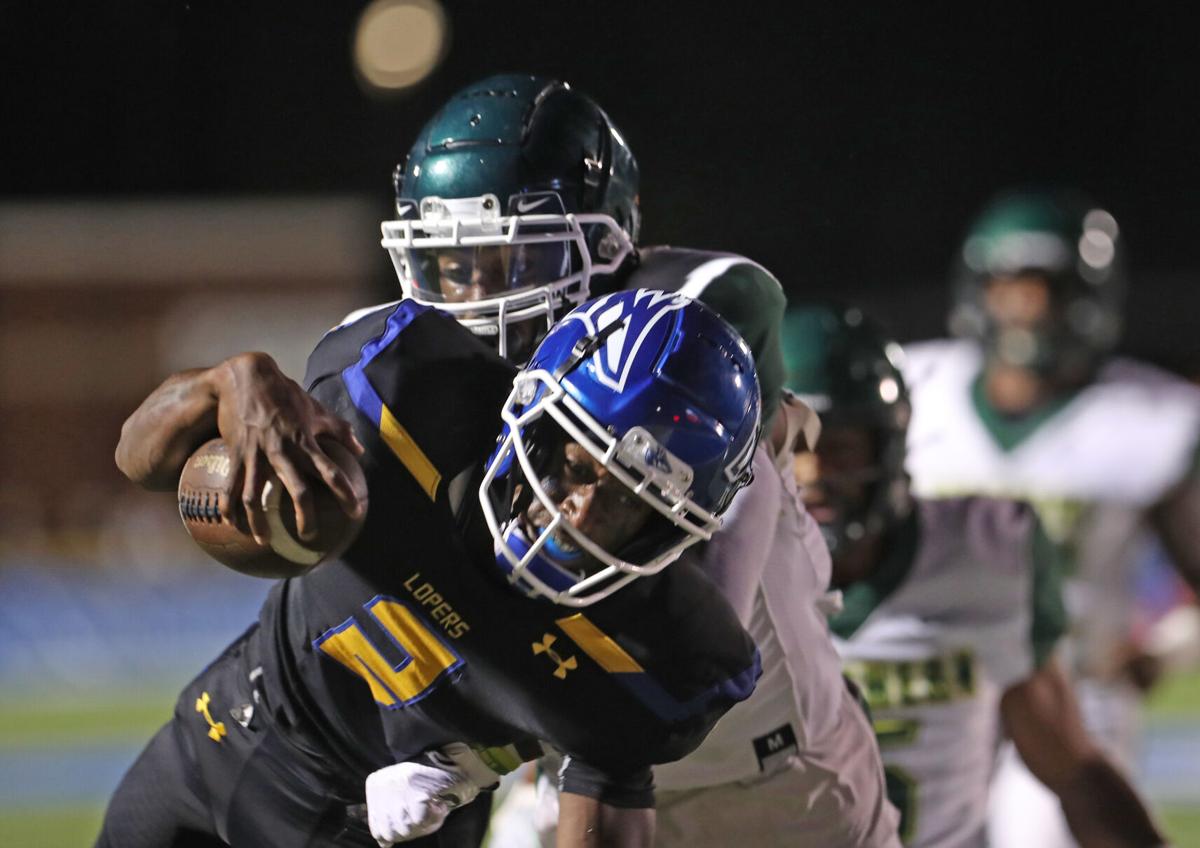 KEARNEY — It turned out to be a pleasant night for a football game.
And a pleasant way for the University of Nebraska at Kearney to open the season, beating Missouri Southern 38-0.
But the night didn't start out peaceful. Mother Nature provided the electricity in the form of lightning and she threw in a heavy dose of rain that delayed the kickoff 2 ½ hours.
The delay — teams were twice taken off the field during warm ups as storm cells passed through — also jolted the excitement level of the Lopers, who were playing their second home game in two years.
UNK's high-powered offense didn't put points on the board until the second quarter as the Lions put together drives of nine and 10 plays in the first quarter.
"They have a strong O-Line up front. That is the most physical offensive line from a Mo So team I've seen in my four years," said UNK defensive lineman Shane Henderson, who had five tackles. "I think it kind of took us by surprise the first couple snaps."
The Lions' first two drives accounted for 70 of their 184 yards of total offense as they had only two drives the rest of the game that lasted more than four plays.
"Initially we were almost flying to fast to the football and we were over-pursuing a couple things," Henderson said. "We were so energetic we had to take a step back ... slow down and make our tackles."
While the defense was on the field, the offense stood on the sidelines. Their only possession in the first quarter covered 93 yards, highlighted by a 47-yard run by JerQon Conner. But a fourth-down stop by Missouri Southern inside the 5-yard line kept UNK off the board.
"It just took us a little while to get going," UNK coach Josh Lynn said. "You have to get a feel for the game and sometimes it's hard to do that when you're only touching the ball one time."
UNK scored on two of it's next three possessions to lead 14-0 at halftime. Quarterback T.J. Davis, who rushed for 139 yards on 15 carries, found the end zone on a 22-yard run and a 1-yard run. He added another touchdown run of 10 yards in the fourth quarter as UNK pulled away.
"I needed a game because obviously I haven't been hit for over a year," Davis said. "I'm definitely going to be sore tomorrow but it was good to get back out there."
The Lopers finished with 350 yards on the ground and another 189 through the air. Davis was 8 of 12 passing for 160 yards.
Neither team fumbled or threw an interception.
"That was a pretty clean game for first game especially coming off a COVID year," Lynn said.
UNK scored touchdowns on its last three possessions with backup quarterback Jacob Green hitting Michael Koch for a 29-yard touchdown in the last two minutes. The touchdown capped a 12-play, 86-yard drive carried out for the most part by the second unit.
"A lot of those guys have been in the program three or four years. They've had multiple reps, a million reps doing what we do. ... There weren't many missed assignments that I could tell," Lynn said.
With both teams relying on their running attacks, the game lasted just over 2 1/2 hours, finishing just before midnight.
UNK will be on the road next week, playing at Pittsburg State on Sept. 11. The Gorillas opened the season with 35-16 win over No. 11-ranked Central Missouri.
---