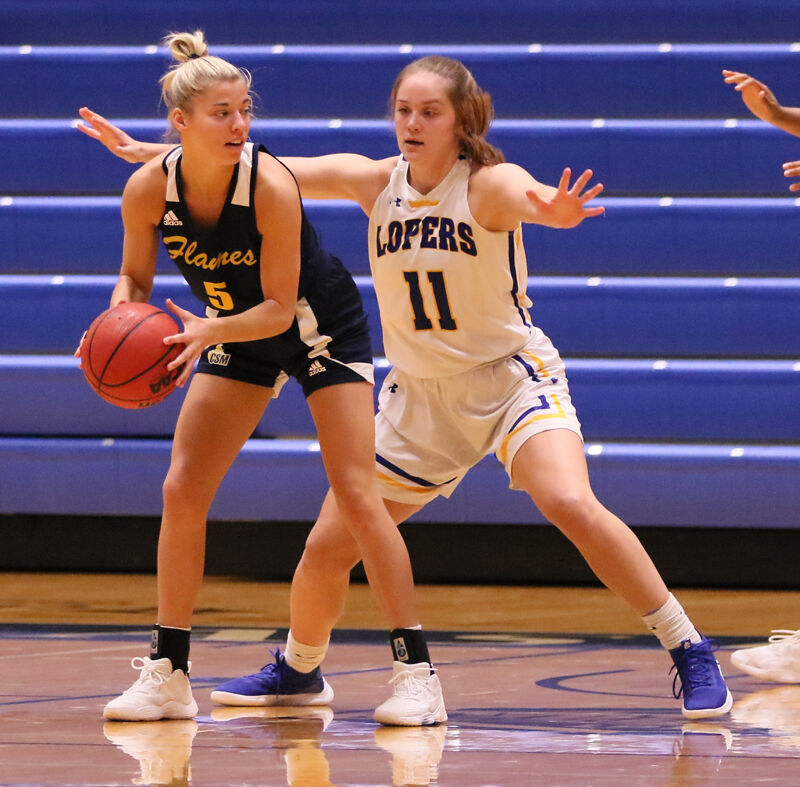 KEARNEY — The University of Nebraska at Kearney women's basketball team showed off its defense and depth Wednesday afternoon.
Eleven Lopers wrote their name in the scoring column and their defense confounded College of St. Mary in a 59-34 victory in front of a sparse crowd at the UNK Health and Sports Center.
St. Mary nipped on the Lopers' heels for a little more than a quarter, training 15-12 a fraction over two minutes in the second quarter. By halftime, St. Mary was still stuck on 12 and the Flames had committed 14 turnovers.
"It was a solid effort defensively," UNK coach Carrie Eighmey said. "We were able to defend without fouling and that's kind of been something that we've been emphasizing ... and they only shot six free throws.
"When you hold a team to 34, you give yourself a pretty good chance to win the game regardless of how your offensive game is going."
College of St. Mary shot 29 percent from the floor and finished with 22 turnovers. No CSM player scored more than seven points.
The Flames came into the game with an 8-1 record, but after the second-quarter shutdown, didn't challenge the Lopers and Eighmey took a long, hard look and what she has on the bench.
Six non-starters saw action and all of them played more than 10 minutes and put points on the scoreboard.
Starter Elisa Backes was the lone Loper to score in double figures, finishing with 10 points.
Non-starter Gracie O'Neill, a freshman from Boulder, Colo., led the team in rebounds with eight and she shared the lead in steals with Backes with three. Meg Burns, a redshirt freshman from Ankeny, Iowa, saw nearly 31 minutes of playing time.
Eighmey said getting the reserves in the game will pay off at some time.
"They are skilled and talented players. It's just being able to play at a different pace," she said. "Obviously the college game is faster, everybody's a little bigger, everybody's a bit longer. It's being able to figure out , OK, how do I finish at the rim around somebody that's 6-4 instead of 5-10.
"It's an adjustment so anytime you can get game reps for them and give them opportunities to be in those situations in an actual game (it's beneficial)."
That was proven 1 1/2 minutes into the game when starer Klaire Kirsch had to leave the game with a hamstring injury. He will be out an indefinite amount of time.
The Lopers (4-1) will be back in action Saturday afternoon, playing host to Chadron State at 2 p.m.