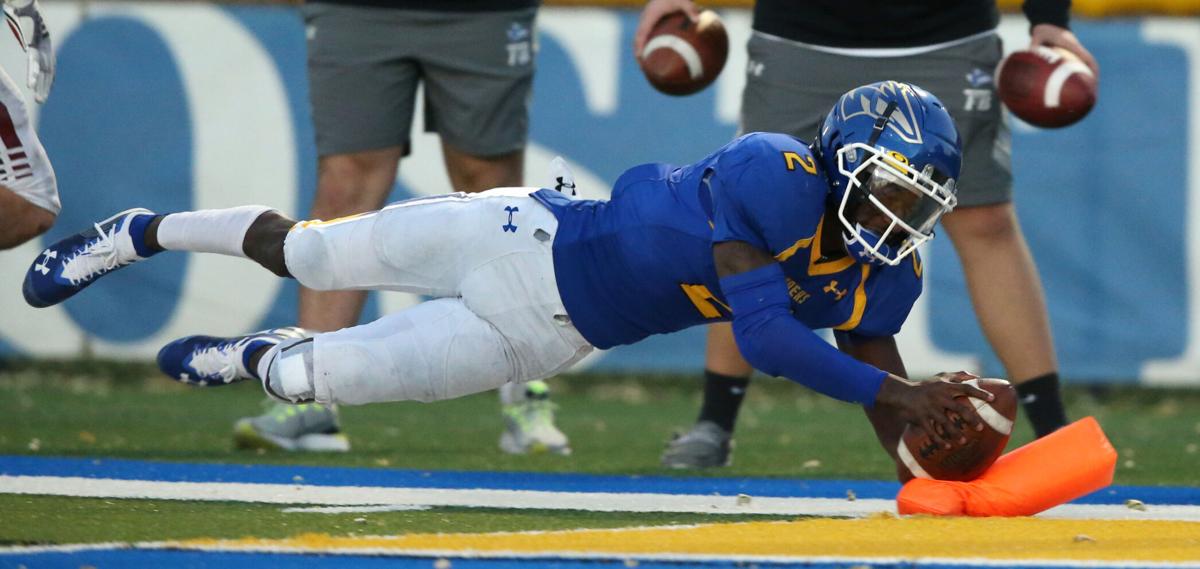 KEARNEY — T.J. Davis rushed for 203 yards and two touchdowns in the first half Saturday and the University of Nebraska at Kearney held on to beat Chadron State 45-35 in a renewal of an old rivalry.
Even though the two teams hadn't played for nine years, the game still had some uniquely palpable excitement.
"This game is kind of for bragging rights and a little bit of recruiting stuff," said linebacker Jacey Nutter of Thedford, who led UNK with 14 tackles and half a sack. "It's always fun to play teams you don't normally get to, especially teams that a bunch of us guys on this team were recruited by and some of the guys on that team were recruited by us. So it's a fun little head-to-head matchup."
The Lopers got the best of it early.
Davis scored on a 9-yard run on the Lopers' first possession, a 75-yard, 10-play drive.
He also scored on a 79-yard run on UNK's second possession and running back Damien Cearns took a pitch from Davis for a 67-yard score before the first quarter was over.
"We were really comfortable with the look we got (from the Chadron defense)," UNK coach Josh Lynn said. "Where maybe our running backs were getting more carries last week, they let T.J. carry the ball a little bit. Then they kind of took T.J. away in the second half and then we went back to the running backs."
UNK scored on six of its first seven possessions, churning up 541 rushing yards, the third-highest total in school history.
Davis scored on another 9-yard run in the second half and finished with 252 rushing yards. Dalton Sealey added 87 yards on 14 carries and Cearns finished with 77 yards and two touchdowns on three carries.
"The option, that's our scheme. We practice that so I think that it's not about what they're doing, it's about how we execute. So, just all being said, as long as we execute I feel like everything will go our way," Davis said.
Even though the Lopers ran up and down the field, they couldn't shake Chadron and running back Jalen Starks, a transfer from UCLA. Starks, who is listed at 245 pounds, ran for 125 yards on 18 carries and scored two touchdowns.
Nutter, who is listed at 220 pounds, said tackling Starks was a challenge.
"It's definitely something new compared to what we usually get, but it helps when our (defensive linemen) up front are making him make a cut before he can get to us so he's not as downhill all that way coming straight at us," Nutter said.
Back-to-back touchdowns by Starks pulled the Eagles within 10 points with 13:59 left in the fourth quarter. But Davis hit running back Joe Stiffend on a 59-yard pass and Davis scored two plays later to rebuild the lead to 17 points.
"The other thing I was extremely proud of was the big plays with the pass. We had a passing touchdown and we had a big wheel route to Joe Stiffend there in the second half. ... That was a huge play, 59 yards into the wind, and executed perfectly by T.J. and a good job by Joe Stiffend reeling it in," Lynn said. "Once again, I say it all the time, we were better when we can pick when we throw, not when we have to throw.
"We were running the short side of the field there and we knew that we probably had a shot in there with the play-action game and it worked out."
Davis was 2-for-5 passing, with the other completion a 27-yard touchdown to D'angelo Shepherd in the third quarter.
The Eagles capped the scoring with a 17-yard touchdown pass with 5:27 left. Eagles quarterback Dalton Holst completed 22 of 33 passes for 286 yards and three touchdowns.
Loper fans also got to see backup quarterback Riley Harms play two series. He rushed for 84 yards on nine carries, including a 29-yard run and he was the team's third-leading rusher.
Lynn said the plan coming into the game was to give Harms a chance to play some full series.
"Riley Harms is a very good quarterback. ... We need to get him some reps and some live game reps. That was a priority coming in and you look at him, he didn't fall off that much. While we wish we could have finished the drive in the first half with him, he had a nice little run over there and we went down the field," Lynn said.
With the win, UNK improves to 2-0 in this abbreviated season. They hit the road next Saturday to play at South Dakota Mines before wrapping up the season at home Nov. 21 against Missouri Western.