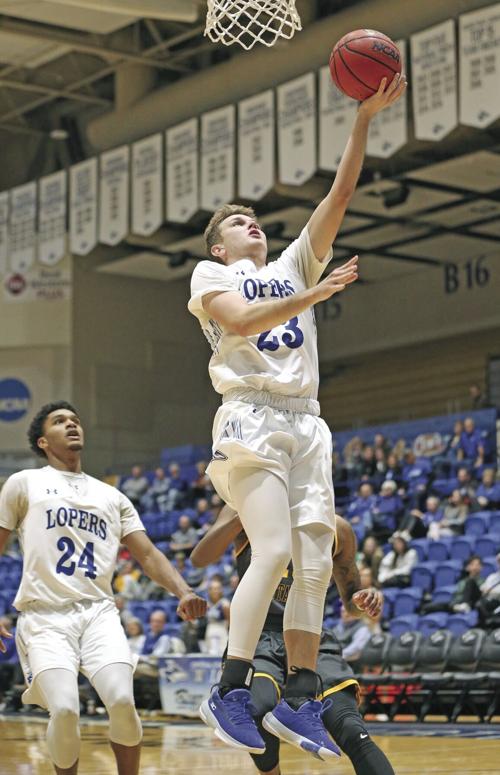 KEARNEY — Picture your typical University of Nebraska at Kearney basketball player and you would see someone around 6-5, who can shoot it from all over.
That's what Loper coach Kevin Lofton has in abundance.
"We just looked at our roster last year and there were times that if we could have found one or two more guys that could step up and shoot the ball really well from the perimeter, it really would have made a big difference," Lofton said.
For example, he cited back-to-back wins last year against Emporia State and Washburn where senior post players AJ Jackson and Morgan Soucie did their part but when senior Kyle Juhl got hot from the outside, that was the X-factor in the victories.
"We just felt like if we could get a little bit more of that, it can make all the difference this year," Lofton said.
So Lofton and his staff recruited shooters, like TJ Fritz, a 6-3 guard from Wamego, Kan., and Pat Fraser, a 6-5 guard from Sydney, Australia.
"We recruited them with the idea that they shoot the ball well enough that they could take a little pressure off some of the other guys," Lofton said.
They join a proven shooter, Jake Walker, and one who dominated practice last year, Matt Brien.
Walker started all 29 games last year as UNK went 16-13, and he was the team's leading 3-point shooter. His is the only regular starter who returns.
Brien, meanwhile, created the most buzz in practice. A native of New Zealand, he was forced to sit out last year.
"We have a lot of confidence in him. We're a little nervous about the first few games for him because he hasn't played in two years but I definitely think he can help us," Lofton said.
There were times last year when Lofton had to remind Brien that he was playing a scout-squad role and shooting denied the defenders a chance to prepare for the opponent.
"He would shoot the ball well enough that if we were (keeping statistics) would make 25 look really easy. I mean he shoots the ball that well," Lofton said.
UNK's inside presence will have to come from returning forwards Sam Morris and Austin Luger, and newcomers like 6-6 forward Darrian Nebeker from Snow Community College in Utah.
"We don't have four or five guys that are 6-8 on the roster, but if you look at Sam Morris, he is 6-6. Darrian Nebeker is 6-6. Winston Cook is around that 6-5, 6-6. Austin Luger at 6-9. And at the guards, we have Cedric Johnson who's 6-3, pushing 6-4," Lofton said. "Our wings will be a little bit bigger, which hopefully takes a little bit of pressure off not having necessarily a ton of size in the post.
"But if you look at our roster last year. Morgan Soucie was right around 6-5, 6-6, AJ Jackson was right around 6-5, 6-6 and they were two of the better forwards in our league."
At point guard, UNK returns RJ Pair, who started 10 games and is playing at a much higher level this year, according to Lofton, and recruit Myles Arnold from Lake Region State in North Dakota,
"Each player has shown signs of, 'Hey, OK,' if you can be this guy every day then we have a chance," Lofton said.
Be the first to know
Get local news delivered to your inbox!