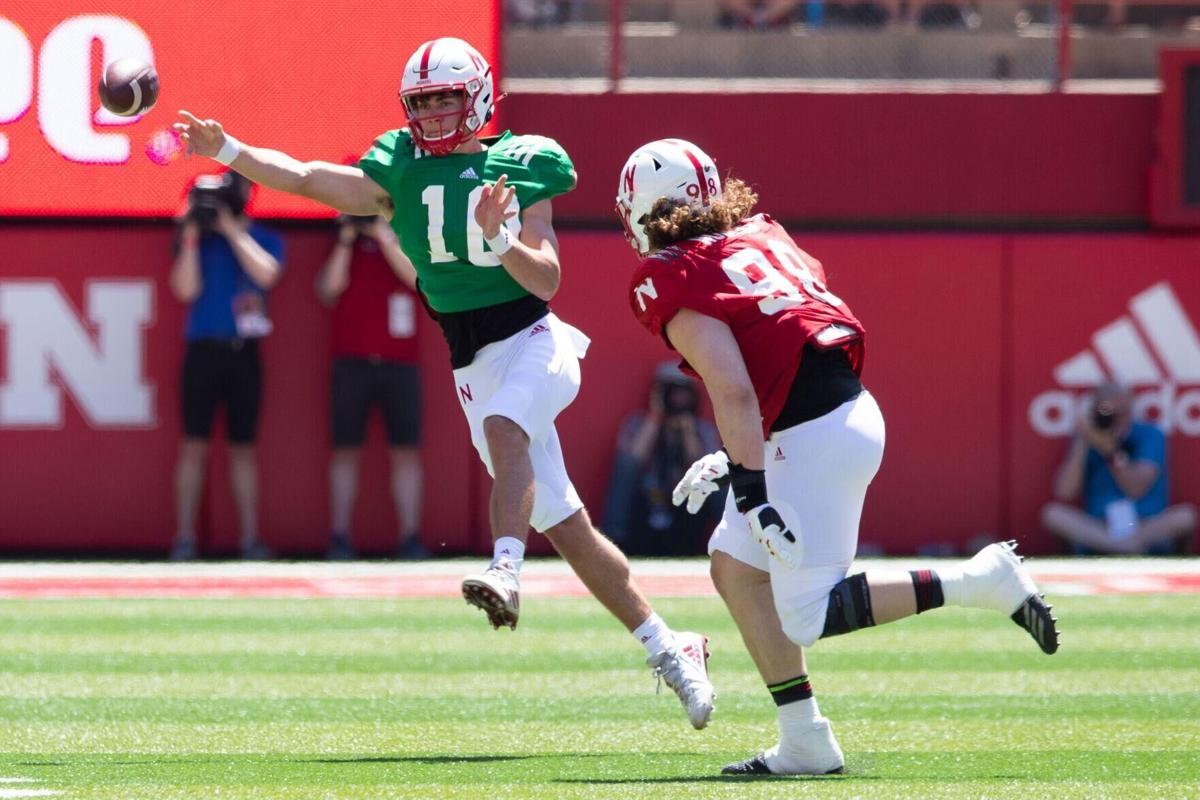 LINCOLN — After the clock expired, Husker coach Scott Frost asked for one more play. That's all Heinrich Haarberg needed.
As more than 36,000 fans at Memorial Stadium got their first chance to see the former Kearney Catholic quarterback in action during Nebraska's Red-White Spring Game on Saturday, it was the first time Haarberg played in front of crowd that size.
Haarberg wasn't phased. The freshman jitters never crossed his mind.
"This morning, when I woke up, I didn't think about it," Haarberg said. "I just got out there and did my thing. When I got here, I was swimming in it. I was going to (Mario) Verduzco's office for three hours every day trying to learn, trying to figure out how to put myself in this offense. Now I came out today confident that no matter what play they called, I was going to be able to run it. Not doing anything outside of myself. Just running the offense."
Haarberg, one of the four quarterbacks on the roster, didn't start on the White team but had the most reps. The White struggled to move the chains in the first half. For three straight series, they went three and out when Haarberg was behind center. The Red defense didn't make it easier on the KCHS graduate, but Haarberg wouldn't want it any other way.
"So far this spring, it's been kind of true freshman stuff, learning the playbook, getting better developing every day and then throwing in that extra mix of that pressure in my first spring game. That was awesome to have that experience," he said.
Haarberg finished the day completing nine of his 23 passes. He threw one interception late in the fourth quarter to Darius Moore.
With one minute left to play, the White was trailing 20-14. It was crunch time. With seven seconds left, Haarberg went deep for 40 yards as he connected with Wyatt Liewar.
Frost gave the OK to run one more play, and Haarberg capitalized with his first game-winner to Liewer on a 25-yarder in the end zone after time expired.
"This morning when I woke up, I wasn't expecting that. That's for sure. It was surreal," Haarberg said.
While it is still unclear who is the front-runner as the No. 2 quarterback behind Adrian Martinez, Matt Masker, Logan Smothers and Haarberg made their cases. Smothers, who started on the White team then switched to the Red Team in the second half, completed 8 of his 13 passes for 76 yards and a touchdown.
Masker made his first appearance in the third quarter and played on both teams. He only completed one pass. He does, however, believe that each player made improvements throughout the spring.
"I think as a whole we were sharp this spring. I think we definitely corrected any mistakes we made in any of the spring practices," Masker said. "In the spring that's kind of what we look for. Just keep getting better every day, and I definitely think we did that and I think it showed today."
The Red Team started strong when Martinez was behind center. Marvin Scott set the tone with a 4-yard touchdown and finished the night rushing for 75 yards. Connor Culp nailed two short field goals, pushing the Red ahead 13-0. The White focused on its rushing attack in the second half and it led to two rushing touchdowns by Jaquez Yant and then Isaiah Harris on the next drive.
"We're just trying to make each other better," Haarberg said. "If one of us comes off and has a good drive, we'll slap each other on the back and tell tem good job. I think the mentality of this quarterback room is, don't worry about others just worry about yourself.
The Cornhuskers will open the season Aug. 28 at Illinois. Their first home game will be Sept. 11 against the University of Buffalo.