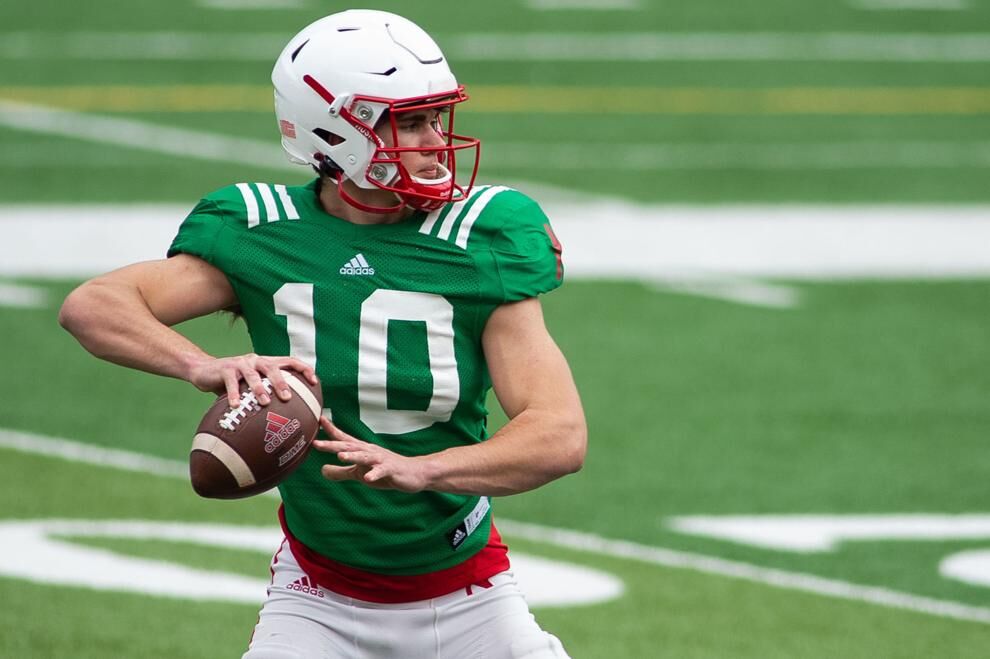 LINCOLN — After getting an early head start with the Nebraska Huskers, true freshman and Kearney Catholic alum Heinrich Haarberg is ready to take his first snap at Memorial Stadium during the Red-White Spring Game only a week away.
In the last five months, Haarberg has been on the grind, getting acquainted with his playbook and working out with his teammates. Now 15 pounds stronger and faster than he was at KCHS, the 6-foot-5 quarterback is looking forward to putting it all together.
"I'm excited to be able to play in a real scrimmage for the first time in front of however many people at Memorial," Haarberg said. "I'm just taking it day-by-day and getting better. I'm going to treat the scrimmage like it is every practice. I try to give it my hardest every time I go out on that field. I don't think I need to change anything."
Haarberg is one of the four Kearney natives on the Nebraska roster but is the only one on scholarship. He believes accountability played a role in why coach Scott Frost brought in more local walk-ons to his program.
"Coach (Scott) Frost depends on us to do the right things," Haarberg said. "Whether it be outside the stadium or inside, we are accountable, and I think just being able for him to count on us is a big deal."
Haarberg was one of Huskers' top recruits despite going through the process digitally and not in person.
Rashawn Harvey, KCHS football coach, knew from the jump that Haarberg's pure athleticism at 6-foot-5, 195-pound frame with a 17-size shoe would draw plenty of attention from Division 1 college scouts. Now that Haarberg has finally arrived, he can focus on playing quarterback full time.
"He has more individualized attention ... at the quarterback position," Harvey said. "He's getting that mental development to be a successful quarterback at the college level."
In his senior season at KCHS, the then-three-star prospect had offers from Buffalo, Boston College and Central Michigan. Not able to visit any of the schools due to the pandemic, it was a no-brainer to commit to the Cornhuskers. It also did not hurt to have a father, Rod, who played fullback for Nebraska in 1992. Once he arrived as an early enrollee, it was an adjustment period for the true freshman in the first two weeks, but from the moment he stepped foot on campus, Haarberg already felt welcomed by his coaches and teammates.
"As soon as I got here, the coaches were as authentic and real as they were during the recruiting process," Haarberg said. "They took care of us just like we were their sons. It was an easy transition. I think all of us, including myself, have adapted pretty well."
Once Haarberg settled in, it was time to work. He said he had to get used to the daily routines that Huskers set up for him.
"There were a couple of wake-up calls like the first practice we had at Memorial. That was a cool experience," Haarberg said. "It wasn't just a kid who got lucky on the field. That's my field, and that's where I play now, so I'm just embracing that. Those were the kind of experiences that were unique, but I think it's been a really good experience."
One of Haarberg's challenges was making the comparison of others with his progression.
"There's not another guy I could compare to or see where I'm going and how to engage myself," Haarberg said. "It's hard to see the progress that I'm making against these other guys that have been here - two have been here for all four years, the other one has been here for another year - so that has been kind of a difficult problem, just engaging with myself from trying to push myself. What I've done is look at what those guys are and just try to push myself to be as good as them."
Haarberg is fortunate enough to be part of a quarterback group with veteran leadership like Adrian Martinez and his high school teammate Matt Masker.
Masker, another Stars alum, took Haarberg under his wing just like back in their high school days and introduced him to Martinez and Logan Smothers. The best advice he has received so far is not to change his style of play.
"Those guys have been like older buddies to me," Haarberg said. "We've hung out in and outside of the stadium. They've helped me so much, especially Matt and Adrian. Just learning the playbook and being able to compete and also help each other at the same time. There's no hostility in the room. We're all just trying to be the best versions of ourselves."