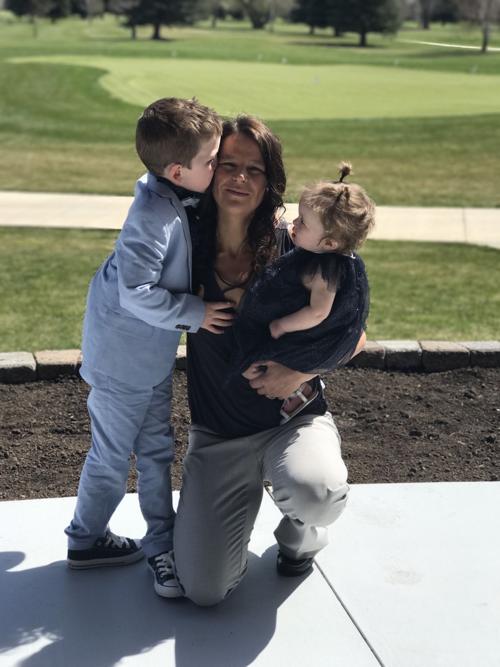 KEARNEY — Darcy Stracke never held anything back. She always played all out.
Basketball isn't the only thing she approached that way.
The owner of the Sylvan Learning Center and Prometric Testing Center in Billings, Mont., Stracke has accomplished a great deal since her playing days at the University of Nebraska at Kearney.
She was on the coaching staff at Northern Colorado, had the opportunity to play professional basketball for the WNBA's Colorado Chill, coached a fledgling high school to the Colorado State basketball tournament and coached back-to-back state high school volleyball champions in Montana.
She's been out of coaching for the past two years, but you can find her on the sidelines directing her 8-year-old son, Tuff D., in 8-year-old basketball, 8-year-old soccer, 8-year-old baseball and everything that's ahead for a mother of three with athletics in her blood.
"Back in the day, I thought it was a cool basketball name," she said of her older son.
Lemon, a girl now 4, followed and Rook E., a 7-month-old boy continued the basketball-related names.
But more than basketball, Stracke's life revolves around her family.
"I learned from my mom and dad. I mean they are amazing and taught me a lot about life and about sports and about loving your family. To this day, I talk to my mom and dad every night," she said. "So making sure that I'm there for my kids is really important to me, and I kind of just made a decision that for a couple years until they get a little bit older that they know I'm there. ... I gain a lot of fun experiences of working with my own kids at home. It means a lot in my heart just to be with them."
That close connection with her parents, brothers and sisters is one reason the all-time leading scorer in Nebraska basketball history chose to come to Kearney when she graduated from Chambers High School.
Other schools wanted her. Bigger schools. Much bigger schools like Stanford and Notre Dame. Schools with national championship banners in the rafters.
She said she really only considered Creighton, and that was because it was close to home. But the Bluejays weren't close to winning out.
Her father still teases her that when he drove her to Omaha for her visit to Creighton, she kept her head down and wouldn't open her eyes to look out the window. Omaha wasn't for her.
"Everyone teases me to this day, that I was such a chicken because I came from a small town of 600," she said. "Now, if I got the opportunity to go do it today would I have gone to Stanford or Notre Dame? Probably, absolutely yes. Because I've grown into that person. I don't mind traveling. I don't mind getting out into the world and all those things. But back in the day that's who I was, a small-town girl who just wanted to be close to her family and wanted to have my family be able to see me play."
At Kearney, she found things weren't much different than her experiences at Chambers.
"Winning four state championships in basketball, the best part of it wasn't about any awards or anything like that. It was the fact that everyone in the town was at the games, everyone in the town knew what you were doing the next day as far as what you're going to celebrate and all the things that you're doing. I grew up in that atmosphere where it was important to me and Kearney kind of gave me that stability. ... When I think of Kearney, I just loved the home atmosphere. I loved the people there."
And while at Kearney, Loper fans got to see a winner.
In Stracke's three years at UNK, the Lopers were 80-11, qualified for the NCAA Tournament all three years and reached the Sweet 16 in 1997. Stracke set several individual records. Three of UNK's top single-game scoring performances belong to Stracke as well as four of the top six single-game steals marks. She also has the school record for assists in a game and single-season records for scoring and steals.
But her career at UNK came to a sour end.
On the court, in the Rocky Mountain Athletic Conference Tournament semifinals, Stracke suffered a torn ACL while going in for a layup.
"We were having such a good year. I think we were actually ranked pretty high in the nation all year long. ... We were such a great team that year. We had good post players, good guards and we were well-rounded. It's just so sad and disappointing," she said. "I do feel sorry for people who get hurt in sports. It's such a game changer because you have everything in front of you. We had a good chance of doing some really great things, maybe the best Kearney could have ever done. And I just saw like everything was taken away in about three seconds.
"It was sad because I always felt like I was letting myself down, my family down, and I also felt like I was letting down my teammates and my coaches."
It also was a turning point in her basketball career. She had grown in more ways than one and was ready to take a good look at Omaha.
While recovering from her knee injury — it took her four months when doctors told her it would need eight or nine months to come back — she transferred to UNO for her senior season. In an early clash with the Lopers, Stracke lit it up, scoring a UNO record 43 points, a total that matched her UNK school record, which in turnabout is fair play, came against the Mavericks.
"I just wasn't as happy as when I first got there. ... It was a better situation to be somewhere else. And it ended up being perfect and a lot of things happened from it," she said. "My last year at UNO was just amazing. I met people and I got opportunities there that I might not have seen at Kearney. I think everything happens for a reason."
Looking back now, more than 20 years later, she does wish she could have finished her career with the Lopers and had that final farewell walk off the court. But her year at UNO got the attention of North Central Conference rival Northern Colorado and she joined the coaching staff there for the next three years.
"I was just an assistant coach there, the first assistant. It was just a great experience because that was when they were transforming into the Division I. So we did a lot of traveling a lot or recruiting. I loved that part of it, I just really loved the traveling, but I knew that someday I would have a family and that would be really hard to do," she said.
An education major, she needed to complete her student teaching and did that in Denver where she gained more opportunities. She soon had to make a choice between playing for the Colorado Chill or teaching and coaching at a new school in Castle Rock.
She chose to teach and coach softball and basketball. After just having freshmen and sophomores for two years, Stracke led the basketball team to the state tournament the first year it was eligible.
"It was really a fun experience because you got to build relationships and go into school where it kind of grew up with you. ... We got a lot of firsts in everything, like the first win and the first win in the state tournament and things like that. It was just the coolest experience as far as like setting up a brand new school. It just, it was fun," she said.
Her experience in Colorado submerged Stracke into the education field and six years ago, the opportunity arose to buy the learning and testing centers in Billings. With a staff of teachers, they tutor kids and do ACT training to help kid earn scholarships and get into college.
"With what's all going on because the COVID, a lot of kids are getting extra help in trying to catch up and we're doing a lot of online tutoring. ... It's just, it's been really busy lately," she said.
Her involvement in tutoring and testing didn't end her coaching career.
"I obviously wanted to get into basketball coaching when I got here ... but there weren't any basketball jobs," she said. At Red Lodge, "They didn't have anybody apply for the volleyball job so they came to me."
The result was four state tournament teams and back-to-back state championships.
"I just studied the game and I learned a lot about it and I actually ended up loving coaching volleyball," she said. "I loved the experience and it was good to do something besides basketball."
She wasn't a bad choice. She was an all-state volleyball player in high school, had a coaching background and comes from a family of volleyball coaches. Sisters Sandy Miller and Stacy Dexter have led teams to the state volleyball tournament. Brother Jerry Stracke, one of the Nebraska's most successful basketball coaches at Guardian Angels, also has coached volleyball. And that leaves out Sandy's husband, John, who has coached state championship teams in boys and girls basketball.
"That's what makes my family so amazing to me. I just love them to death because if I need something, I'm going to call up a sister or a brother, or call this brother-in-law or sister. It gets crazy because we've been on phone calls until midnight. When I first took over volleyball, I called my brother and I had quarters and nickels and dimes set out. We were talking through all the rotations and what would be best for my team," she said. "When we go back for Thanksgiving dinner, you can't even get a word in because we're talking about X's and O's."
She's been out of the coaching ranks for two years now, but could see where she might return. With two sons, she might even be interested in coaching boys basketball.
"It can be exciting when they get a little bit older, coaching them in high school and all those things," she said. "Right now, I'm enjoying the moment, loving them as they grow up, like how my family loved me."
Be the first to know
Get local news delivered to your inbox!