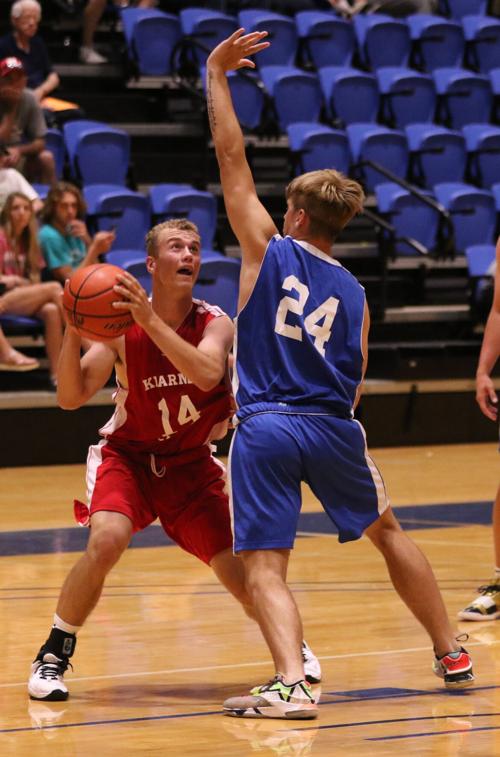 KEARNEY — First came the flood. Then came COVID. All the while, the wheels of change kept rolling and one of Kearney's summertime traditions ground to a halt.
On Sunday night, the Mr. Basketball Kearney Senior All-Star basketball games capped the Mr. Basketball Slamfest — scaled down from its glory days and played a month earlier.
"We've kind of revamped our schedule," said event coordinator Doug Koster, who started the Mr. Basketball tournament 30 years ago, bringing teams from all over the country to Kearney for a basketball extravaganza.
Future NBA and NFL players participated. NCAA Division I coaches followed, scouring the games for future talent.
"Teams that kind of were traditional teams coming to Kearney have kind of gotten into other events now so we took the July event off the calendar. … We used to have teams that would get in the car and drive from Chicago or Milwaukee or Peoria. Those places that are 10 hours away, and they wouldn't drive past any tournaments to get here," Koster said
Now, with the building of sporting venues in almost every town of any size, local promoters have taken advantage, and teams aren't driving through Omaha or Kansas City to come to Kearney.
Consequently, 30 of the 32 teams in this weekend's two-day team camp came from Nebraska. The out-of-state travelers came from Phillipsburg and Quinter, Kansas.
Ashland-Greenwood won the upper division by defeating Kearney High in the final.
This week, 42 girls teams will play in the Miss Basketball Showcase.
Even with the scale-down, and the change of dates, the Kearney Area All-Star Games drew their biggest crowds ever.
In the girls' game, Elm Creek's Whitney Bauer hit three 3-pointers and finished with 11 points to lead the Red team to a 52-45 victory. Kearney High's Aspen Rusher paced the Blue team with 14 points.
In the boys' game, the Red team, led by Gibbon's Matthew Weismann, rallied to beat the Blue 98-87. Weismann poured in 19 points while the Kearney Catholic trio of Logan O'Brien, Kegan Bosshamer and Blake Thiele scored 15, 12 and 11 points respectively. Hastings' Brennan Witte added 13 points.
For the Blue, Southern Valley's Brody Yant scored 14 points, Amherst's Tanner Thomsen had 12 and Kalon Rohde had 11, and Elm Creek's Trey Miner had 11. Kearney High's Preston Pearson finished with 10.
"I think early June was a good change. We had great attendance tonight and ... we had a lot of kids with fewer conflicts so we had full rosters," Koster said.