KEARNEY — The coronavirus pandemic has presented challenges for everyone.
Imagine being a kindergarten teacher.
"It's tough for those kids. ... It's tough for kindergartners to understand why they can't go back to school and do some things with their friends," said Ginger (Keller) Marx, a kindergarten teacher in Limon, Colorado.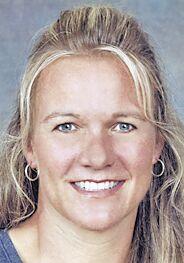 As much as possible, her class did remote learning, distributing things to the homes for the students to do, and there were some Zoom meetings that bordered on "zoo" meetings.
"You never know what you're going to get. ... You just have all kinds of animals, and they go around the house and you would see all kinds of things. I'm sure some parents were like, 'Oh my gosh,' but it was all good," Marx said.
But the way the panademic arrived wasn't good.
The Limon Badgers had many reasons to believe they would celebrate Colorado state basketball championships. The girls (24-1) were the No. 1 seed in their class. The boys (23-2) had earned the No. 2 seed. Both had won their first-round games when word came that both tournaments were canceled.
"That was really tough. At first they came out the night before and said 'no fans.' ... After that first day, they shut it down," Marx said. "It was just crazy times, nothing anybody ever would have expected."
It hit the Marx family hard.
Five-foot-11 Trista Marx was the leading scorer for the girls team. Six-five senior Logan Marx played for the boys team, but his true calling is football. Limon won back-to-back state football championships with Logan on the offensive and defensive lines. He will enroll at South Dakota Mines this fall and play defensive line for the Hardrockers.
He was planning to come to the University of Nebraska at Kearney before switching at the last minute to go to Mines, which just hired Northwest Missouri offensive coordinator Charlie Flohr to take over the head coach position.
"I think he really liked it (at Kearney) and planned on going there, but this came up at the last minute. It was a great for him. ... He's a boy and he's kind of quiet, so I didn't get a lot of information," his mother said.
Two more Marx children are coming up through the ranks – 15-year-old twins Treyton and Jentri, who just acquired their learner's permits.
All are deeply involved in sports — football, volleyball, softball, basketball, track — following in their mother's footsteps.
Ginger has been inducted into the Nebraska High School Sports Hall of Fame and the UNK Athletic Hall of Fame.
The 6-foot center on the Gibbon girls' back-to-back state champion basketball team that won 66 straight games, she also participated in volleyball and track. At UNK, she led the Lopers to their first NCAA basketball tournament in 1994. She is still the all-time leading scorer for the Lopers with 1,895 points and she has the records for free throws made and attempted as well as rebounds per game. Her 45 double-double performances is nearly twice as many as the next player on the Loper list.
She averaged a school record 23.1 points per game as a senior and was Kodak honorable mention All-American.
She started 96 of 107 games and was the team's MVP all four years of her career.
Marx said she didn't consider other offers than UNK because she "kind of grew up there" with camps and other activities. She said she has never regretted her decision.
"I was kind of a naive kid. The fact I got to go and do what I love with amazing teammates and coaches and get an education at the same time ... I loved every part of it," she said.
Her time at UNK also put her on the course she has followed for the past 25 years. She started out teaching in a homeschool situation, then joined the staff at Limon Public School in 2014 where she is one of two kindergarten teachers.
Her husband, Dave, was a superintendent, first at Cheyenne Wells, Colorado, then at Limon. He retired recently and has settled into a ranching career, while Ginger is happy being a teacher.
"It still has its challenges for sure, but my heart has always been in kindergarten and I really enjoy that," she said. "I love that age because they are so excited about school. They love coming to school and they're just little sponges. It's amazing some of the things they learn."
She's also an advocate for sports "because you learn things in sports that are so helpful as you go through live in so many things," she said.
She has seen her own children develop work ethics and relationships that come with their experience in sports and she hopes those activities soon will return.
The coronavirus outbreak gave people a break from sports. At first, the Marx family enjoyed the break.
"For a while it was kind of nice because you really couldn't do anything. It was kind of nice to get to spend more time together and we got to do a lot of things we don't normally get to do when everyone's going a different direction," Marx said. "With four kids you spend a lot of time at ball games ... That pretty much takes up a lot of time. We're just running all the time."
As the pandemic has gone on, Marx said they have found some different places to go to do some sports camps, including a scheduled stop this week at UNK. She hopes things can get back to normal soon.
"There will be some sad kids if we don't have sports," she said.