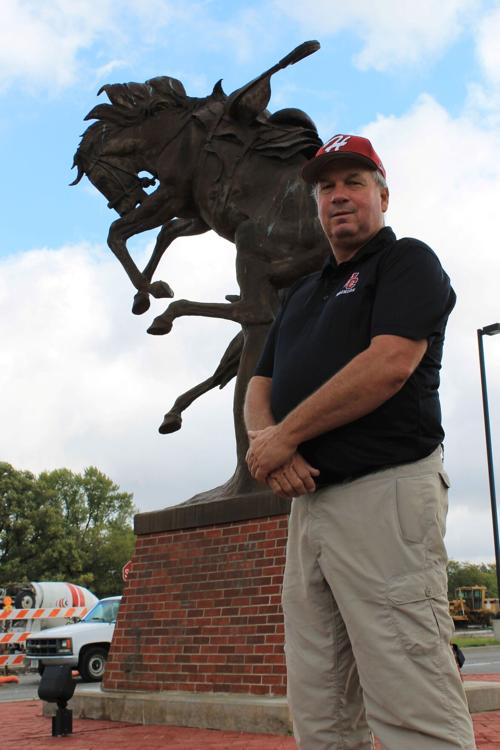 HASTINGS — Steve Spongberg has had a passion for sports for as long as he can remember. It's what inspired him to coach baseball, basketball and football throughout his adult life.
Spongberg started coaching baseball as a young adult in Kearney. Now more than 40 years later, Spongberg is preparing for his eighth season as the head baseball coach at Hastings College.
The Broncos posted a 5-12 record this spring before the COVID-19 pandemic brought the season to a screeching halt. It also likely marked the final season for six seniors despite the NAIA granting everyone an additional year of eligibility, Spongberg said.
"It was difficult," Spongberg said. "In the NAIA, we are allowed to coach for 24 weeks so you get a fall season where we do some scrimmaging and a lot of practicing. Those kids put in a lot of effort. To see your season get cut short is very difficult, especially for the seniors."
The pandemic also affected recruiting. Spongberg hasn't attended as many American Legion baseball games throughout the state as he typically does each summer because of different health guidelines.
Spongberg took the reins of the Hastings' program in June 2013. In his first season, the Broncos posted 13 wins. They experienced winning seasons under Spongberg in 2015 and 2017.
Spongberg is confident in the direction of the program but admits they have to make strides on the recruiting trail to accomplish their goal of winning the Great Plains Athletic Conference.
"Recruiting is huge," he said. "You have to bring in kids that can help you. We feel good about the nucleus we have back. We certainly have to add pitchers. We are still working on that. It's been a difficult task, but everyone is in the same boat.
"No excuses on our end. Our goal is to win a conference championship, and that's still available but it's going to take some hard work by our players."
Spongberg grew up in San Jose, California, before relocating with his mother to Kearney leading up to his sophomore year of high school. His father died when Spongberg was 15 years old, and his mother, who was from Pleasanton, wanted to return to full-time employment in a less populated area, Spongberg said.
Spongberg enrolled at Kearney High, where he spent the final three years of high school. He then attended Kearney State College and played on the baseball team. It was during that time that he got involved in coaching.
Kearney Hub sports editor Bob Van Tine ran the Kearney Little League program and approached Spongberg about coaching a team. Spongberg led a Senior Little League team for three years before assisting with the organization of the Little League program for one year after Van Tine's death in 1977.
In 1978, Spongberg started coaching the Kearney American Legion team. On his first team, Spongberg coached current Kearney Runza head coach Brad Archer.
"A lot of those kids that were in the Legion program I had seen through their Little League careers," Spongberg said. "I took the job, and then they couldn't get rid of me. I stayed around for 32 years."
Spongberg led the American Legion program to a state title and its first regional appearance in 1990.
Twenty years later, the Kearney program experienced similar success. Kearney won the American Division Class A State Tournament before losing to Papillion-La Vista South in the state championship playoff at Memorial Field.
Kearney finished the 2010 season with a 46-8 record, playing in its second regional tournament. It also marked Spongberg's final year in the Kearney dugout. Spongberg, who lives in Sutton, resigned later that year because he wanted to watch his son play baseball.
In 32 years coaching Runza, Spongberg posted a 1,176-489 record (.706 winning percentage) and won one state title, two state tournaments and 24 area tournaments. He had one losing season during his tenure.
"It was one of the most difficult things I had to do when I made the decision to step down," Spongberg said.
Spongberg planned on watching his son play baseball when he announced his decision. But that changed as he ended up coaching Sutton's American Legion team. He guided an 11-player Sutton team to its first state tournament appearance in 19 years and its first state title.
His ability to achieve unexpected success resulted in the Nebraska Baseball Coaches Association awarding him the 2012 Class C Junior Legion Coach of the Year award.
Spongberg, who also taught at Sutton, was an assistant football coach and head boys basketball coach. He led Sutton boys basketball to the state tournament 14 times, earning championships in 1989 and 2003 and finishing as runners-up in 1987, 2002 and 2013.
He has a career basketball coaching record of 548-227.
"The outside obstacles" of coaching college baseball, especially recruiting, have been an adjustment, he said.
He didn't envision stepping up to the collegiate level but the opportunity arose at the right time.
He regularly thinks back to coaching in Kearney and the opportunities he had to develop his baseball knowledge.
"Kearney is where I started my career," he said. "We had a lot of success there. I enjoyed the people there, and it helped me with my career. We certainly haven't gotten the job done at Hastings like we set out to do, but we are still working towards that. It was a fantastic situation, and I still root for Kearney immensely to win each and every game."
Be the first to know
Get local news delivered to your inbox!