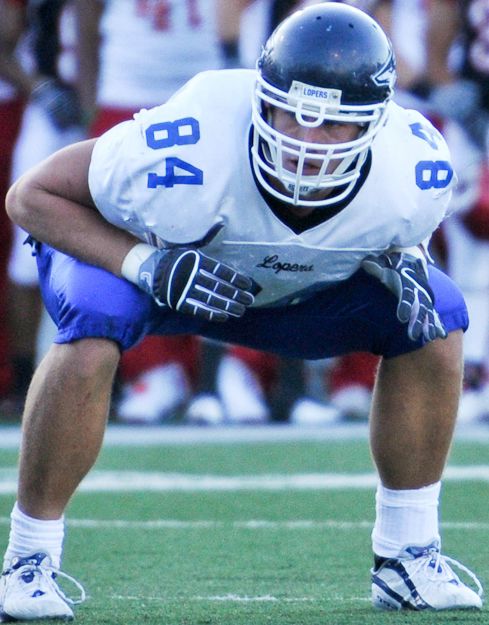 ELM CREEK — Mason Brodine didn't receive a ton of college football interest throughout his high school career at Elm Creek. He received postcards in the mail from two Division I programs — Kansas and Wyoming — and wasn't on the radar of the University of Nebraska at Kearney until the summer leading up to his senior year.
Brodine spent five years as a member of the Loper football program. He played a key role as a defensive end on competitive Loper teams and left the program as its all-time leader in sacks.
He embarked on a professional football career after UNK, spending parts of five years with NFL teams, playing two regular-season games with the Oakland Raiders in 2011.
After his playing career ended, Brodine returned to Nebraska. He thinks back fondly of his time at UNK but wishes he could have helped the Lopers win more than just one playoff game in his five-year run.
"I would've given up all that stuff for some more playoff wins," he said. "That was kind of our attitude when I was in school there. No one really cared about your statistics or how well you did. It was all about how well the team did and how we were doing as a program. The only win I really remember is the playoff win because it was that big of a win for the program. A lot of what I remember is the losses because I don't feel like there was one game in college that we lost that we should have lost.
"Those were always the things that drove me to be better."
A 2006 Elm Creek graduate, Brodine participated in football, basketball and track. In track, he placed third in the Class C discus as a senior.
Football was the sport he excelled in the most. He helped the Buffaloes qualify for the 2004 and 2005 Class D1 state playoffs, guiding the program to its first-ever NSAA playoff victory in 2004.
The Buffaloes defeated Wauneta-Palisade 49-28 but lost in the second round of the playoffs to Arapahoe 30-28 in 2004. They lost to High Plains Community 48-30 in the first round in 2005.
"I remember we went out west and we were a little worried because we were predicted to lose," said Brodine of the victory over Wauneta-Palisade. "We just so happened to do a lot better than we thought. When we went into the game, we were kind of nervous because we didn't know what to expect. We got there and had a lot more size than they did and that attributed to how well we did."
Brodine attended a UNK football camp in the summer of 2005. He showed promise during the camp, which is what led to the start of the recruitment process with the Lopers. His older brother, Logan, was on the Lopers' roster at the time while his father, Brad, also played football at UNK.
Brodine said he received interest from a few other Division II schools but felt UNK was the best fit for him due to its dominance on the football field and the atmosphere around the university. He redshirted his first year on campus, which helped him make the transition from 8-man football to 11-man.
"To say it was a big step would be an understatement," Brodine said. "We had a really good group of 8-man guys. Eight-man is like a track meet, you don't slow down to make reads or take on blockers — you just go. I remember one of my first times at Kearney when Coach (Bob) Crocker kept telling me to take on these blockers and these guys were huge compared to the 8-man guys I was going against. It ended up working out for the best."
After redshirting his first year, Brodine made an immediate impact in 2007 and the 6-foot-7, 255-pound defensive end continued to progress throughout his four years, turning into one of the top defensive linemen in program history.
He racked up 155 tackles and a program-record 23 1/2 sacks. He also was a two-time all-region selection and earned first-team All-RMAC honors his final two years.
He credits his success to his teammates and coaches, including defensive coordinator Bob Crocker and defensive line coach Andy Avalos. Avalos, now the defensive coordinator at the University of Oregon, coached at UNK during Brodine's final two years.
"Andy Avalos is probably one of the main reasons why I got to where I was with playing football," Brodine said. "He was a great coach. We kind of joked with him because it became almost a little known fact that the better coach you were that the less amount of time you would spend at Kearney because they would be offered a lot of money from these bigger schools. We would always joke with him and tell him he wasn't going to be here that long. Sure enough, we were right."
Avalos was an exceptional football player at Boise State and is one of the program's best linebackers in recent memory. His instruction and advice helped give Brodine confidence and realize his potential, he said.
"I guess I did pretty well the first couple years after I redshirted, but I never felt like I was NFL good," Brodine said. "When Andy Avalos got there, he stopped me and was asking me why I didn't get recruited by big schools. And I just joked with him and said, 'Because I'm not very good.' He told me I was good and said I would've played for them at Boise. He would say stuff like that. That was one of the first times that it registered with me that I might have a chance."
The NFL was in the midst of a lockout in spring 2011, so Brodine finished his schooling at UNK and trained in case a team called his agent. Once the lockout was over, he signed a free-agent contract with the Raiders.
"I was actually in Omaha at my then-girlfriend's place when the Raiders called," Brodine said. "My father-in-law is a die-hard Chiefs fan. I don't know if I've ever seen someone so happy and disappointed at the same time when the Raiders called me, and I was standing in his kitchen. He was happy, but I think he about broke out in a rash."
Brodine didn't expect to make the Raiders' roster. He assumed he was just another "camp body" and would be cut at the end of preseason camp. Although he didn't make the active roster at the end of the preseason, the Raiders signed Brodine to their practice squad.
The Raiders elevated him to the active roster on Dec. 17, 2011, and he played in two regular-season games. He made his NFL debut against the Detroit Lions. The following week against the Kansas City Chiefs, Brodine recorded his lone tackle in his NFL career.
Brodine spent three years with the St. Louis Rams as a defensive lineman and tight end and then was in camp with the New England Patriots as a tight end for about a week in 2015.
Brodine lives in the Elm Creek area with his wife, Katie, and 1 1/2-year-old son. Katie played basketball at UNK. The couple has been married since 2012 and is expecting their second child.
He said he follows UNK football and helps high school football players with the recruiting process, giving them advice on what they need to do to earn interest from collegiate programs.
"I try to follow them and stay involved as much as I can," Brodine said. "That program means a lot to me. It was a big part of my life. I met my wife in college and I met a lot of my really good friends there. It was a good time."
Be the first to know
Get local news delivered to your inbox!