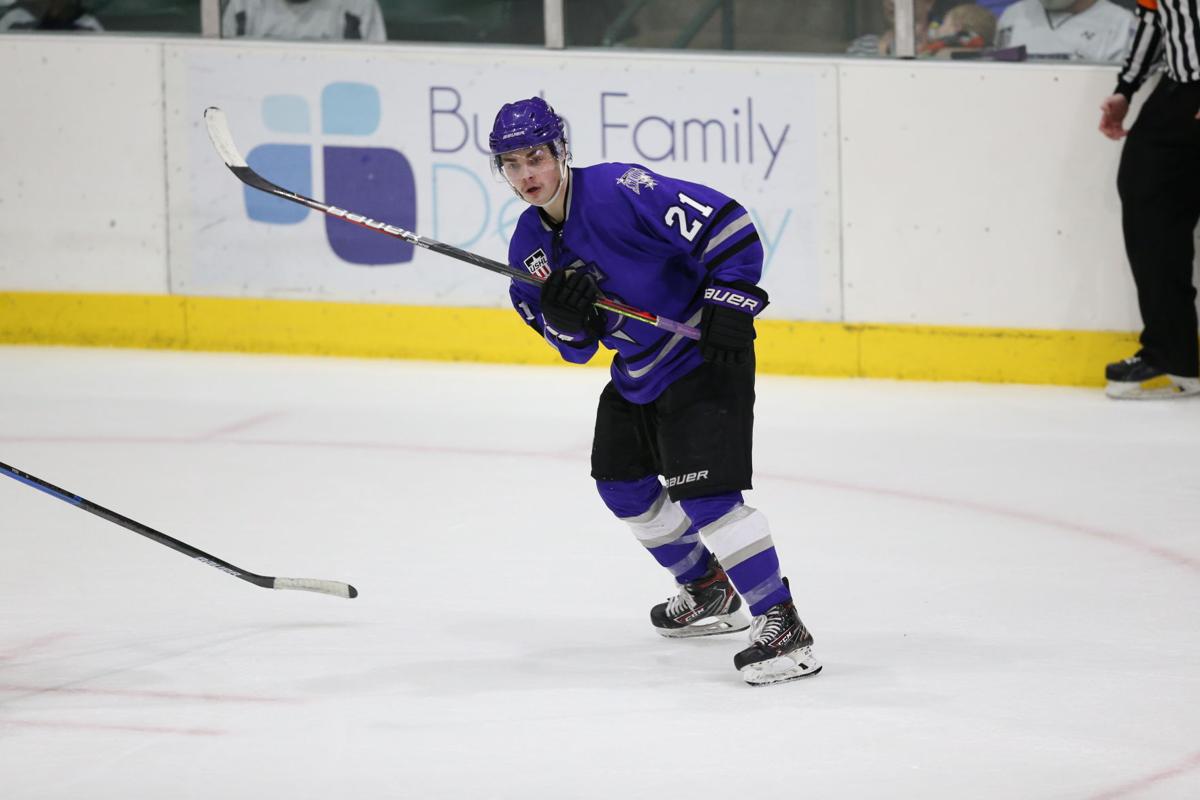 KEARNEY — Nick Portz was in preseason camp with the Cedar Rapids RoughRiders in September. But after Portz tallied zero points in three preseason games, the RoughRiders cut the forward at the start of the regular season.
The move frustrated Portz, who believed he had the necessary skills to thrive at the USHL level. After the move, he returned to the Minnesota Wilderness in the North American Hockey League where he recorded 32 points in 54 games in 2018-19.
It was the start of a hectic month for Portz. He played in seven games for the Wilderness, registering six goals and five assists, before the Tri-City Storm acquired his rights in exchange for forward Chikara Hanzawa and financial compensation on Oct. 16.
Portz, 19, instantly provided a youthful Storm roster with junior hockey experience and an additional scoring threat. The St. Cloud, Minn., native notched seven points in his first six games with the Storm and quickly found himself on the top line alongside winger Matthew Knies and center Colby Ambrosio.
Through 33 games, Portz has exceeded expectations with 12 goals and 17 assists for 29 points, which ranks third on the team.
"It gave me motivation," Portz said. "It made me mad a little bit, but at the end of the day, you just have to work hard and teams will find you. Luckily, Coach (Anthony) Noreen and his staff reached out, and it's been a great fit."
Although the Storm believed Portz would be a regular in their lineup, they never imagined him posting the numbers he has this season.
When the Storm started the season with one win in their first six games, they believed they needed to find someone with experience that could help guide the first-year players on the team.
The Storm coaches and front office members scanned USHL rosters and talked with trusted individuals around the United States junior hockey scene. Portz's name continued to pop up in those conversations.
The staff watched film of Portz and the entire staff agreed he could solidify their forward group, said Storm President and coach Anthony Noreen.
"We'd be lying if we thought he'd be a point per game guy," Noreen said. "We were hoping that's what it was, but for whatever reason, it's been a really good fit."
Prior to his arrival with the Storm, Portz didn't receive significant Division I college interest. But after his early offensive output, collegiate programs took notice.
Portz visited Bemidji State University and University of North Dakota before choosing the Fighting Hawks on Nov. 1. He doesn't know if he will attend UND in the fall or wait until 2021, as it will depend on what other forwards join the program later this year, Portz said.
On the ice, Portz has a scrappy style that allows him to perform well in the offensive and defensive zones. His ability to finish around the net and willingness to incorporate other players into the offense allows him to be dangerous in the attacking zone, Noreen said.
Portz's work ethic and team-first approach are the two areas that have impressed Noreen the most and are why he believes Portz's path to where he is today can serve as inspiration for other hockey players.
"It's a special story," Noreen said. "It's a cool story and is a unique thing to go from playing in the North American Hockey League one day and not having a whole lot going college wise to be committed to North Dakota.
"It's why we do this is for opportunities like that. I think it's something everyone in junior hockey, period, can learn from."