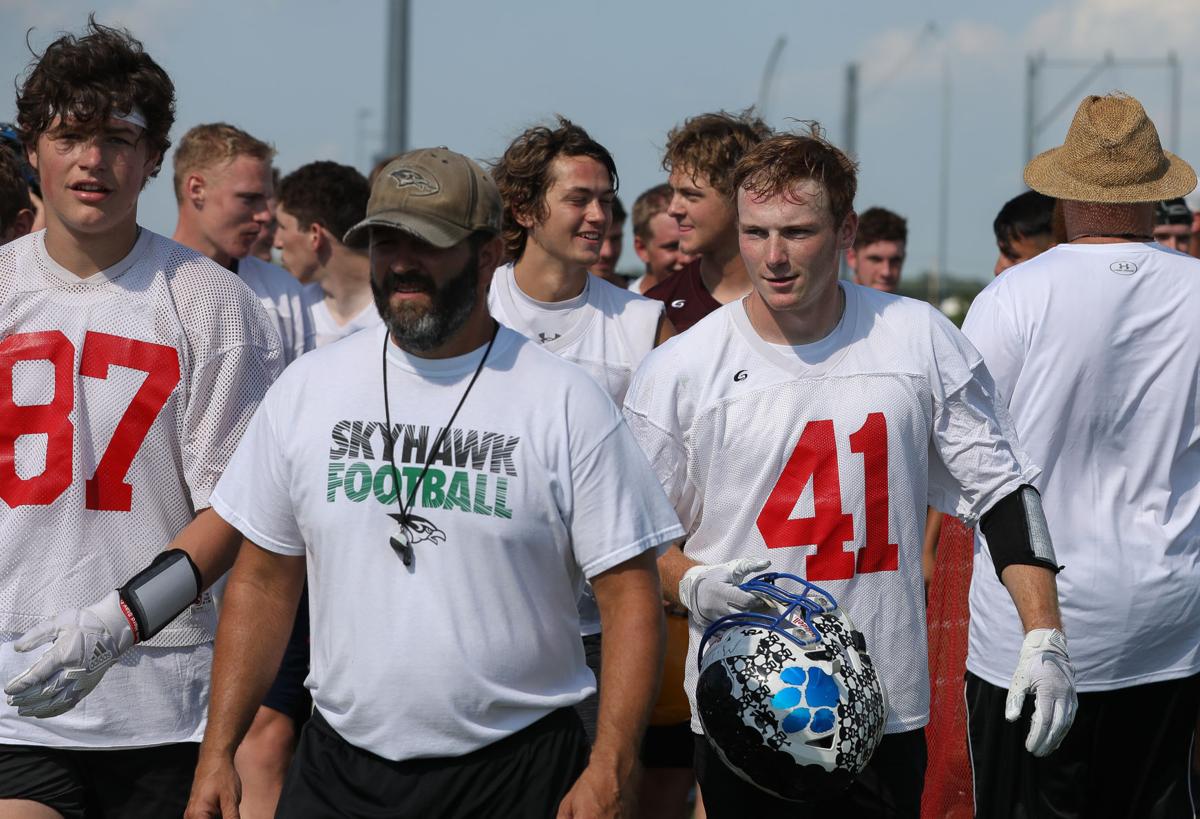 KEARNEY — The call came late for three Hub Territory football players who will play in the Nebraska Shrine Bowl football game Saturday at UNK's Foster Field.
When the phone rang, they didn't hesitate to say "yes" to get to play in Nebraska's premier all-star game.
Jackson Miller of Kearney High, Ethan Twohig of Holdrege and Chi Onate of Gibbon have experienced Shrine Bowl Week because the rosters were expanded by 10 players on each team to accommodate COVID-19 concerns, the ensuing rescheduling from early June and the departures of some players to their college teams.
Twohig got the call from Dusters coach Jason Hale while going into McDonald's for lunch.
"It was a dream come true. ... I said yes before he even fully asked the question," Twohig said.
Miller was vacationing in Florida with his uncle when Bearcats coach Brandon Cool called to let him know he had a spot on the team.
"I didn't think I could get any happier on a vacation but I definitely did right there," he said.
All three Hub Territory players will suit up for the South squad in Saturday's game that kicks off at 2 p.m. Twohig will play defensive back, Miller will play wide receiver and Onate will play offensive tackle.
Twohig, who said he did a little bit of everything for the Dusters, expects to be the holder on field goals and PATs.
"I used to do that in high school. ... I held for a couple games and I snapped for a couple games. I did basically everything on special teams," he said.
Twohig said his excitement level went "through the roof" when he found out he was going to get to play one more football game. He and his grandfather have attended the Shrine Bowl since he was in the sixth grade. They've often walked back to the car after the game joking that Ethan might get to play in it.
"I thought I didn't make it and then the phone call happened and here I am. I'm so ecstatic to get to play," he said.
Miller learned he had been selected in early June.
"Ever since then it's just been waiting to get here," he said. "This is the most excited I've ever been in my life to be able to play football."
Part of the excitement comes from getting the opportunity to do something, anything. Miller was preparing to run track for the Bearcats when everything was shut down.
"To get going again wasn't that hard at all. I mean, during the whole quarantine thing I just felt so bored and unproductive, so to be able to have something to work for was phenomenal," he said.
Friday the players will participate in the On the Field Experience, which fosters their awareness about the work of Shrine Hospitals across the nation. But those messages are never far away from the players during the week leading up to the game.
Onate, who has signed with Chadron State, said he's been focused on getting prepared for fall football camp. He had just finished a workout using his aunt's basement weight room when he got his phone call. He quickly called his parents and grandparents.
"First, you're excited to play in the football game, obviously, but the longer you're here and the more you hear them talking about how it is more than just a game and what it's all actually about, that's been for sure the most eye-opening," he said. "I hope we can bring them the awareness that this game deserves, not just not for the football game but for the kids in the Shriners Hospital."
Be the first to know
Get local news delivered to your inbox!