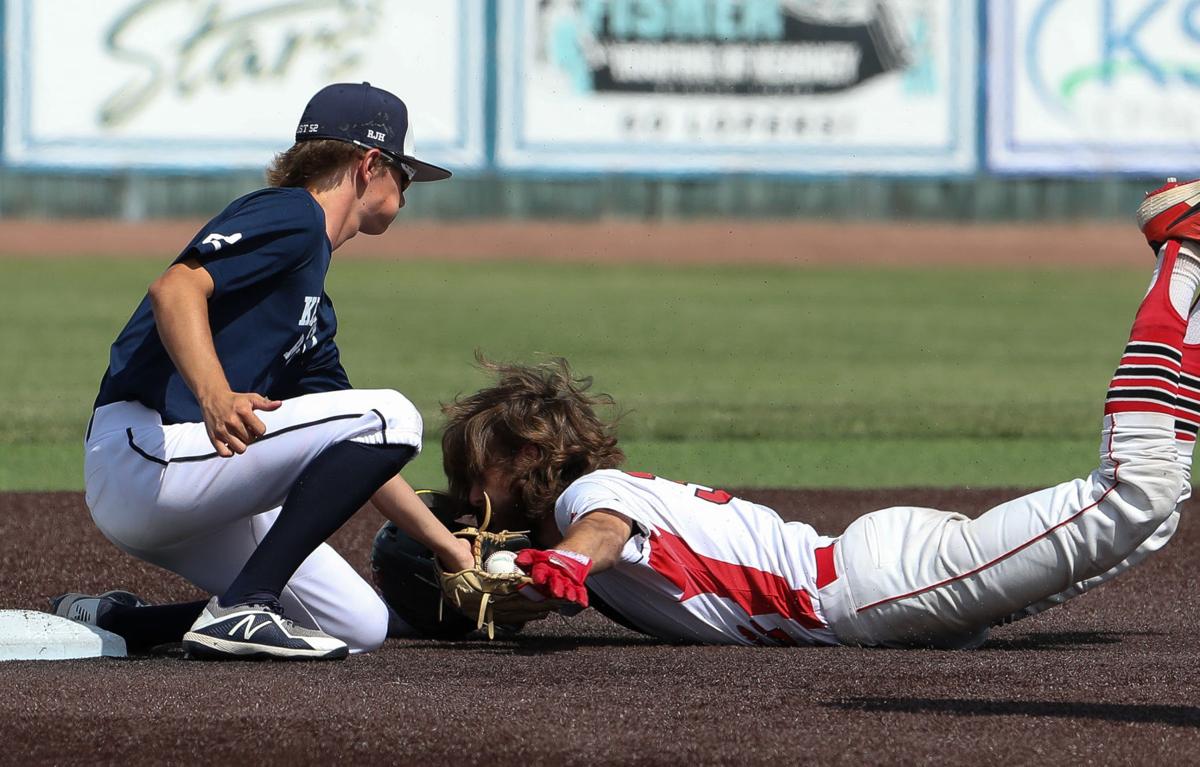 KEARNEY — Kearney Runza swept Mount Michael Benedictine in a doubleheader Friday night.
Runza scored on a wild pitch to escape with a 2-1 victory in the first game and then prevailed 5-3 in Game 2 at Memorial Field.
With two outs in the bottom of the seventh inning and the game tied at one run apiece, Runza's Layne Shiers scored on a wild pitch for the game-winning run.
Runza's only other run came in the third inning when Connor Clevenger scored on a wild pitch.
Cal Higgins received the start and was nearly unhittable. He allowed just one unearned run on one hit and two walks while striking out seven batters in 5 2/3 innings.
Mason Casper pitched in relief, throwing 1 1/3 innings of hitless baseball to earn the victory. He struck out three batters.
In Game 2, Runza broke a 2-2 tie in the bottom of the fourth inning when Nick Carlson smacked a two-run double to center field.
Runza added an insurance run in the sixth inning.
Brayden Andersen started on the mound for Runza and earned the victory after allowing three runs (two earned) in five innings. Jaxon Worley picked up the save after throwing two scoreless innings.
LINCOLN — Kearney Post 52 split their two games Friday in the first day at the Lincoln Tournament.
They defeated Omaha Skutt 10-7 in six innings in the first game and then lost to Sioux Falls (S.D.) 8-5 in six innings in the second game.
The game was tied at 7-7 when Post 52's Dawson Stutz hit into a fielder's choice, which scored one run to give them the lead over Omaha Skutt.
It was apart of a six-run fifth inning for Post 52 that overcame a three-run deficit to take a three-run lead in the fifth inning.
Jack Dahlgren got the win for Post 52. He pitched three innings, allowing two hits and one run while striking out two batters.
Post 52 tallied 11 hits in the game. Max Myers, Luke Wegner and Beau Knapp all recorded multiple hits for Post 52. Myers led Post 52 with three hits in four at-bats.
In the second game of the tournament against Sioux Falls, Post 52 found themselves behind by two runs after three innings. They managed to score four runs in the fourth inning to take a 4-2 lead. Post 52's offense inning was led by Nolan Smith and Ty Redinger, who each drove in two runs, in the fourth.
That two-run advantage disappeared in the bottom of the sixth inning when Sioux Falls scored five runs to win in walk-off fashion.
Be the first to know
Get local news delivered to your inbox!