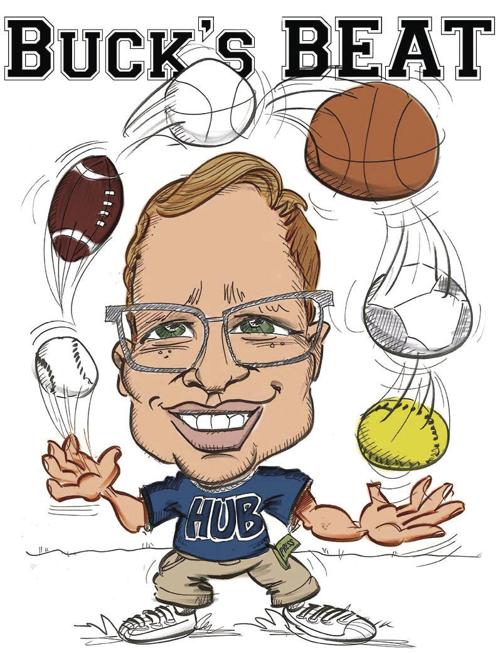 A few days ago, former Hub sports writer Chris Basnett, as part of his current job, needed to inform his Twitter followers of the results of a late-night Nebraska Cornhuskers' baseball game.
He did it in the best way possible (slightly altered to fit in a column here):
There, in those handful of numbers, you can decipher the story of the game, from start to finish.
It's the baseball linescore, currently falling out of fashion, but still amazingly simple and informative.
Nebraska, on the top line, was the visitor, batting first. The Huskers scored one in the second and two in the third to lead 3-0.
Then Riverside's offense came to life. A two-run rally in the bottom of the third, followed by a three-run rally in the fourh — and Riverside led 5-3.
Then, nothing doing for quiet a while. It was still 5-3 when the Huskers came to bat in the seventh.
That's when Riverside's pitching took a powder and Nebraska batted around once. Then twice. Possibly a third time.
It must have been like watching a bad Legion game when the pitching ran out, only without a mercy rule.
Run after run after run. Hit after hit, and more runs.
Twenty-one runs on 20 hits with three errors for the Huskers. Six runs on eight hits and two errors for Riverside.
Quick deduction — the Huskers can hit, the pitching is OK and the fielding represents a hard winter in the Heartland.
Hitters are always ahead of pitchers this time of year.
But we've heard summer is coming.
With warmth comes more baseball (and softball) linescores, and many that aren't constricted by character counts or deadline pressures.
Some include the winning pitcher, the losing pitcher and the pitcher who got the save. Some include home runs or highlights.
The official Associated Press style guide Lists the starting pitcher, the relief pitchers (with the inning they entered the game in parentheses) and the catcher.
That's a pretty good synopsis of the game.
Modern mobile apps used to keep score at most ballgames now are capable of tweeting out score updates more often than anyone really wants to receive them.
Even though they often provide more information, they lack the simplicity of the linescore or the familiarity that allows the reader to immediately capture a sense of the game.
For a quick update, the linescore can't be beat.