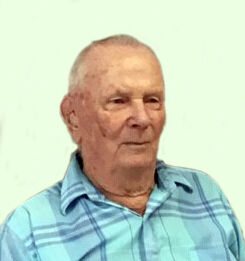 MITCHELL — Raymond E. Hazzard, 92, of Miller died Friday, Oct. 16, 2020, at his son's residence in Mitchell.
Graveside services will be 3:30 p.m. Wednesday at the Armada Cemetery in Miller with the Rev. Dean Pofahl officiating. Military rites will be provided at graveside.
Visitation will be 1-3 p.m. prior to services on Wednesday at Horner Lieske McBride & Kuhl Funeral and Cremation Services in Kearney.
Raymond was born Jan. 14, 1928, north of Miller to Raymond Ellsworth and Alice (Osborn) Hazzard. He attended Wild Horse County School before joining the Air Force in 1950. Raymond proudly served his country while stationed in a variety of locations including Hawaii, Chicago, Denver, Libya and California. He saw active duty during the Korean and Vietnam wars and eventually retired from the Air Force after a 20-year career.
Raymond married Carolyn E. Williams on Nov. 15, 1952, in Elm Creek. The couple were blessed with five children, Debra, Patti, Edwin, James and Russell. After his military career, Raymond and Carolyn moved to the Miller area where Raymond farmed and later worked at Eaton in Kearney until his retirement in 1990.
Survivors include his children, Debra and Art Thompson of Lincoln, Patti and Dan Lee of Elsie, Edwin and Rhonda Hazzard of Mitchell, James and Yenni Hazzard of Lincoln and Russell Hazzard of Highlands Ranch, Colorado; sister, Hazel Strickler of Plattsmouth; sisters-in-law, Marlyn Hazzard of Broomfield, Colorado, and Geri Hazzard of Kearney; nine grandchildren; 13 great-grandchildren; and numerous nieces, nephews and other extended family.
Raymond was preceded in death by his wife, Carolyn in 2008; three sisters, Roslyn, Lois and Ruth; four brothers, Bernard, Kenneth, Walter and Harley; and one grandson, Jared Lee.
The family wishes to express its gratitude to Ed and Rhonda Hazzard and their family for their care of Dad.
Memorials are suggested to the American Cancer Society.
Obituaries Newsletter
Sign up to get the most recent local obituaries delivered to your inbox.