To keep the coronavirus out, Nebraska nursing homes went on strict lockdown in March: no visits from family members and friends, no communal dining, no group card games.
Now, there's a chance for long-term care and independent living facilities to relax some of those restrictions and allow all residents to see visitors — but first they'll have to test their entire staff to rule out any hidden coronavirus infections.
As coronavirus cases generally flatten out in Nebraska after peaks in late April and early May, state guidelines released last month outline the steps facilities must take to slowly and carefully reopen.
If nursing homes are free of COVID-19 and meet certain criteria, they can start to loosen the rules around visitation, dining, group activities — even bring in hair stylists and barbers for some much-needed haircuts.
It's not mandatory to mass-test workers, but it will be required at least once if facilities want to proceed to the third and final phase of reopening. In the second phase, visits are allowed for medical issues or for "compassionate care." In the third phase, which some Nebraska nursing facilities have entered, all residents are allowed visits, with limits.
If a facility has ever had a resident or staff member test positive since the pandemic started in March, then they should test all residents, too.
"Baseline testing of staff and residents is critical to understanding how the virus may exist in facilities, especially among those without symptoms," the Nebraska Department of Health and Human Services explains on its website.
The state is offering facilities free testing kits, personal protective equipment for those doing the testing and lab processing through the public-private TestNebraska initiative. Facilities just have to arrange for staff or local health care workers to swab employees or residents for the virus and get the samples to the lab at St. Elizabeth Regional Medical Center in Lincoln.
"We're offering this at the cost of the state to help facilities as they want to relax restrictions," said Becky Wisell, the interim deputy director for health licensure and environmental health in HHS's division of public health. "The residents have been subject to these restrictions for so long, and everyone is looking forward to having more opportunities for visitation or activities within the facility with other residents."
The testing initiative will require a massive amount of test kits, and the cooperation of facilities, their staff and local health departments.
In the three weeks or so since the initiative was announced, 265 facilities have applied for baseline testing for more than 17,900 staff members and nearly 2,800 residents.
Facilities can conduct their own testing, but the state won't pick up the cost. HHS would like all employees throughout the state to be tested by the end of July, though Wisell admitted that was an ambitious goal.
Cost estimates for the testing program were not provided, but Wisell said HHS will be using the testing kits obtained through the $27 million TestNebraska contract.
Besides testing, the reopening guidelines for long-term care facilities take into account other variables, including whether coronavirus cases in the surrounding community are stabilizing or spiking.
Many people who get the coronavirus will experience only mild to moderate symptoms and recover. But those who are older or have underlying medical conditions are at higher risk for more severe illnesses and even death. With seniors or medically fragile residents living in close quarters, nursing homes quickly became coronavirus hot spots.
When the pandemic first emerged in Nebraska, many nursing homes quickly shut down outside visits and sequestered residents in their rooms. Before shifts started, workers had their temperatures checked and were asked if they had a cough or a sore throat.
But in dozens of facilities, the virus still found a way in, often through the people who worked there and were still susceptible to catching the virus at the grocery store or from family members. Studies of nursing home outbreaks in hard-hit areas like Washington state found that some staff members tested positive even though they had no COVID-19 symptoms.
In emails obtained through a records request by the Documenting COVID-19 project of the Brown Institute for Media Innovation at Columbia University, Nebraska officials said Iowa was testing nursing facility workers in towns with meatpacking plants, another workplace vulnerable to coronavirus outbreaks. Iowa found overlap between the two industries in many households: one family member might slice meat at a pork plant while another worked as a nurse or aide at a local nursing home.
Some facilities managed to stamp out the virus before it spread like wildfire. In others, residents fell ill at alarming rates, and even died.
Infections have occurred at 152 of the state's 496 long-term care facilities, with 636 residents and 552 staffers testing positive as of earlier this month. At least 113 residents have died — they account for 40% of all coronavirus-related deaths in Nebraska.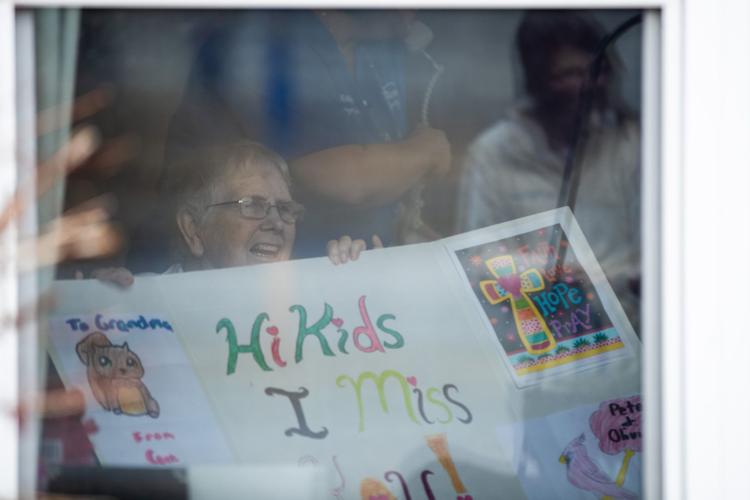 State officials have said nursing home cases in Nebraska have largely stabilized. But new cases in nursing homes are still cropping up — the virus has not been totally extinguished, said Dr. Muhammad S. Ashraf, an associate professor of infectious diseases at the University of Nebraska Medical Center and medical director of Nebraska's Infection Control Assessment and Promotion Program, or ICAP.
But there is a risk-benefit analysis to keeping nursing home residents away from their families and regular social activities for months on end.
"The reason that we're still loosening some restrictions is because it has been so long," Ashraf said. "We have restricted visitation, community dining, group activities, and it is taking a toll on our elderly nursing home residents. There is an emotional price to pay — depression, anxiety."
Facilities can't force employees to be tested, but if they refuse, the facilities may require them to quarantine at home or wear full personal protective equipment at work. A few workers have questioned the need to be tested, but Wisell said most have been willing to get swabbed.
"Working in long-term care, they really care about the folks they're taking care of," she said. "They would not want to bring into a facility something that would put those folks at risk."
Hillcrest Health Services, which runs roughly a dozen facilities in the Omaha area and Lincoln, has started testing workers at several of its campuses, spokesman Jim Janicki said, though procuring enough tests has sometimes been difficult.
Hillcrest staff and residents have tested positive for the coronavirus, but they're down to only two residents with active infections.
"It's quite an undertaking, but we know we want to do that," he said of the baseline testing. "From a safety perspective, we want to know if there are any asymptomatic team members."
A few workers initially objected on grounds of bodily autonomy. Others were scared of the long swab up the nose. But most came around after hearing more about the rationale behind the testing program, Janicki said.
If even one staff member tests positive, then the state strongly recommends that all residents be tested, too. State infection control specialists and local health departments will work closely with facilities where testing unearths positive cases, sending sick workers home and isolating residents in separate COVID-19 units, when possible, to contain the spread.
Heath Boddy, president and CEO of the Nebraska Health Care Association, which represents both nursing homes and assisted living facilities, said facilities appreciate the help from the state and like the tailored approach to reopening.
Facilities in areas where cases are heating up may have to play by different rules from communities with only a handful of cases.
But a one-time test of staff members is just one way to keep the coronavirus at bay.
"It's a tool in the approach of trying to keep elder or senior Nebraskans safe," he said. "It is one of the tools. It is not a silver bullet. It's a point-in-time test."
A staff member could test negative one day and be exposed the next. Some states, like Colorado, have announced plans to test staff on a weekly basis — what the federal Centers for Medicare & Medicaid Services recommend for reopening — while other states and facilities have balked at the cost and logistics involved.
The American Health Care Association, which represents long-term care centers, estimated that testing every nursing home and independent living resident and employee in the United States, just one time, would require 4.4 million coronavirus tests and cost upward of $672 million, at $150 per test.
Until a vaccine is available, Boddy said he hopes rapid-testing technology becomes more widespread and more accurate, so facilities can test and almost immediately receive results for residents, workers and all visitors before they come inside.
There's also the risk of more workers catching the virus now that more restrictions on gatherings and businesses have been eased across the state.
"There are definitely concerns that as we are opening up our communities, our nursing homes are going to be at increased risk," Ashraf said.
Janicki said Hillcrest has seen the number of staff members testing positive slowly ticking up. It doesn't appear that those workers have been partying at the bar or the beach — their cases seem to be tied to sick family members or second jobs — but that remains a risk going forward.
"We have been advising our facilities ... to educate their staff members as much as they can about their roles and responsibilities when they're outside their work, to make sure they're following the guidance of social distancing, and they are avoiding any high risk exposures themselves," Ashraf said, "to keep their residents that they take care of safe, and their fellow workers."