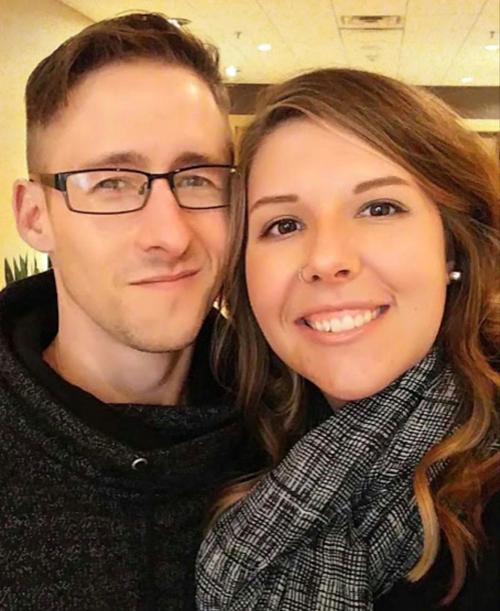 Kjersti Pollard didn't have a clue what it would mean when she started taking out loans to finance a textiles and fashion design degree from the University of Nebraska-Lincoln.
Nor was she too concerned about making more than a minimum payment each month when the $48,000 bill arrived after her 2013 graduation.
"I just always thought it was something I would have to live with and pay off slowly, and it would always be the monkey on my back,'' she said.
Instead, that monkey was blasted into nothingness in 12 months. She and husband Carson successfully paid off $58,000 worth of debt. Interest had pushed her loan to $53,000.
Pollard, a manager at a women's clothing boutique in Lincoln, still finds it hard to fathom, considering the couple's combined income is less than $95,000.
"I felt like I could breathe,'' Pollard said of the loan payoff. "All the things we wanted in life are an option.''
Pollard's large student loan isn't unusual. Americans owe $1.56 trillion in student loan debt, spread among about 45 million borrowers, according to studentloanhero.com.
Sixty-nine percent of the college students in the class of 2018 took out student loans and graduated with an average debt of $29,800. Fourteen percent of their parents took out an average of $35,600 in federal Parent PLUS loans.
In Nebraska, that federal student loan debt average is $26,585.
It's debt that can delay buying a house, getting married, having children or saving for retirement.
Joan Jurek, director of college planning for EducationQuest Foundation, said loans aren't a bad thing as long as you don't get in over your head. It's a way to invest in yourself.
One thing to consider, though, when taking on student loan debt is your major and your career earning potential.
EducationQuest helps prospective students understand the options and educates them on loan terms.
"I think it's pretty fair to say until you live in the world a while and know what your expenses are going to be, it's hard to understand what a monthly payment is going to look like,'' she said.
Pollard was responsible for paying her own college and living expenses. She had little debt from her time at Southeast Community College, where she earned an associate degree before going to UNL.
The debt she accrued in three years at UNL wouldn't have been paid off for years without the intervention of Carson, who went into the Marine Corps right after high school. Using the G.I. bill and his Air National Guard assistance, he graduated from Bellevue University in 2017 with no education debt.
Pollard, meanwhile, had just been steadily paying the minimum $150 on her loan every month for years.
"I was always the resistant one,'' Pollard said. "My husband was always, 'We can do this.' ''
They signed up for a Dave Ramsey Financial Peace University class at a local church and prepared by spending three months working out their budget. They realized that expenses don't happen $200 at a time; it was more like $20 at a time.
"Before budgeting, we were spending $500 to $600 monthly on eating out and entertainment without even realizing it. We were spending our money very willy-nilly.''
As Ramsey suggests, they gave every dollar a purpose. "If you don't tell your money where to go, it will tell you where it went instead.''
Kjersti still allowed some money for buying clothing and getting her hair done. They had fun money in the budget, too, although the amount was much less than before.
They put everything they could toward their debt. Once that was gone, their focus turned to the mortgage for the house they purchased in 2014. They expect to have that paid off in two years.
"We had always talked about travel,'' Pollard said. "We are going to go to other countries. Not live paycheck to paycheck.''
Pollard, now 34, said if she was talking to her 18-year-old self, she would tell her to look harder for scholarships, which don't require repayment. She would educate herself about the loan process, learn how to construct and follow a budget and avoid credit card debt.
The light at the end of a tunnel of her student loan debt started out as a pin hole. As months passed, it grew to a penny hole.
"It became bigger and bigger,'' Pollard said. "Finally, I could see it.''