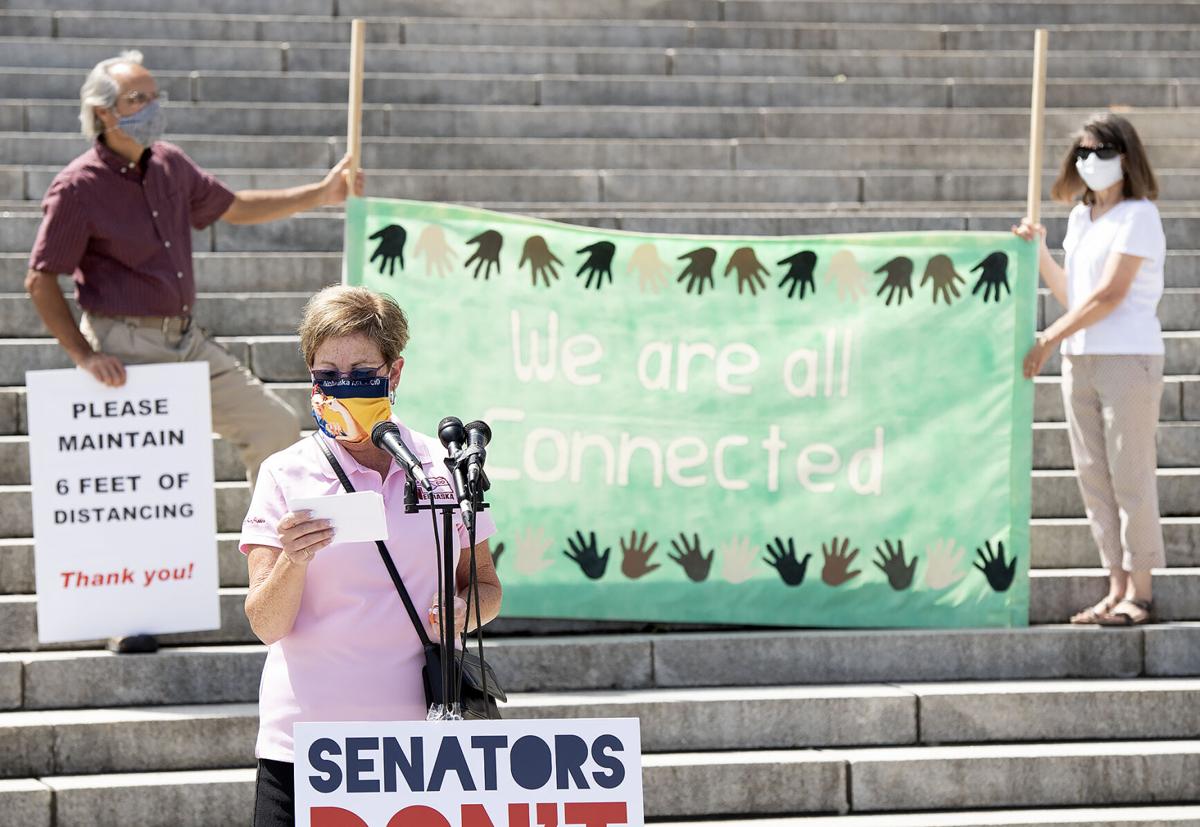 LINCOLN — Meatpacking workers and their advocates will get a legislative hearing to air their workplace concerns related to COVID-19 next week despite the Legislature's decision on Wednesday denying Sen. Tony Vargas an opportunity to introduce a new bill.
Sen. Matt Hansen of Lincoln said he has scheduled a hearing for next Thursday before his Business and Labor Committee that will provide a forum for consideration of measures that might be taken to provide safeguards in Nebraska meat processing plants, where nearly 5,000 workers have been infected by the virus.
"Yesterday, I heard widespread comments in favor of getting public input on this issue and saw a majority of my colleagues vote in favor of further discussion of the issue," Hansen said.
"After seeing that, I felt it necessary to hold a hearing and worked with Senator Vargas on how that could best be accomplished."
A few hours after his motion to gain legislative approval to introduce a new bill addressing the issue fell two votes short, Vargas filed an amendment to rewrite a bill pending in Hansen's committee in order to address worker concerns.
The amendment would mandate a series of safety measures in meatpacking plants, including a provision requiring 6 feet between workers on production lines. 
That bill, LB667, had originally been introduced by Vargas to fund youth work development and training assistance.
Hansen said he believes the Legislature "has not had or taken the chance to address the realities of the COVID-19 pandemic in our state (and) hopefully this hearing can be a start for discussing some of the many problems facing our constituents."
"We, as a Legislature, will need to address them at some point in the future," he said.
On Wednesday, Vargas won majority approval to introduce a new bill addressing meatpacking worker concerns, but his proposal fell two votes short of meeting a 30-vote threshold.
Eleven senators who were present at the time chose not to cast a vote.
Vargas represents a legislative district in south Omaha that is home to a large Latino population, many of whom work at nearby meat processing plants.
The state's meat processing workforce is largely composed of Latino, immigrant and refugee workers.
Vargas, whose father died in New York City in April after a lengthy battle with the coronavirus, is the only Latino member of the Legislature.
Workers on rapidly moving meat processing production lines labor shoulder-to-shoulder and often directly across from one another.
The amendment prepared by Vargas would require 6 feet of distancing between workers, conforming to the norm of 6 feet of social distancing expected outside those plants as a protection against the virus.
That could be accomplished by slowing production line speeds, staggering work shifts and work breaks, or adjusting the number of employees in work shifts, according to the amendment.
Although the federal Occupational Safety and Health Administration has authority over standards in meat processing plants, states are empowered to add their own requirements. 
Twenty-one meatpacking workers in Nebraska have died after they contracted the virus; 223 have required hospitalization.
"This is not the end of our fight," Vargas tweeted on Thursday.
"We have to keep pushing. Sí se puede!"