LINCOLN — The newest Runza in town is missing one important item: the restaurant chain's signature sandwich.
That's because Lego doesn't make bricks that resemble the beloved meat pocket.
Adam Prochaska spent about eight months building the detailed fast-food restaurant from the small plastic bricks.
"It's one of those iconic Nebraska restaurants that, I think, holds a special place in people's hearts," Prochaska said.
The replica will be on display later this month at Brick Days, a family-friendly Lego event featuring custom creations, games and activities.
Prochaska has been involved with the Lincoln and Omaha Lego User Group, a club that takes part in Brick Days, for a few years. The club members meet monthly to talk and make creations with Lego bricks.
Prochaska, who lives in Lincoln, contacted Runza to see if the chain would provide food for the artists at this year's Brick Days event. In return, he would craft a Runza restaurant out of Lego bricks.
"As a business, we like to support other local endeavors, and this seemed too cool for us to say no to," said Janey Malcolm, marketing coordinator for Runza.
Runza officials shared blueprints from the store in Gretna. Prochaska, 43, focused on the big details, like signage, doors and dimensions. That way, people wouldn't notice things that were missing, like the kitchen.
The replica, which is about 30 inches by 15 inches and uses at least 3,000 bricks, includes a dining room, booths, tables and lights. It also features a drive-thru window and a counter where Lego customers place orders.
Inside, diners hold cups, fries and onion rings. Take a closer look, and you'll see some celebs, including actress and Omaha native Gabrielle Union and her husband, retired NBA star Dwyane Wade. One table features characters from "The Big Bang Theory," one of whom was from Nebraska.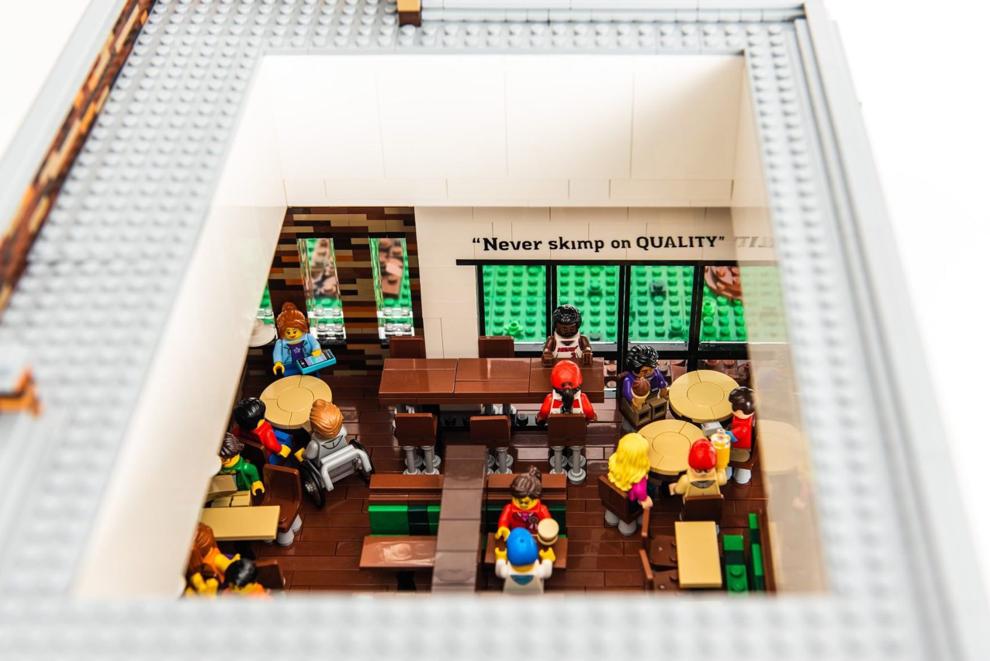 The outside of the restaurant includes two Runza signs, made from vinyl, as well as awnings, doors and a drive-thru. A Lego figurine sporting a corncob costume stands out front, holding an ice cream cone.
Prochaska included small details, too, like cups of ranch dressing, a ketchup pump and a pop dispenser.
Everything in the model, with the exception of the Dwyane Wade figurine, is from Lego. Prochaska, who is a full-time attorney and father of three, worked on the replica in his free time. It sometimes became a waiting game when he had to order more bricks.
"It's fun when people see them," Prochaska said of the models. "It kind of brings out the inner kid in people."
This isn't the first local building Prochaska has crafted. He also has built Lincoln landmarks, including Goldenrod Pastries, the Nebraska Supreme Court chambers and the now-closed Tastee Inn and Skate Zone.
"Your imagination is the limit," Prochaska said. "Really, you can build anything out of Lego."