GRAND ISLAND — While immigrants were settling into two tents in Grand Island, three rallies protesting federal government actions were held locally Wednesday evening.
About 85 people demonstrated in front of Super Acapulco Restaurant early in the evening. Signs carried such messages as "Stop family separations," "Keep families together" and "Abolish ICE."
It's believed that some of the workers captured in immigration raids Wednesday were being housed in two white tents behind the U.S. Immigration and Customs Enforcement facility in Grand Island.
Some of the protesters held a candlelight vigil outside the Hall County Jail, where ICE inmates are often housed. Members of the protest group also distributed leaflets to local businesses and gathered outside the ICE facility.
The ICE location in Grand Island is in a building at 703 S. Webb Road, between Pacific Plaza and Pump and Pantry.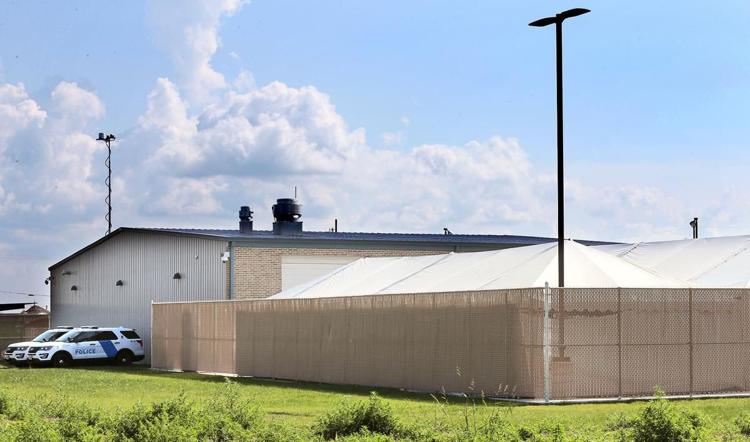 There is no indication on the outside of the building that it houses an ICE office. The sign outside lists the tenants as the U.S. Department of Agriculture, Farm Services Agency and the Natural Resources Conservation Service.
A number of Homeland Security vehicles were parked in the facility's parking lot Wednesday afternoon and evening.
During a multi-state operation led by special agents from ICE and Homeland Security Investigations, a series of criminal arrest warrants were executed Wednesday for 17 individuals connected to an alleged criminal conspiracy to exploit immigrant laborers for profit, fraud, wire fraud and money laundering in Nebraska and Minnesota.
During the execution of search warrants, 133 workers were arrested for immigration violations. Some will be issued notices to appear before a federal immigration judge and released from custody; the rest will remain in ICE custody pending immigration court proceedings.
According to Homeland Security and ICE, search warrants were served at the following businesses and locations:
— Christensen Farms with numerous locations in Appleton, Minn., Sleepy Eye, Minn., and Atkinson, Neb.;
— Elkhorn River Farms in O'Neill;
— O'Neill Ventures in O'Neill;
— La Herradura Restaurant in O'Neill;
— El Mercadito (grocery store) in O'Neill;
— A private ranch in O'Neill;
— La Herradura Restaurant in Stromsburg;
— GJW LLC with three locations in Ainsworth;
— J.E. Meurets Grain Company in Ainsworth;
— Herd Co Cattle Company in Bartlett;
— Long Pine (farm) in Royal.
According to a news release, the immigrants who remain in ICE custody after being administratively arrested on immigration violations will be transported to a nearby processing facility and placed in removal proceedings. Detained aliens will be held in facilities in Nebraska and Minnesota while awaiting removal proceedings.
"In the context of any enforcement action, ICE utilizes prosecutorial discretion on cases involving humanitarian concerns, such as health or family considerations," the release says. "Accordingly, during the enforcement action Wednesday, several individuals were processed and released from custody the same day on humanitarian grounds."
Rose Godinez, legal and policy counsel for the ACLU of Nebraska, released this statement Wednesday:
"The Trump administration's war on immigrants was waged in Central Nebraska today. The ACLU condemns this ongoing campaign of misery that targets immigrants, disrupts local businesses and separates families. Immigrants enrich Nebraska communities in countless ways and are fulfilling an important role in our local economy. We are proud to stand in solidarity with our Nebraska neighbors and a host of Nebraska leaders across the political spectrum from the faith community, business community and agriculture community, in urging our Congressional delegation to stop playing politics and enact immigration reform, including a permanent solution for DREAMers, TPS recipients, asylees and refugees. We encourage attorneys interested in volunteering to serve those affected by the recent ICE raid to contact Immigrant Legal Center or ACLU of Nebraska for training resources and community members to report suspected civil rights violations to the ACLU, because the Constitution protects immigrants too."
A 24-hour toll-free detainee locator hotline is available for family members of those arrested in this operation to field questions about their detention location and status, and the removal process. The hotline operates in English and Spanish; the phone number is 1-888-351-4024.
Be the first to know
Get local news delivered to your inbox!