SCOTTSBLUFF — Officers from 200 law enforcement agencies across Nebraska and the United States joined in remembering a fallen Nebraska State Patrol trooper as a dedicated servant, father and friend during services in Scottsbluff Thursday.
Trooper Jerry Smith, 51, of Scottsbluff, died on June 20. Smith had been on patrol near Bridgeport, when his vehicle was struck nearly head-on by another driver in a three-vehicle collision. The driver of that vehicle, Derek Lacrete, 28, of Lewellen, also died.
Smith is the first Nebraska State trooper to die in the line of duty in 20 years.
An estimated 500 people attended Smith's funeral. Gov. Pete Ricketts said during the service that law enforcement officers from New York to California were in attendance. He described Smith's life as one dedicated to a noble mission: to protect and serve, first in his dedication to the U.S. Army and then to the Nebraska State Patrol.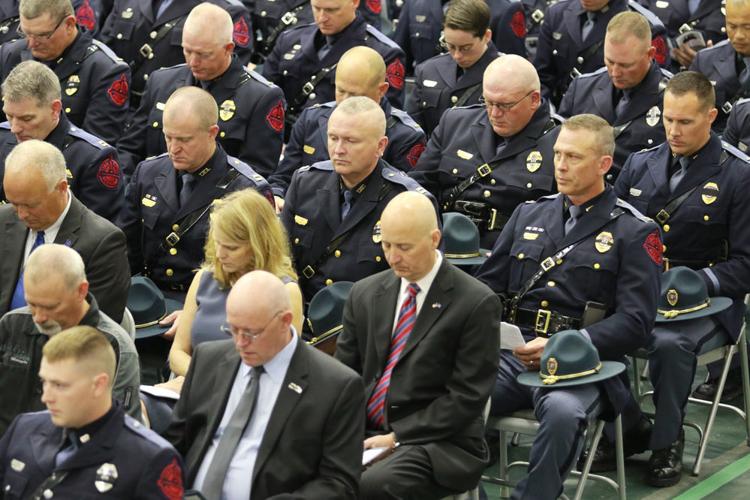 "Jerry knew God's plan for his life was a life of service," he said, "whether it was serving overseas or for the state of Nebraska."
Before he joined the patrol, Smith served in the U.S. Army for 25 years, from 1986 to 2011. During that time, he investigated a number of crimes and earned numerous awards, including a Bronze Star during two tours of combat in Operation Iraqi Freedom. After serving in the Army, he worked other jobs before deciding that he wanted to return to law enforcement.
Law enforcement officers make great sacrifices, Ricketts said, being away from family and friends on holidays, missing ballgames and dance recitals of children, and working while others are sleeping.
"Jerry Smith knew that. He made a career of that," he said, noting Smith's honors in the U.S. Army. "He was willing to lay down his life to protect us at home, to protect us from the dangers of the outside world. He put himself in harm's way."
Smith is believed to be the oldest graduate of the Nebraska State Patrol's Basic Recruit Camp. He graduated with the 56th Basic Recruit Class on May 1, 2015, at 47 years old. Other recruits called him "grandpa," Ricketts and others said. He served in the Panhandle's Troop E, based in Scottsbluff, his entire career. Smith's life of service "should serve as an inspiration to all of us."
Ricketts addressed Smith's family on Thursday — wife Karin, daughter Mechelle Smith and sons James and Scott.
"We are so sorry for the loss of your father, your husband," he said. "We feel that loss as well in the Nebraska State Patrol and across the state."
Nebraska State Patrol Superintendent Col. John Bolduc described Smith as a humble man, a great servant and a true treasure to the state patrol.
Bolduc and Rev. Robert Manasek shared stories about Smith.
Bolduc said, "Jerry was all about the team. He was about making things better. He didn't have anything to prove."
Bolduc said Smith worked behind the scenes, even helping others who didn't know he was helping them. He has been described as a mentor, a role model and a guide to the recruits he served with. Bolduc said he didn't ask for any modifications or special treatment. The rigorous training at the NSP "was basically a piece of cake for Jerry."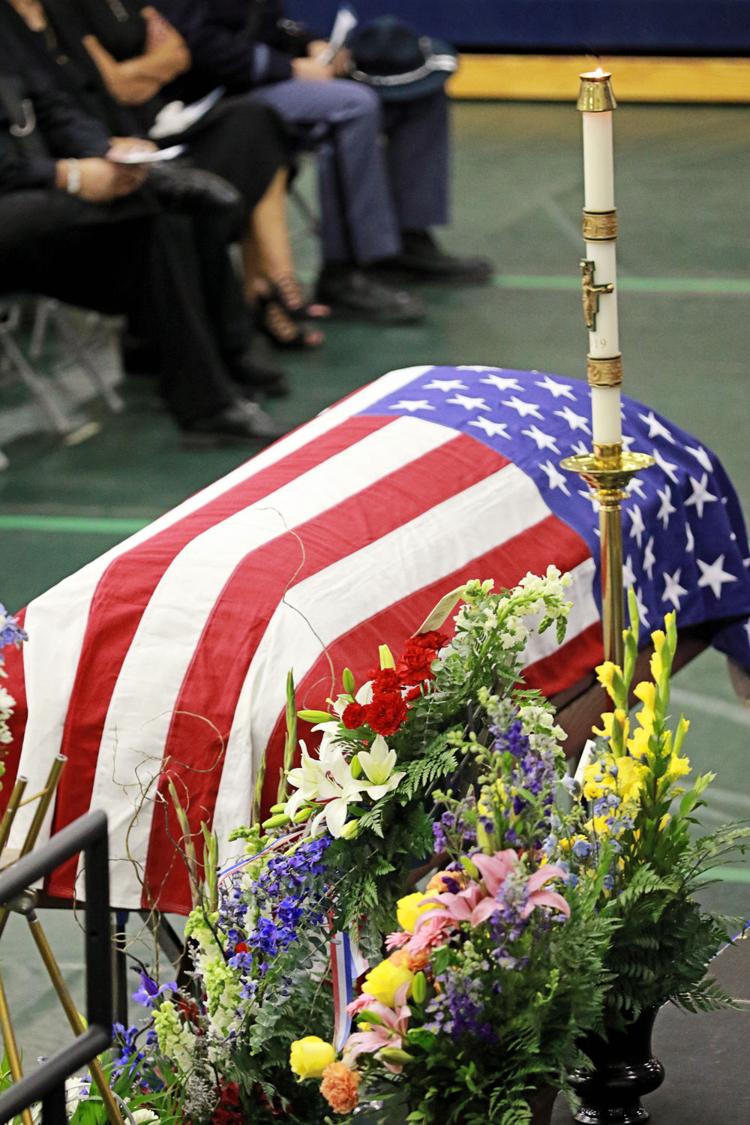 As a trooper, Manasek said people told him Smith was often smiling and even famous in Bridgeport, where he patrolled Highway 26 and other Nebraska highways. He was described as lenient most of the time, but could be stern when needed. Manasek told of two stories from people who had encountered Smith and found him to be kind.
"He had empathy for the drivers he met and sympathy for their situations," Manasek said. "He protected citizens with grace and honor."
Smith was also remembered for the man that he was. Manasek said he always had a pickup in his driveway, working on auto projects, he liked motorcycles, country music and music from the 1980s. Country songs, including "God Bless the U.S.A.," were among the songs played at the service.
His daughter Mechelle Smith, gave the eulogy, sharing an anecdote about Smith being so wrapped up in a project with one his sons that although he injured his hand and it was bleeding, he wrapped it up in paper towels and duct tape. He continued on and finished the project before going to the emergency room. His hobbies involved whatever his family members were interested in, she said.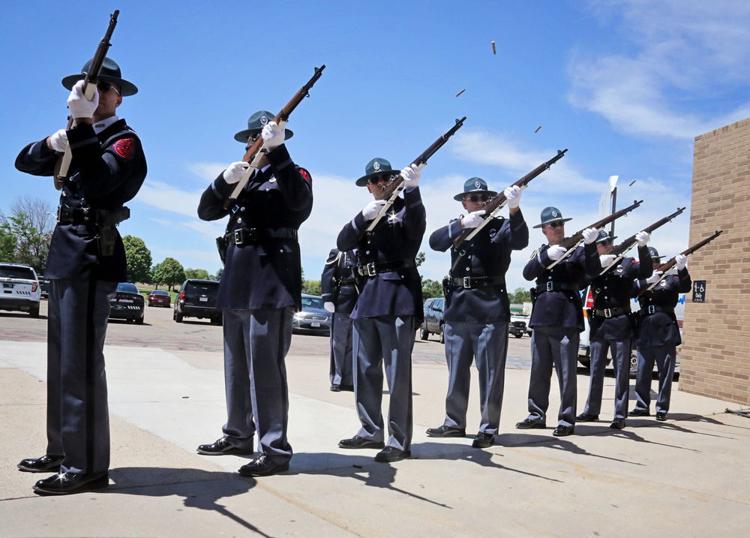 He was a proud father and grandfather who always had a smile, diligent and strong. He loved his wife so devotedly, she said, that he continued to hold her hand after 30 years of marriage.
"He loved his family, he loved his country and he loved his job," Mechelle Smith said.
She also described him as humble, not speaking about his Bronze Star and having it packed away. He never saw himself as a hero, she said.
Hundreds of people also gathered in the community to pay tribute to Smith, lining the procession route. People lined the route, many holding flags or signs. Flags were also put on display and blue ribbons tied to trees, poles and signs decorating the route to Western Nebraska Community College.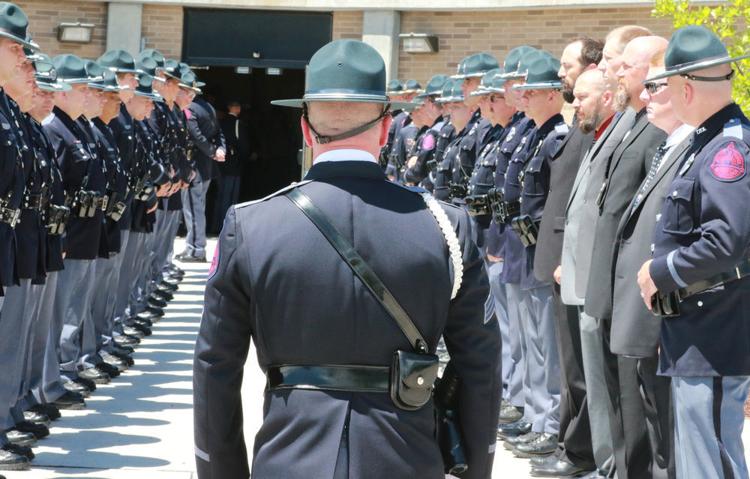 Be the first to know
Get local news delivered to your inbox!