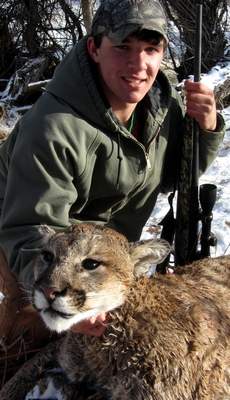 HARRISON, Neb. — Two Nebraska hunters each shot and killed a mountain lion Thursday during Nebraska's inaugural cougar hunting season.
Tom Ferry of Ponca, Neb., shot and killed one of the big cats Thursday morning.
He got his cougar, a male, on the Ponderosa Wildlife Management Area southeast of Crawford. The cougar was about 5 years old and weighed 150 pounds or more, officials said.
Ferry paid $13,500 to be the winning bidder at a Nebraska Big Game Society auction in October for one of the first mountain lion permits.
Early Thursday afternoon, high school sophomore Holden Bruce shot and killed another mountain lion while hunting on Sowbelly Creek northeast of Harrison.
The 16-year-old bagged a 102-pound male that was about 2 years old.
Holden, who returns to classes Monday at Franklin High School in south-central Nebraska, won his permit in a lottery open to all Nebraskans. He paid $15 to enter the lottery.
Ferry and Holden held exclusive Nebraska Game and Parks Commission permits to hunt a cougar until Feb. 14.
Holden started hunting Wednesday northeast of Harrison in the Pine Ridge. Ferry started Thursday.
Harrison ranchers Deric Anderson and Jerry Stewart, both of Newcastle, Neb., guided Holden to draws and canyons where they had recently seen cougar tracks.
The hunting party, which included Holden's father, Jeremy, and brother Tristan, found no tracks Wednesday in new-fallen snow.
They found tracks and the cougar Thursday morning.
Ferry, 58, the regional distributor of Interstate Batteries in Sioux City, lives near Ponca, Neb. He has hunted in Africa, Canada, New Zealand, Russia and across the United States. Among the 150 trophy mounts in his home are mountain lions from Arizona and Utah.
The permits issued to Ferry and Holden allowed each to take one cougar, preferably males, in the Pine Ridge during a season that started Wednesday and ends Feb. 14. If the first mountain lion killed was a female, the season would end immediately, and the other hunter would not be allowed to continue.
Ferry and Holden were allowed to hunt with the aid of dogs.
From Feb. 15 through March 31, 100 other hunters, whose names were drawn in the lottery that Holden won, can hunt in the Pine Ridge without dogs. This February-March season also has a quota of two cougars total and ends immediately if one is female.
The Pine Ridge is the only area of the state with a reproducing and stable population of mountain lions. Studies indicate about 22 cougars are in the area.
Mountain lions started migrating back into the Nebraska Panhandle from neighboring South Dakota, Wyoming and Colorado in the 1990s after being wiped out in the state for nearly a century.
Game and Parks officials say the objective for allowing cougar hunting in the Pine Ridge is to provide hunters with opportunities while allowing a slight to moderate reduction in the mountain lion population.
Cougar hunting now is permitted in most of the rest of Nebraska — called the Prairie Unit — in areas unlikely to establish a breeding population of the cats. The season is open year-round and an unlimited number of permits are available. Permits cost $15. Hunting with dogs in the Prairie Unit is allowed only though March 31.
The State Game and Parks Commission's decision last summer to establish a cougar hunting season was controversial. Opponents decried the decision, especially permitting unlimited killing of cougars roaming through the Prairie Unit, which covers about 85 percent of Nebraska.
State Sen. Ernie Chamber of Omaha plans to try to repeal a 2012 law that permitted the commission to establish the mountain lion seasons.