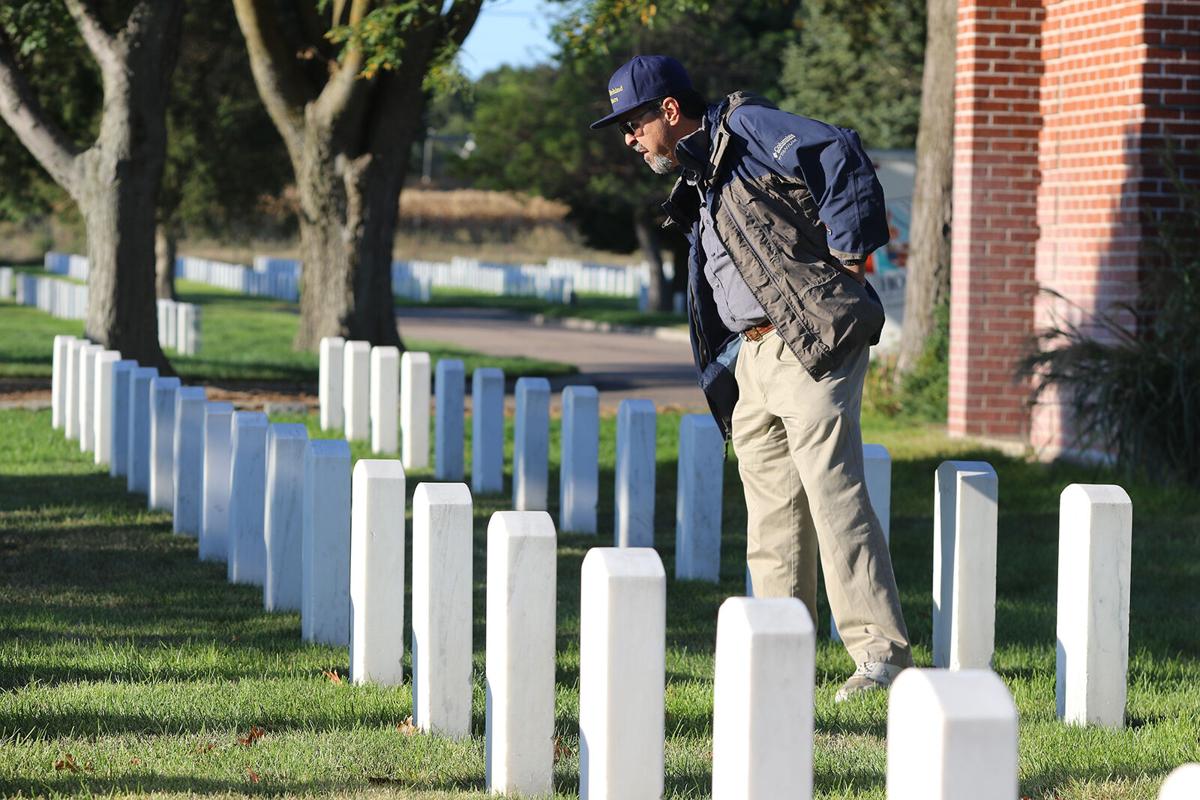 Don Milne's interest in World War II began after he saw the movie "Patton" when he was 10 years old and subsequently decided to read Gen. Omar Bradley's 500-page memoir "A Soldier's Story."
"After that, I stopped reading kids' books," Milne said Monday morning as he made a stop at Fort McPherson National Cemetery. "I thought the real stories of people were more fascinating."
Now he is writing those stories.
Milne has the goal of writing the stories of each of the approximately 400,000 U.S. military personnel who died in World War II,
It is a collection that he has started to host on his website, storiesbehindthestars.org. Eventually he hopes to add a phone app as well.
He said the development of the app will allow anyone to scan a World War II headstone and get a link to read the biography of that individual.
He said it is a way to pay additional homage to those individuals beyond what is done on Memorial Day and Veterans Day.
"If you were to ask the average American to name two superheroes who died in the Marvel movies, they might say it's Gamora and Black Widow," Milne said. "We know our pretend heroes when they die, but ask someone to name 10 people who died in World War II, the real heroes, they might not know any.
"Obviously you can't interview (those individuals) but that doesn't mean we shouldn't take the time to write their stories and find out more about them," Milne said.
The vision grew out of his blog,
He would select a World War II veteran who would have turned 100 that day had they not died during the war.
Eugene J. Huntemer is the Nebraska native whom Milne selected to write about on Aug. 13, 2019. Huntemer, a Naval Academy graduate, died on the USS Cushing when it was attacked and sunk by Japanese destroyers during the Battle of Guadalcanal on Nov. 13, 1942.
Milne visited Huntemer's headstone at Fort McPherson and wandered past other markers in the cemetery, pausing at times to gather information and take photos. Huntemer is one of five individuals from Fort McPherson whose stories are among those told on Milne's website.
The Maxwell stop was part of his move from Salt Lake City, Utah, to Louisville, Kentucky.
Huntemer's story is one of 1,200 that Milne has written himself as part of the project.
He isn't doing it by himself, however. Milne has people from 44 states and nine counties who have volunteered to assist him in the venture. His website also has partnerships with fold3.com, a historical military records site, as well as ancestry.com and newspapers.com to assist with the research efforts.
He said one woman in Minnesota has written 300 stories since the start of the summer.
He figures it may take the efforts of 2,000 to 3,000 people to complete the project. There are 4,000 Nebraskans alone who died in World War II.
"With the technology there to do the research," Milne said. "within a couple of hours I could find information about anyone in this cemetery and write a nice, short obituary-type article about that person.
"We are not asking people to become full-time genealogists," Milne said. "The stories we get are not all coming always from people who are historians, genealogists or reporters. A lot of people just have a passion for this subject."