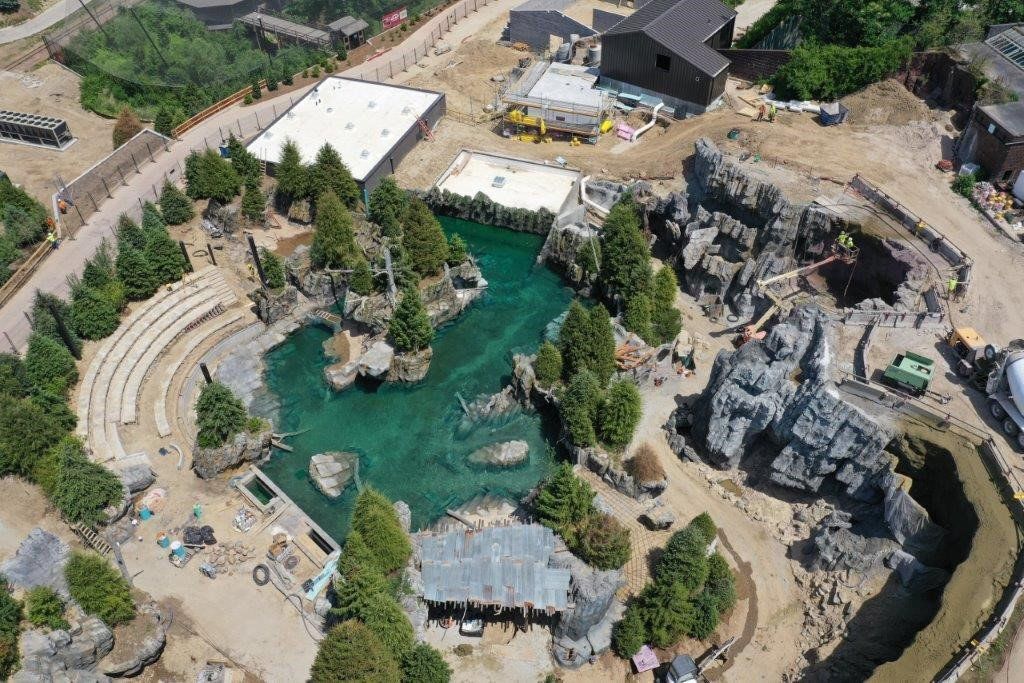 The Henry Doorly Zoo & Aquarium's sea lions got a look at their new home earlier this week when they journeyed from their 48-year-old pavilion to the new Owen Sea Lion Shores.
Set to open the morning of Sept. 4, the Omaha zoo's sea lion exhibit will give people a "nose-to-nose" view of the marine mammals.
Visitors will wind their way through the exhibit — passing a sandy beach where children can play and an above-ground sea lion viewing window. They will then slowly descend until reaching a large "sea cave" that is 12 feet below the surface of a 275,000-gallon saltwater pool.
The cave features a 40-foot viewing window that will provide an underwater, up-close view of sea lions interacting with one another and gliding through the water.
Visitors will have additional chances to see the exhibit during Late Nights at the Zoo planned for Sept. 10 and 17 with new hours of 6 p.m. to 9:30 p.m.
Tickets to the 21-and-older event are $13 per person for zoo members and $23 per person for nonmembers. Admission tickets can also be purchased the day of the event at the zoo's main entrance for $18 for zoo members and $28 for nonmembers.
The Late Nights feature food trucks, drinks and after-hours access to exhibits.
Dennis Schnurbusch, senior vice president of operations and chief operating officer of the zoo, said the financial support gained from events like the Late Nights series "is critical for animal care and day-to-day operations."
Each Late Night's capacity is limited to 3,000 total attendees. To guarantee admission, the zoo recommends purchasing tickets in advance online at OmahaZoo.com/Special-Events.
---
A recap of the Henry Doorly Zoo's arrivals and departures in 2019
2019 arrivals and departures from the Omaha zoo
Be the first to know
Get local news delivered to your inbox!