Omaha native Meridith Moore is living her dream in the music industry in Arizona as a lead singer in her band, The Sugar Thieves. But she still has a soft spot for the Midwest.
"I have always been a very proud Midwesterner and I think there's something to be said about being from Nebraska. There's a sense of pride there," Moore said. "When you're born and raised in Nebraska, you are a Nebraskan through and through forever, and I miss Omaha terribly."
Like the Midwest, music has always been there for Moore. From singing in church growing up to listening to burned CDs from her Uncle Chester, she's found a home in musical environments.
After moving to attend Arizona State University, Moore began going to local open mic nights. She eventually met a guitarist and her future husband, Mikel Lander.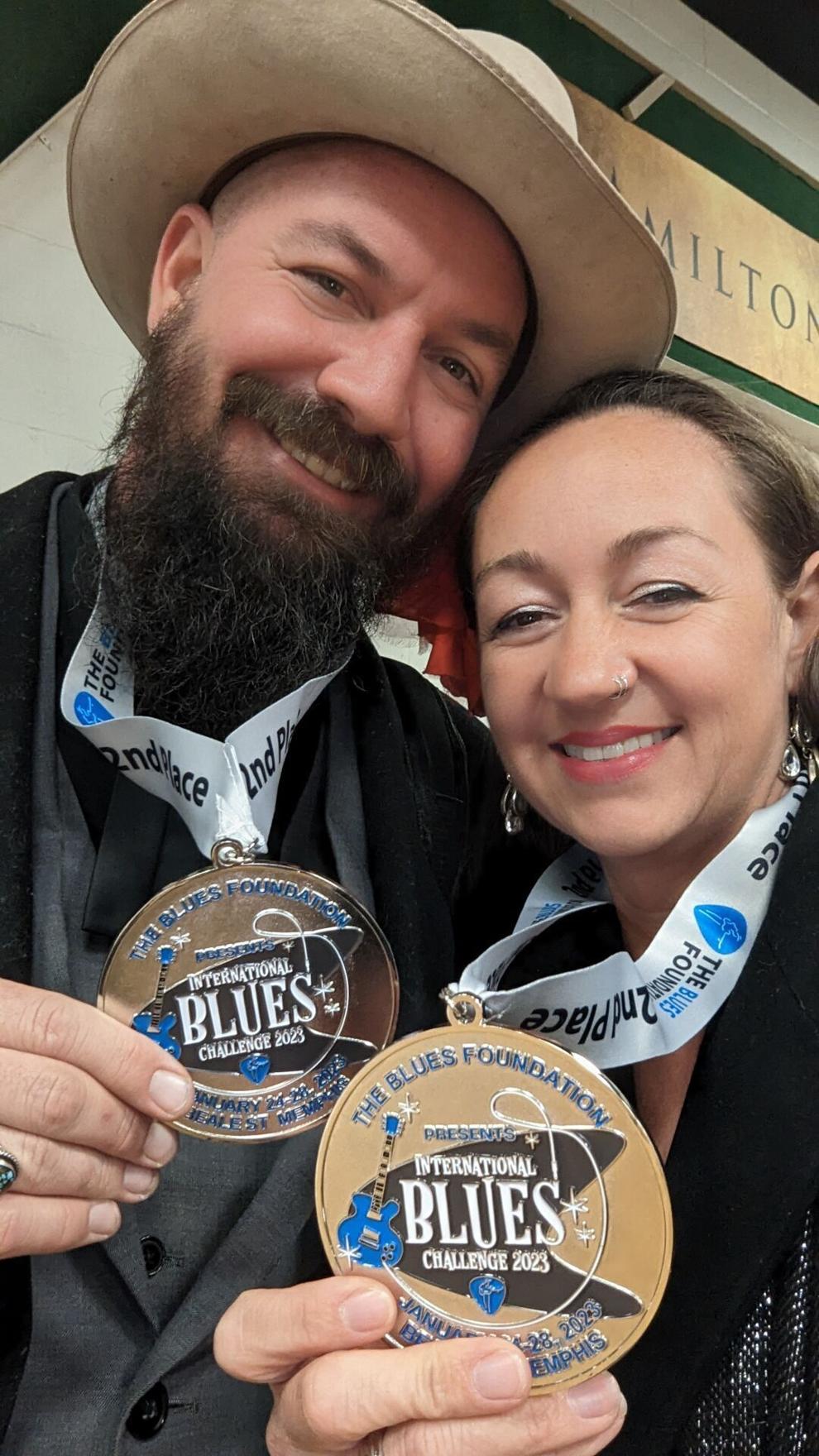 It was love at first sound as their music journey sparked. The two began writing music together and booked gigs every Wednesday at a dive bar where they invited local musicians to join them on-stage. For a year, the same musicians joined the couple and, eventually, The Sugar Thieves was born.
After graduating college, Moore apologized to her father for neglecting to use her degree and shared she intended to focus on music full time. He responded, "You got your whole life to get a 9 to 5, do music and do it to the best of your ability."
With her father's blessing, Moore continued her music career. In the past 15 years, she married Lander and now has three daughters, all who love to sing.
"They are absolutely into music and they think that we're famous people which is super cute," Moore said.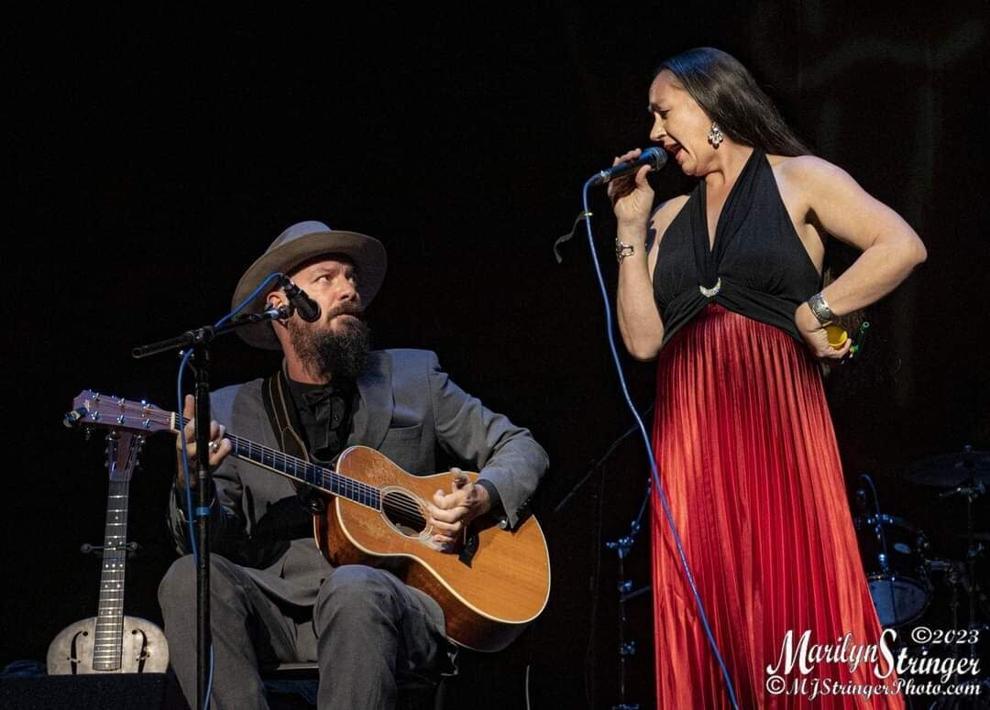 Until their dream of a family band comes true, Moore and Lander have continued playing music with their five-member band. The duo is joined with drummer Todd Chuba, pianist and saxophone player Shea Marshall and Jeff Naylor on the upright bass.
"We classify ourselves as an American roots band," Moore said. "We're a melting pot of sound. We're rooted in blues just like so many American genres and we stretch out to encompass country and folk, rock 'n' roll, even a little jazz and gospel."
The Sugar Thieves recorded their first album in 2007 and currently have seven albums total. Their music can be found on Bandcamp, Spotify, iTunes and YouTube.
Moore's most recent accomplishment was competing at the International Blues Challenge in Memphis with her husband after winning the Arizona State Blues competition.
Moore described the annual competition as the "blues Olympics." Over the course of two nights, 146 bands competed on Beale Street in a preliminary round for 10 spots in the semi-finals at the Orpheum Theatre.
Moore and Lander placed second in the solo and duo division. Since the competition, Moore said many doors have opened as talent buyers and festival producers from around the world have reached out.
"Being involved with that competition and doing so well validates us as career musicians," Moore said. "We're truly blessed that we are able to be full-time musicians and support our family and provide a wonderful life for our daughters with music."
15 more Nebraska ghost towns
Long-forgotten towns have stories to tell, too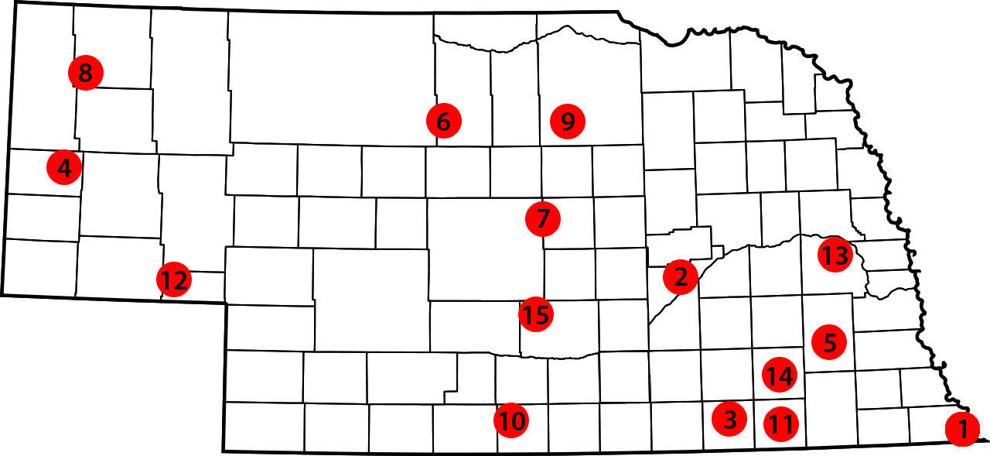 Every village, town and city in Nebraska had the same humble roots -- ambitious settlers and big dreams.
As the state was settled, moving from southeast to northwest, new communities sprang out of the prairie. While those that remain range from a sole resident (Monowi) to hundreds of thousands (Lincoln and Omaha), hundreds failed to take root and withered.
Today, Nebraska has 146 cities and 384 villages, according to the state's official website. But Lilian Linder Fitzpatrick's 1925 work, "Nebraska Place-Names," attempts to study the origins of how more than 1,100 communities -- many of which were long gone then -- got their names.
The histories of the communities that still endure are easy enough to find, but Nebraska's ghost towns help tell a story that can go unheard -- and remind us about the struggles of taming the wilderness that became the Good Life.
1. Arago or Fargo (Richardson County)
German settlers from New York found looking for new beginnings following the bank panic of 1857 discovered abundant cheap land along the Missouri River a few miles upriver of the town of Rulo.
They laid out a town on the site, which was chartered by the Territorial Legislature in 1860, and named it Arago, after French astronomer Dominique Francois Arago. That year's census reported 163 residents. But Arago exploded in the years that followed.
By 1862, it had absorbed the adjacent settlement of St. Stephens and began flourishing as a steamboat hub, owing to its proximity to the river. Within a few years, its population had grown to more than 1,500.
As local historian Jim McKee wrote about Arago for the Journal Star in 2011: "The city's businesses at that point included four saloons, two hotels, five general stores, three blacksmiths, a whiskey distillery, the Southeastern Nebraskan newspaper, a brewery, brickyard, huge pork canning plant, an opera house, numerous small businesses and a 'jolly, good-natured population.'"
Just as quickly as it boomed, however, Arago went bust.
A cholera outbreak in 1866 was the first blow, followed by a railroad's decision to locate on the opposite side of the Missouri River. From there, the river that served as its lifeblood began eroding its shoreline and later washed away the site. By 1870, the population had dropped to 374.
The settlement later moved several miles inland and took the name Fargo, after the Wells Fargo wagon. By 1913, however, even the renamed post office closed, spelling the town's death blow. Only a small cemetery remains at the inland site.
2. Elvira (Merrick County)
Only one of Nebraska's 93 counties is named for a woman -- and its initial county seat carried her name, too.
Merrick County was created by the Nebraska Territorial Legislature in 1858, named in honor of Elvira Merrick De Puy. Her husband, state Rep. Henry De Puy of Dodge County, future agent to the Pawnee Tribe at the Genoa Indian Agency, bestowed his wife's name upon both the county name (Merrick) and its initial seat of government (Elvira).
Though approved as county seat by the Legislature, the town of Elvira scarcely existed -- if at all. By all accounts, this ghost (town) never materialized.
In his 1882 "History of the State of Nebraska," A.T. Andreas mused that nobody knew where the county seat had even been designated. That is, except for a Judge Martin, who cheekily noted: "Elvira was beautifully located upon a paper in the office of Dr. Henry, of Omaha, and supposed, by the fortunate possessor of corner lots, to be about two miles southwest of the present town of Clark's, on the old military road."
Meaning Elvira existed only on paper and not in reality. However, Andreas admits that directing people to a town that was yet to be built, in an area not yet surveyed, would have been nearly impossible.
When the county's government was formally organized in 1864, Merrick County's first residents instead met in Lone Tree, which would later take the name Central City. It holds the courthouse to this day; whatever, if anything, existed of Elvira disappeared.
Merrick County's jagged, pointed triangle appeared on a headstone for Elvira Merrick recently installed at Elmwood Cemetery in Detroit. There, she'd been buried in an unmarked grave until the Merrick County Historical Museum and Merrick Foundation raised money to buy and transport the marker that so honors the only woman for whom a Nebraska county will forever remember.
3. Friedensau (Thayer County)
Before Deshler became an early industrial powerhouse, there was Friedensau.
In 1874, German Lutheran settlers who'd originally planted roots in Indiana and Illinois moved farther west to the prairies of southern Nebraska near the Little Blue River.
There, they established a small German settlement named Friedensau -- "peaceful meadow." Within a decade, the population had grown to about 70, which managed to support a pair of German Lutheran churches. Further expansion was on the horizon, with the Rock Island Railroad expected to pass through town.
However, wealthy landowner John Deshler convinced the railroad to instead pass through his property, depriving Friedensau of its anticipated boom.
The railroad didn't come to the small town. But the small town came to the railroad. Residents moved the buildings and relocated north to the site of present-day Deshler. Though it sounds far-fetched, such moves were relatively common in this era.
One building, however, stayed behind and was rebuilt in 1899. Trinity Lutheran Church still operates in the former village northwest of Hebron, where it's held worship services since the late 1880s and serves as "mother church" to a number of congregations in the region. It also spawned one of Nebraska's first parochial schools.
The tall white spires and adjacent cemetery are all that remains of where a community once -- and briefly -- stood.
4. Hope (Scotts Bluff County)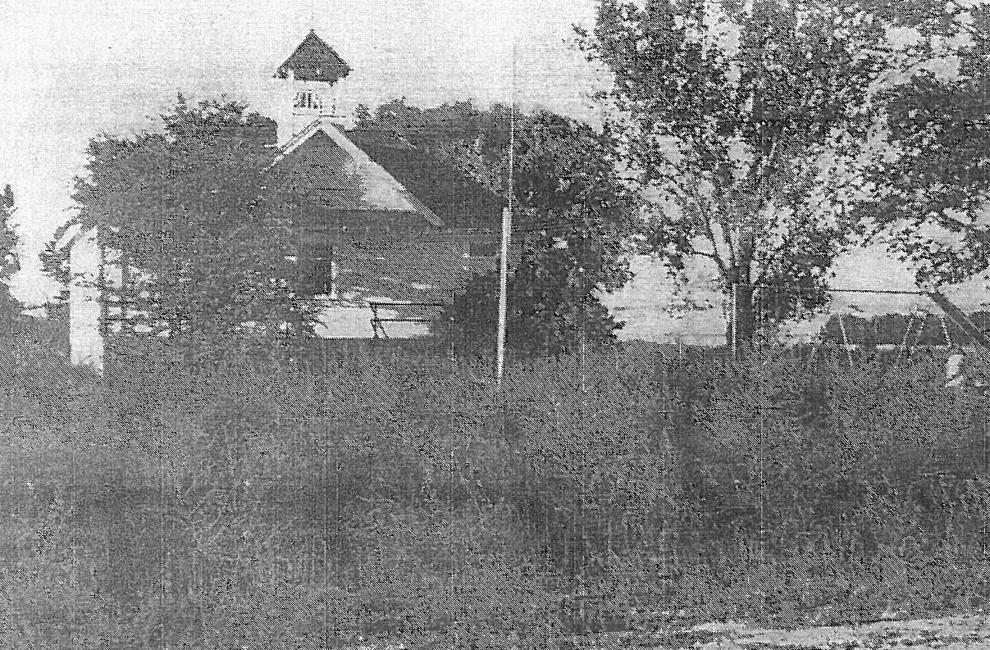 As central and western Nebraska were settled by the first permanent residents in the late 1800s, many oppressed groups -- including blacks and Jews -- found a home on the prairie where they lived and worked alongside white settlers.
Scotts Bluff County hosted more than one of these communities. Most were short-lived as their first inhabitants moved on to other locales.
But one -- Hope -- persisted for decades.
Henry Nehme refused to live under English rule after the Boer War ended in 1902 and moved from his native South Africa to western Nebraska shortly thereafter. He made his home near the eastern shore of present-day Lake Minatare.
In 1907, Nehme founded a post office, which was named "Hope" after the community's optimism. The name stuck, and a school and nearby creek also assumed the same moniker.
A couple dozen families -- with surnames that appear to be German, English and/or Scotch-Irish -- settled in the area, right next to black pioneers at a time where such proximity was almost unheard of, at least in urban areas.
Little else is known about the community, but the school appeared to be the its center for both education and gathering.
The building served as a grade school and "short" high school for ninth and 10th grades until sometime during the Great Depression, with some speculation it may have been large enough at one time to serve all 12 grades in three rooms. It remained a country elementary school until 1960, when it merged with a nearby school.
Though Hope is gone, its memory hasn't been fully lost to the ages.
5. Jamaica (Lancaster County)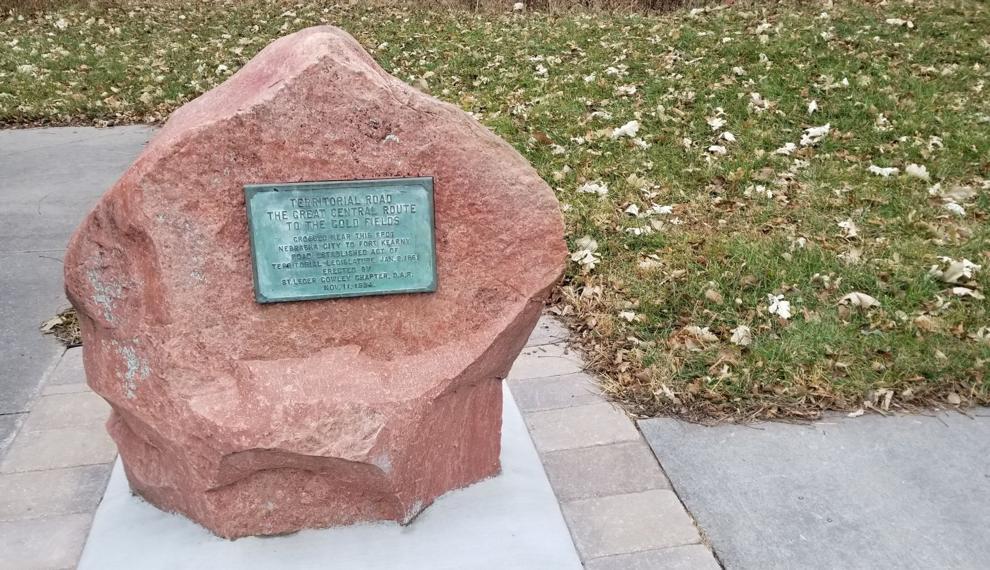 The Jamaica name lives on in Lancaster County, long after the town dubbed that by its first settlers disappeared to history.
The Jamaica North Trail runs along a former Union Pacific railroad line that served the former town near 27th Street and Saltillo Road, with a small display. A new link connecting 27th Street to the South Beltway project will be named Jamaica Avenue after the long-gone community.
But what was Jamaica?
Established in 1885 as a station along the railroad, the town was presumably named after Jamaica, New York. However, it flooded frequently, owing to the close proximity of Salt Creek. The Z-shaped curve of the creek, along with the community's location in the floodplain, provided a welcome mat for an unwelcome guest -- high waters.
At its peak, the community had a handful of houses, a Baptist church, a creamery, a lodge, a blacksmith shop and a grain elevator. A nearby homestead, meanwhile, served travelers -- purportedly even welcoming members of the Jesse James gang, according to a marker at the site.
By the 1920s, Jamaica had largely faded off the map -- but not for good. The abandoned Union Pacific line became the Jamaica North Trail in 2006, which runs north toward downtown Lincoln. South of Saltillo Road, it becomes the Homestead Trail, which runs to the Kansas border.
Even though it's been decades since a train has passed through Jamaica, plenty of walkers, runners and bikers skirt the town on a daily basis, ensuring it wouldn't be forgotten.
6. Lakeland (Brown County)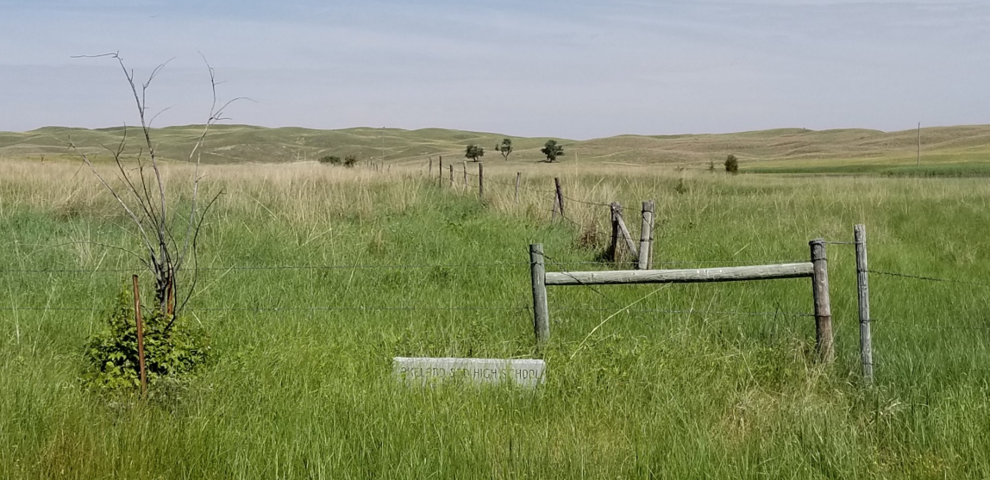 With much of Brown County's population along present-day U.S. 20, the sparsely populated areas in the southern half of this sprawling Sandhills county often had to get creative to get things done.
A post office named Lakeland opened in 1896 in the southwestern portion of the county, lasting until 1917. It took its name from the many lakes near the headwaters of the Calamus River. The surrounding area was more a loosely connected settlement than a town.
The Lakeland name came back in 1934, when three rural school districts pooled their resources to build a consolidated high school during the Great Depression. With limited money and few trees available in this region, local residents returned to their pioneer roots to build a high school out of sod -- the only one of its type known in the country.
The two-room building featured a classroom and living quarters for the teacher. The bathrooms were outhouses, and the adjacent barn housed horses for the students who rode in to class from as far as 5 miles out.
Much like the post office, the school was also short-lived. It operated for just seven years, from 1934-1941, and graduated 33 students. The building's deterioration and desire of students to take more advanced coursework led to its demise.
A state historical marker was placed along U.S. 20 west of Ainsworth. Twenty miles south down a road that's mostly dirt, the Brown County Historical Society erected a small stone marker commemorating the school near Long Lake State Recreation Area.
7. Lee Park (Custer and Valley counties)
The long-gone town of Lee Park has generated more than its fair share of confusion.
When it was platted in 1884, frontier historian and photographer Solomon Butcher wrote that it was situated in Custer County, adjacent to the line that separated Valley County. As it grew, however, additions placed portions of the community across the boundary into Valley County.
Having one town in two counties produced plenty of headaches for the area's residents.
The sod schoolhouse, for instance, was originally built on the Custer County side of the line in 1878 -- before the town was founded. Residents in Valley County felt slighted, and the final decision ended up being the construction of a second school in their county.
Furthermore, the community of Lee Park shared its name with the nearby valley, leaving travelers unsure if they needed to head into town or out into the country. A postmaster came up with the solution -- naming the valley Lee's Park instead.
Lastly, mail delivery was always a chore. The post office was originally in Valley County, but the town site was razed and relocated after the railroad failed to advance past Arcadia, five miles away.
At that point, Custer County had won out -- all of Lee Park was now on its side of the line. But the little town quickly faded into obscurity, with only Protestant and Catholic cemeteries to mark where it had stood.
8. Marsland (Dawes County)
Founded by the Chicago, Burlington and Quincy Railroad in 1889, the small station of Marsland -- named after Thomas Marsland, the Lincoln man who was the railroad's general freight agent -- was platted in northwest Nebraska.
The community hit the ground running, with the nearby post office at the Corbin townsite moving to Marsland. A church soon followed, which held its first service less than two months and first wedding less than four months after the community was founded.
Shortly thereafter, a school, creamery, shoe store, blacksmith's forge, newspaper, hotel, sawmill and livery were set up, along with two flour mills that attracted customers from miles around. By 1896, a newspaper noted that Marsland "will without any doubt become a rich town in the near future."
Yet, in her book "The Story of Marsland and the Surrounding Community," author Elsie M. Hess noted that the remote location and lack of money during a time of bank panic meant many residents "traded meat, butters and eggs for groceries" at the community's only grocery store.
Disaster struck often, too. A 1902 lightning strike burned a mill to the ground, and a pair of fires within the following years ravaged the young community's business district. Though some residents persisted for decades to come, Marsland has largely been vacated.
However, its founding brought Nebraska an oddity that persists to this day. The Belmont Tunnel through the rocky outcroppings of the Pine Ridge eight miles from Marsland remains the state's only railroad tunnel. Though the nearest town, one its construction helped create, is largely gone, the tunnel operated until 1982.
9. Martha (Holt County)
The town of Martha is no more, but its post office has returned home after a long journey from Holt County brought it to Lincoln for a brief stay.
Established in 1904, the post office and nearby community was named after Martha Rollin Porter, the mother-in-law of the first postmaster, Louis G. Lambert, and an area pioneer.
The Lambert family home served as the first post office, leading to hustle and bustle in the home that ultimately led the family to purchase a 12-foot-by-12-foot post office kit from the U.S. Postal Service -- which ultimately became the town's second post office until its shuttering in 1934.
Both buildings went on to have interesting history, as documented by University of Nebraska-Lincoln geography professor Becky Buller.
The farmhouse that served as Martha's first post office was moved 40 miles and became the family home of Lambert's great-granddaughter. Though the postboxes are gone, much of the original structure remains intact.
The second post office has since served a multitude of purposes, beginning as milkhouse before being converted to a space to raise bees, store items or house visitors.
Then, in 1997, it was moved to Lincoln by a great-grandson of Lambert's who ran ACTON Printing Company. Rechristened as the "Martha, Nebraska, Post Office" and restored to its previous look, it handled mail more than six decades after doing so for the last time. Buller noted that it became Nebraska's third-largest post office in terms of revenue and ranked in the top 150 nationwide, sometimes dealing with millions of pieces of mail a day.
The company outgrew that building, however, and it was moved back to its original site in southern Holt County in 2002.
10. Melrose (Harlan County)
U.S. soldiers and a group of pioneers, primarily from Scandinavia, teamed up to build a stockade in southern Nebraska near the Republican River in 1870. The land had, until shortly beforehand, been prime hunting grounds fiercely contested by the Sioux, Cheyenne and Arapaho tribes.
Those at the stockade would soon spread out into homesteads around the site, with two towns -- Alma, Melrose and Napoleon -- platted, but not built, nearby. Alma won the first election to be the seat of government in Harlan Conty, but irregularities led residents to successfully petition the governor to invalidate the initial vote and schedule a second election.
After a long process that saw four town sites compete, Melrose beat out Republican City in the final election in 1872 to claim the title. But its tenure didn't last long.
Interests from both Alma and Republican City filed court challenges, and the nearby town of Orleans offered a building free of charge for county commissioners -- leading to the claim the county seat was "on wheels." In 1874, Alma was recognized as Harlan County's seat of government, a position its held despite a later suit by Orleans that landed before the Nebraska Supreme Court.
Melrose, meanwhile, disappeared soon after losing the county seat. Many of the buildings were moved to Orleans, and the town was dissolved in 1881, less than a decade after its ambitious plan to become county seat succeeded.
11. Meridian (Jefferson County)
The name "Meridian" still means something in Jefferson County as the name of the school district based in Daykin. But the school was far from the first entity in the county with that moniker.
In fact, it belonged to the initial county seat, which was first founded as Big Sandy after a nearby creek.
George Weisel's store on Big Sandy Creek served as the unofficial seat of government for Jones County when the territorial Legislature separated it from neighboring Gage County in 1864. In a delightful twist of pioneer chicanery, a county with 35 settlers managed to cast 75 votes to procure that independence and related taxing authority.
(Now, for the confusing part: Jones County expanded in 1867 to include what was originally called Jefferson County, now Thayer County, before it was split after being deemed too large. The Jefferson name stuck with the original Jones County.)
At that point, Meridian -- so named for its location along the Sixth Principal Meridian -- became the functioning county seat. As the center of commerce with multiple mills and stores, that designation made sense. But an 1881 history of the county noted that four deaths from its saloon spelled doom for the town.
When Jefferson County officially organized in 1871, Fairbury held onto the county seat. The next year, the railroad bypassed Meridian and sealed its fate.
The mill survived for a few decades more, with A.T. Andreas' history noting, "the mill is now the principal monument of what has been. The waters pouring over the old dam moans [sic] the dirge of ruined hopes."
12. Mud Springs (Morrill County)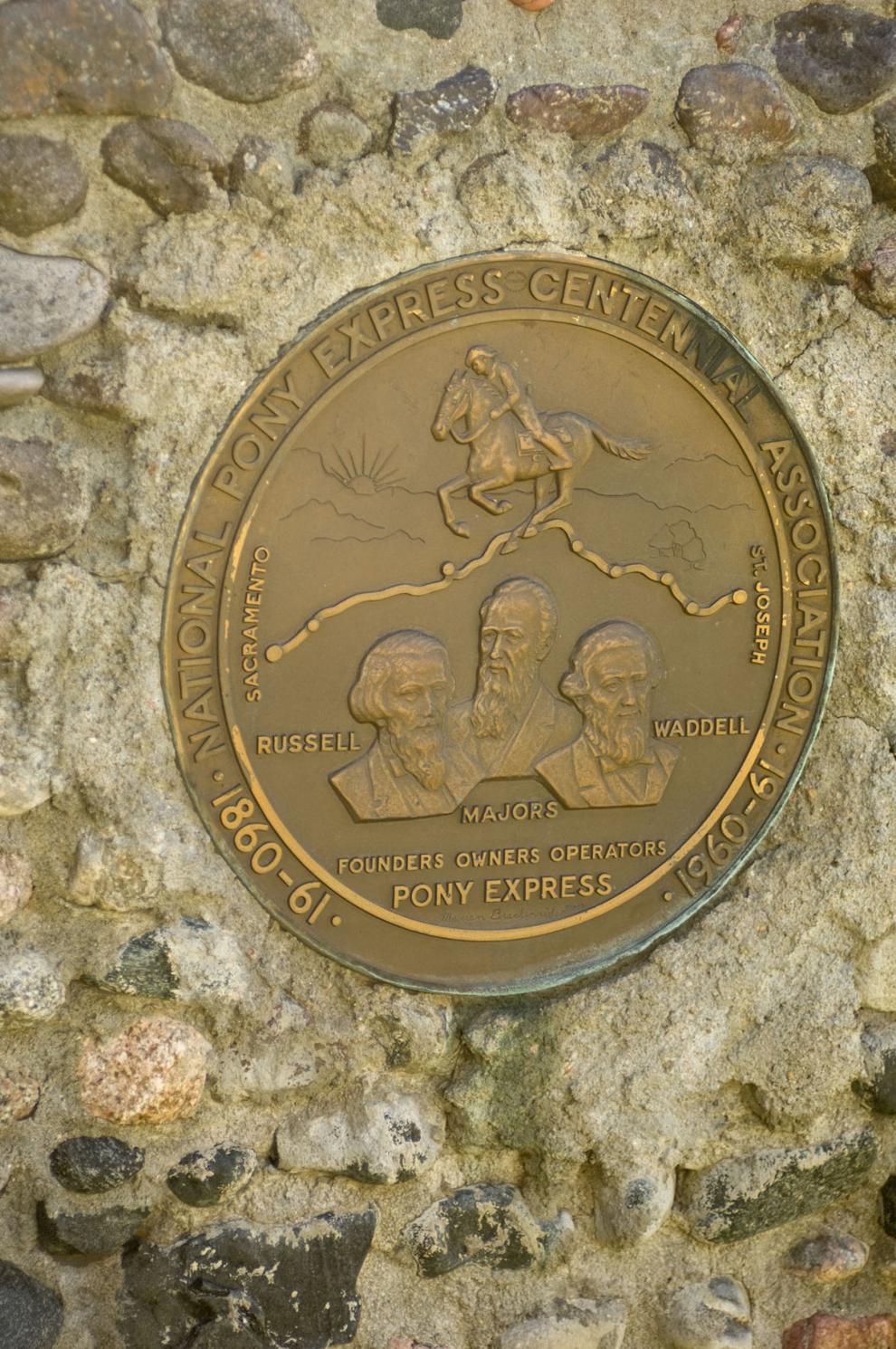 In an otherwise arid stretch of Nebraska's Panhandle, natural springs in a long stretch between Lodgepole Creek and the North Platte River served as an oasis. And, long before other communities in the western part of the state were even dreamed up, Mud Springs was surveyed in 1856 and constructed with its first sod buildings in 1859.
Because of the scarcity of water sources in the region, Mud Springs became an important stop on a cutoff connecting the Oregon Trail to the Jules Trail into Colorado. In 1860, it became a Pony Express stop during the brief but illustrious run of the legendary route -- a letter was handed from one rider to another on the maiden journey west -- before becoming a transcontinental telegraph station the following year.
The town's biggest claim to fame came in February 1865, when some 200 Arapaho, Cheyenne and Sioux warriors attacked the small detachment of soldiers guarding the telegraph station -- claiming horses and cattle there while retaliating for the previous year's Sand Creek massacre in Colorado. Soldiers from Fort Mitchell and Fort Laramie soon rallied to their aid, and the short-lived battle ended with just a single fatality.
Shifts in westward migration routes and telegraph lines within the next decade or so spelled the end of Mud Springs, which quickly faded into obscurity. Though no buildings remain on the site near U.S. 385, which was purchased by a private citizen in 1896 and transferred to History Nebraska in 1936, it's commemorated by a Pony Express marker and holds a place on the National Register of Historic Places.
13. Neapolis (Saunders County)
Omaha began as Nebraska's territorial capital, and Lincoln later replaced it in that role.
But the Capital City almost didn't get that chance, because of tensions among delegates over whether those north or south of the Platte River would dominate.
This debate, which at least once turned into a literal fistfight, saw Omaha lawmakers who in the majority "secede" to Florence to pass their own laws. Meanwhile, those south of the Platte entertained notions of joining Kansas.
This tug-of-war between the parties lasted over the tenures of five territorial governors and eventually resulted in the Omaha's faction's proclamation that they would build a new capital city 50 miles west of the Missouri River and near the Platte River. With Omaha unable to be the center of population, its leaders wanted a more centrally located capital that would be more favorable to its interests.
They called it "Neapolis," meaning new city, and it was to be located on a bluff named Pahuk, which was sacred to the Pawnee, but more commonly known as Capitol Hill.  At that time, the "town" was little more than a few log buildings used to help construct the Union Pacific Railroad.
Territorial Gov. Samuel Richardson declared the action invalid. Even though a majority of lawmakers were present, he said, their actions carried no weight because they were completed in Florence rather than Omaha, then the seat of state government.
This compromise fell through, with Omaha eventually yielding the capital to Lancaster, which became Lincoln, in 1869. Neapolis' town site later ended up on the National Register of Historic Places, owing to its Pawnee heritage.
Neapolis, however, helped to produce a town that survives today. The abundance of cedar trees cleared out in the region later gave rise to Cedar Bluffs, which was founded when a different railroad passed through northern Saunders County.
14. Pleasant Hill (Saline County)
In many counties, towns initially declared county seats failed to hold onto that distinction. Saline County saw its first two fade into obscurity.
The first, Swan City, was the result of an arbitrary declaration of the territorial Legislature, that faded away and saw its post office moved to nearby DeWitt. Despite being the acting county seat, it finished last in an 1871 election.
What replaced it was Pleasant Hill, a more central location that won a runoff election against Crete and Dorchester. Already the county's biggest and most prosperous town after its platting in 1867, with a state-of-the-art mill and at least one store, its offer of land and cash for a courthouse no doubt encouraged voters.
Within a couple years, though, Crete and Wilber had grown and sought to claim the courthouse as their own. State law required them to wait five years before bring the matter to a vote. Like its successor, Pleasant Hill finished last in a tight election won by Wilber, where the courthouse remains to this day.
Getting the county records from Pleasant Hill, however, wasn't a given. It took 160 wagon teams and 300 people projecting force from Wilber before the papers were handed over.
Like many other towns, its demise was sealed when the railroad by passed the former county seat. That first courthouse, used first as a poor house and then as a community hall, burned down prior to World War I. The final straw, though, was the fire that destroyed the mill in 1930.
15. Sartoria (Buffalo County)
By way of Sweden, Illinois and the Civil War battlefield in Tennessee that cost him an arm, John Swenson settled in northwestern Buffalo County in 1874.
In addition to serving two terms as superintendent of county schools, he founded and named the town that sprang up near his land along the South Loup River. He coined the name "Sartoria" after laboring to find a combination of letters that was easy to spell and could be understood by pioneers of all tongues.
The man of many talents also became Sartoria's first postmaster and operated at least two general stores in the community, which later added a bank, blacksmith, hotel and car dealers.
Though the town's population topped out at 40, it served as the hub for social and commerce activities for the surrounding region -- with activities that included a race track and boxing club in addition to the usual school and church events, according to the Buffalo County Historical Society.
Again, the lack of a railroad led to the gradual demise of Sartoria, though the name still graces its township. A Union Pacific branch line being built in nearby Pleasanton was supposed to extend to Sartoria -- but it never did.