The mother of a man who allegedly strangled himself in December in the Douglas County Jail said he should not have been issued a long-stringed fabric mask that could be used in a suicide.
Daniel Walton, a 23-year-old security guard who previously worked as a Douglas County corrections officer, died Dec. 5 after being found unresponsive in his cell, within hours of being booked into the jail on suspicion of felony assault and gun possession offenses. Corrections officers tried to resuscitate him, and he was rushed to a hospital, where he died.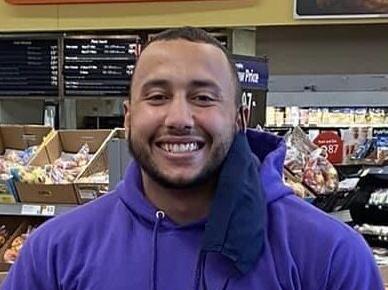 Walton used the jail-issued mask to asphyxiate himself, sources have told The World-Herald. Jail officials have declined to comment on the circumstances of Walton's death, citing a pending grand jury investigation.
Walton's mother, Dina Walton, criticized the jail's issuance of the mask. The type of mask given to her son has long ties on all four corners that allow it to be secured around the back of the neck. The jail has used such masks as part of efforts to prevent the spread of COVID-19.
"Why wouldn't you do a mask with loops that go around the ears?" Walton said. "This is not a happy place for these people. Why would you do that? I don't get it. He could possibly be alive if they hadn't given him that."
She noted that jail staffers take inmates' shoes when they are admitted and issue them shoes without laces.
"If they take their shoelaces away, why the heck would they give them something that is similar to that?" she said.
Douglas County Corrections Director Michael Myers declined to comment on that question or on the details of Walton's death, citing the grand jury investigation. Nebraska law requires that a grand jury investigate whenever a person dies in law enforcement custody.
Asked whether the jail is still using the long-tied masks, Myers said, "We have researched a lot of options, and we have made a couple of different changes in that regard."
Myers declined to discuss those changes before reporting on the issue to the Douglas County Board.
Daniel Walton had started a charity called The Walton Project with which he and his wife helped provide disadvantaged families with food as well as with gifts for special occasions. The non-profit aims to "help Omaha families make sure their children have every reason to look forward to birthdays and holidays, despite financial hardships," according to its Facebook page. Dina Walton said her son started it because he had to go without some of those things as she struggled to make ends meet when he was a child, and he wanted to "make sure other kids don't have to go without."
Walton worked as an armed security guard for Werner Enterprises. Dina Walton said he had left his job at the jail after a few months because of the extensive overtime required amid a staffing shortage.
The gun charges related to a loaded handgun that police found in Daniel Walton's car when he was arrested on suspicion of domestic assault against an woman, who was not his wife, according to a police report. The report said Walton told them that they would find the gun there and that he had it because of his job. Dina Walton said the gun in the console was his work-issued weapon. Werner Enterprises confirmed Daniel Walton's employment and said that he had been issued a handgun as part of his job but that he was required by company policy to leave his gun at work in a secured locker.
Dina Walton said her son had not been arrested before. A preliminary search of Nebraska court records showed no history of criminal charges.
"He had just been arrested, he hadn't been convicted of anything," she said. "I don't know his state of mind, but he's half Black too, so you know, it's like, is he going to be treated fair? He probably just was overthinking it instead of just saying, 'Hey, let's just figure this out.' "
Walton said her son "probably was scared, nervous, scared, panicking, going 'the worst is going to happen,' and then you give him the opportunity."
Speaking generally, Myers said, "Every person who comes into the jail is examined for suicide risks. Everyone with any positive indicators is housed and supervised according to the risks."
Myers, citing the grand jury investigation, declined to comment on whether Daniel Walton was considered a suicide risk. Myers has expressed condolences to Walton's family and loved ones.
At least one other person incarcerated in the U.S. has killed himself with a cloth mask that was issued to him to prevent the spread of COVID-19. Medical examiners determined that Daniel Ocasio, 32, died that way in August in the Corrigan-Radgowski Correctional Center in Uncasville, Connecticut.