OMAHA — It's not Bear Canyon anymore.
The transformation at Omaha's Henry Doorly Zoo & Aquarium is clear the instant visitors turn into the familiar, rock-walled cove where polar bears once swam.
Nebraska seems miles away from the new sharp-angled man-made rocks and 404 trees that look as if they were ripped from the set of a "Twilight" movie. Visitors can take in the water- and wind-swept look of the Pacific Northwest at Owen Sea Lion Shores, which formally opened with a ribbon-cutting on Friday.
Gone is the old municipal pool that had served as a home for the sea lions. New construction will replace that pool with a permanent structure for stingrays, as well as event space.
Instead, thanks to $26.8 million in private funds, the zoo's sea lion power couple, Chino, 16, and Gemini, 10, are in new digs, along with young pups Nova, 4, Raiden, 3, Elvira, 2, and Fluke, 1.
The sea lions are swimming and splashing around an elaborate, 275,000-gallon pool in the middle of what used to be Bear Canyon. The new exhibit is meant to mimic everything from ocean currents to isolated inlets.
It even has a shaded sandy beach where new pups can safely be raised until adult sea lions teach them to swim, something sea lion experts appreciate for its rarity, said Dan Houser, a zoo curator.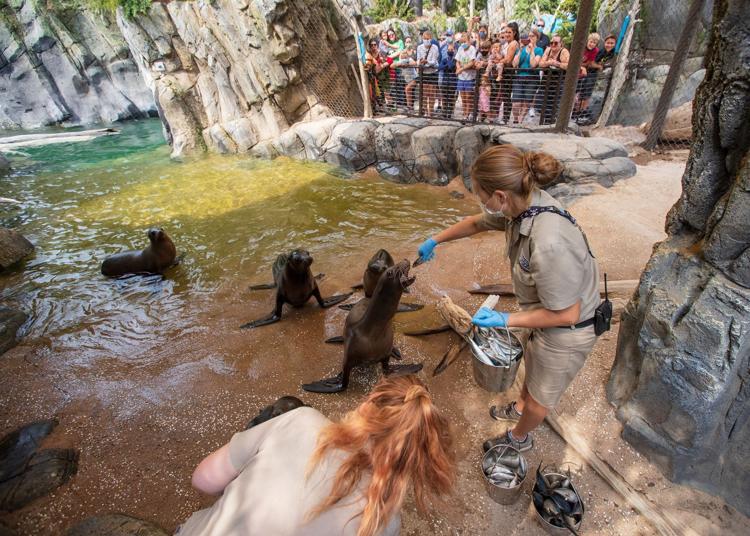 "I love how they're making everything look natural," said zoo visitor Kelsey Seefeld, 32, of Omaha, who checked out the new exhibit on Labor Day. "It looks like they have a lot more space."
The sea lions and their guests can get closer together than before, thanks to a nose-to-nose observation deck above ground and separate kid and adult viewing windows below the water's surface.
The setup offers the six animals a much better experience, with more mental and physical stimulation, said Kristin Pehoviack, a senior zookeeper with responsibility for them.
"The sea lions see people," she said, sharing that she'd just seen a swimming pup follow the finger of a young visitor across the underwater glass. "It's constantly entertaining for them."
Coronavirus-related restrictions still require online reservations to visit the zoo, but more than 32,000 people spent part of their holiday weekend walking around a socially distanced version of the zoo.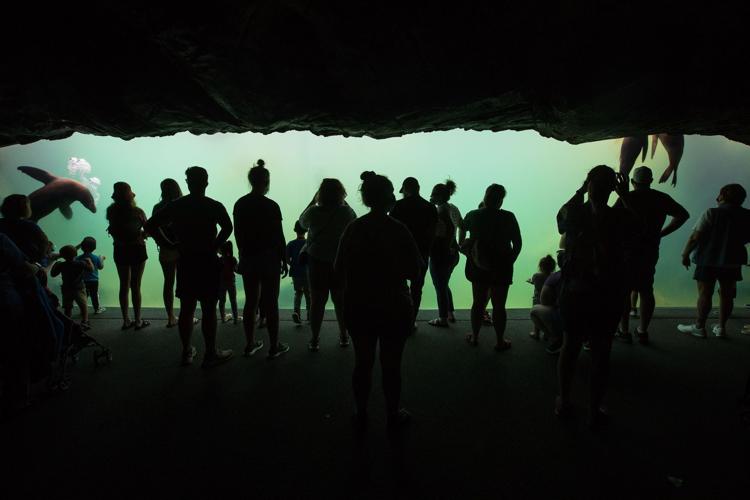 That's above the zoo's recent weekend average of about 5,000 to 6,000 visitors a day and far above the weekday average of about 2,500, a zoo spokeswoman said.
One reason for the uptick: The new exhibit, which Houser said stands out for its design. Omaha, he said, will now be the place global zoos send people to visit when they're deciding what to do next.
Darrell Ritenour, 50, and his wife, Tonya, 50, drove to the Omaha zoo from Fremont on Monday to see the new exhibit.
Both were impressed. Tonya Ritenour said she liked having multiple places to view the animals.
Said Darrell: "I think this is awesome."
Photos: 106 of our favorite shots of Omaha's Henry Doorly zoo creatures through the years
Through the years, Omaha's Henry Doorly zoo has cared for animals as large as elephants and as small as tree frogs, offering the public a broad look at the earth's biodiversity.