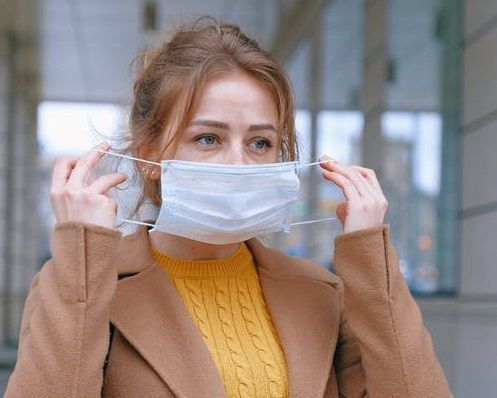 Masks protect the people who wear them from infection with the coronavirus, in addition to helping shield those around them, the federal Centers for Disease Control and Prevention said Tuesday.
That's a change from April, when the agency first recommended that Americans mask up. Then, the agency said the virus that causes COVID-19 could be transmitted by people who don't have symptoms and might not be aware that they are infected. Such people account for an estimated 50% of transmissions. Masks, the agency said at the time, can block the virus-laden particles that infected people emit when they cough, talk or even sing.
In its update Tuesday, the agency said that reducing those emissions, known as source control, is still the main aim behind mask-wearing. However, the agency said that studies demonstrate that cloth masks "can also reduce wearers' exposure to infectious droplets through filtration." In other words, masks reduce inhalation of infectious droplets, including fine droplets and tiny particles.
The update comes as no surprise to public health officials, who have been urging mask-wearing by the public, backed by mask mandates, for months.
They also have said that mask-wearing should be paired with social distancing, specifically avoiding crowds, close contact with those outside one's household and confined spaces that aren't well ventilated.
Dr. James Lawler, a director of the University of Nebraska Medical Center's Global Center for Health Security, said he hopes the fact that the message is coming from the CDC will provide added assurance that the scientific evidence supporting mask-wearing is clear.
The Omaha City Council on Tuesday voted amid a continuing surge of coronavirus cases in Nebraska to extend its mask mandate until Feb. 23.
Nebraska Gov. Pete Ricketts has refused to mandate mask-wearing statewide, although his latest public health measures require masks in businesses when staff and patrons are within 6 feet of one another for at least 15 minutes.
The CDC noted that data regarding the "real-world" effectiveness of community masking is limited to observational and epidemiological studies.
However, the agency cited a list of studies in which masks have prevented outbreaks. In one, two Missouri hairstylists who had COVID-19 and wore masks interacted with 139 clients for an average of 15 minutes each over an eight-day period. None of the 67 who later consented to interviews and testing developed infections.
In addition, the agency cited seven studies that have confirmed the benefits of universal masking. They include analyses in a hospital system, several U.S. states and in Canada and the United States as nations.
"Each analysis demonstrated that, following directives from organizational and political leadership for universal masking, new infections fell significantly," the agency wrote.
University of Kansas researchers found a 50% reduction in the spread of COVID-19 in Kansas counties that had mask mandates compared with those without such a directive.
"Masks do not eliminate COVID, it is important to note, but they significantly slow the spread of the disease, at least here in Kansas," said Donna Ginther, director of the KU Institute for Policy & Social Research and a co-author of the report.
Kansas Gov. Laura Kelly put in place a statewide mask mandate July 3. However, counties could opt out. About 14 counties kept mandates. Some cities, including Manhattan and Wichita, adopted their own mandates.
Ginther and Carlos Zambrana, an associate researcher with the institute, compared case rates based on new cases per 100,000 in population on a seven-day rolling average in counties before and after the mandates, over a period from March to mid-October.
Immediately after July 3, counties with mask ordinances had higher rates of new cases. About 14 days later their cases began to decrease and flatten. But those without mandates saw cases begin to exceed those of counties with mandates. They also saw similar effects in two counties with large populations: Johnson, which includes parts of the Kansas City metro area, and Sedgwick, home of Wichita.
Ginther said the researchers now are updating their analysis. While increases are happening everywhere in Kansas, the increases in counties with mask mandates are much lower.
Why aren't mandates stopping increases entirely?
Ginther said residents in mandate counties are wearing masks in public settings. "But chances are when they're getting together with their friends, they're not," she said. "The mask is only good if you wear it. And if you have a trusted relationship with people — neighbors, friends — you may not be wearing your mask."
Lawler said family gatherings and indoor venues such as restaurants, bars and clubs, where people remove their masks to eat and drink, are other places where transmission is occurring.
While it's no scientific analysis, both Douglas County (dominated by Omaha) and Lancaster County (which has a countywide mandate) have lower rates of new cases per capita than Nebraska as a whole, according to COVID Act Now. Nebraska currently is adding new daily cases at a rate of 101 per 100,000 people. Among the 93 counties in the state, Douglas County is 50th with a rate of 95 new cases a day per 100,000 people and Lancaster County is 76th with 65 new daily cases per 100,000 people.
The Kansas researchers also found that it took six weeks before mandate counties started seeing the effects of their mandates. "It's not like overnight people start wearing masks and things get better," Ginther said.
So even if the United States adopted a mask mandate, as urged by Dr. Anthony Fauci, the nation's top infectious disease expert, it would take six weeks to two months before it's fully reflected in cases. "And it would take adherence not just going to the grocery store ... but (also) in personal settings," she said.
"If we have any hope of opening up the economy, or keeping the economy moving in the right direction," Ginther said, "we're going to have to modify our behavior until there's a vaccine."
The CDC, in fact, noted that an economic analysis found that increasing universal masking by 15% could prevent the need for lockdowns and reduce associated losses of up to $1 trillion or about 5% of gross domestic product.
"Adopting universal masking policies can help avert future lockdowns," the agency wrote, "especially if combined with other non-pharmaceutical interventions such as social distancing, hand hygiene, and adequate ventilation."
Ginther noted that Fauci has said it most likely will be April before the nation starts to see a vaccine.
"I'm very concerned about the holidays and getting together with family," she said. "We tend not to wear masks around people we know."