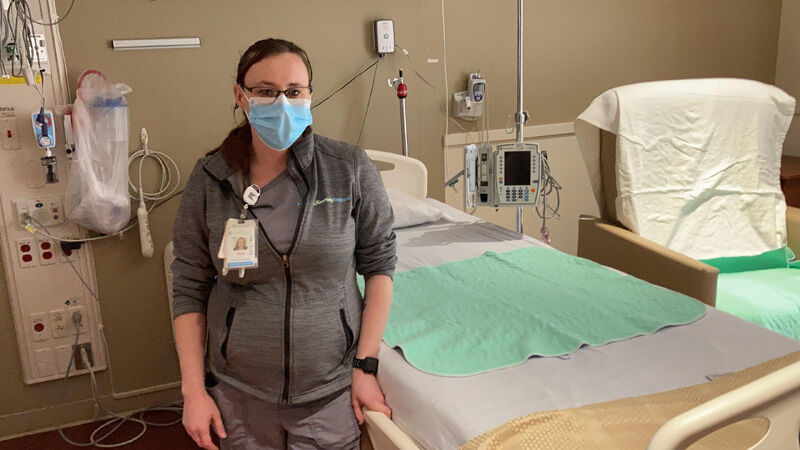 KEARNEY — The first and last face patients see in the medical-surgical unit at Kearney Regional Medical Center is Kris Warta.
Warta is an admission, discharge and transfer nurse. When patients arrive, Warta helps them get settled. After surgery, she's there to make sure they're comfortable. When they are ready to be discharged, Warta comes in to discuss procedures, medications and other details to help smooth their recovery at home.
"The main thing I like about my current job is being able to make the nurses' lives a little easier. I can make a patient's transition a little smoother, too," she said.
Warta was selected one of the Kearney Hub's Health Care Heroes, thanks to nominations from relatives who witness her dedication first-hand.
Warta loves working with patients.
"Everybody is different; there's not just one aspect to it, but I can change their morale. When I leave the room, if all their questions are answered, I think they feel more welcomed," she said.
A registered nurse, Warta has worked at Kearney Regional since 2018, when she began as a floor nurse. She then became a charge nurse, overseeing the ward's 23 beds, all in private rooms.
In spring 2020, she assumed her current position, the first of its kind at KRMC. Her official title is ADT RN on the med-surg unit.
Warta works four, 12-hour days. Early in the week, she might welcome 20 new patients a day and discharge 10. When new patients arrive to fill those 10 beds, she welcomes them, too.
Patients come in and out on a regular basis.
"I stay pretty busy. For a 12-hour shift, that's a lot. If nurses had to do all that on their own, it would be difficult," she said.
Raised in Ogallala, Warta took a certified nurse's assistant class in high school simply because her friends did. "It was a cool thing to do at first, but it grew from here," she said.
After graduating from Ogallala High School, she went to Central Community College-Kearney and became a licensed practical nurse. For the next three years, she worked in a nursing home.
In 2018, she returned to Central Community College-Grand Island and became a registered nurse. She began working at Kearney Regional and never looked back.
"Nursing home work is routine. There aren't a lot of changes," she said. "At a hospital, every day is different. I like the different aspects of hospital nursing."
At KRMC, the nurse-to-patient ratio is 1:6. She is able to relieve stress on the nursing staff.
"This way, patients don't have to wait for nurses to find time to process admissions and discharges," she said. "If a nurse is caring for five patients and has to drop everything and process an admission, it's hard. The same with a discharge."
"Every day I could pick a patient who made my day," she added. "A lot of them are spectacular in their own way. Just seeing patients improving while they are here makes me realize how much one person can make or break their day. I want them to have the best care they can while they are here, and I want to be able to provide a small piece of that."
She said many grateful patients come back after they have recovered and bring treats, gift cards, thank-you notes, cookies or cupcakes. "Just saying thank-you goes a long way," Warta said.
She appreciates Kearney Regional. "It does everything in its power to make sure the staff has all the resources they need to be sure patients are well taken care of," she said.
Warta is busy at home as well. Her husband Chris is a mechanic who home-schools their three children, Owen, 9, Diesel, 6, and Pyper, 4.
Warta was nominated for the Health Care Heroes honor by her husband, her mother Deb Beckwith of Englewood, Colorado, and her mother-in-law Lora Warta of Bertrand. Warta was surprised, and deeply touched. "I knew nothing about it," she said.