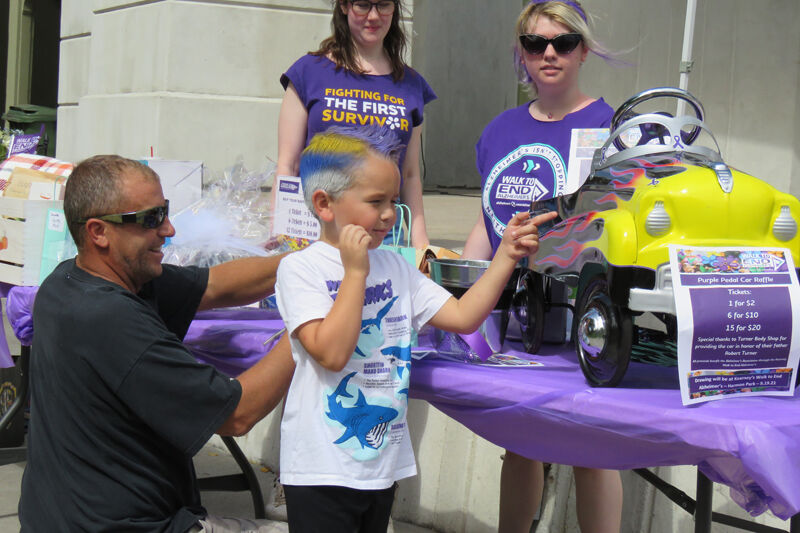 KEARNEY — Graysen Stone came dressed for the part.
The 7-year-old arrived at Sunday's annual Walk to End Alzheimer's with his hair spiked and striped in purple, blue and yellow, colors of the plastic flowers given to participants at the event, held at Harmon Park at 3100 Fifth Ave.
Blue flowers went to people living with Alzheimer's; yellow to those supporting or caring for an Alzheimer's patient; purple to those who have lost a friend or relative to Alzheimer's, and orange to support the cause.
Graysen's father Shane said they found the hair dye in spray cans in the Halloween section at Walmart. "The only color they didn't have was orange. It wasn't difficult to do, but I hope it washes out tonight. School pictures will be taken tomorrow."
Graysen's mother Kaitlyn has worked in long-term care facilities and sits on the Alzheimer's Association committee that helped plan the event. She said Graysen was eager to come to the walk. Best of all, he won a small Purple Pedal Car in the drawing.
The car was donated by Turner Body Shop in honor of Robert Turner.
The event aimed to raise $62,000, and as of Sunday morning, $35,000 had been raised, according to Cassie Larreau-Bailey, walk manager for the Alzheimer's Association. Participants could walk a mile around Harmon Park, or take a shorter stroll around the Sonatorium.
Connie Francis, a member of Dawn Rotary, walked in memory of Stan Bigg, husband of Sue Bigg, who helps spearhead this event every year. Stan Bigg suffered from Alzheimer's for 20 years before his death in 2019. Sue, wearing a bright turquoise Walk To End Alzheimer's T-shirt, was upbeat about the weather and the large crowd.
Attending their first walk were Kevin Weber, who was diagnosed with dementia nearly two years ago, and his wife Mindy, along with their daughter Hannah, 17. Hannah was inspired by a speech she gave about Alzheimer's disease at Gibbon High School last year. Hannah brought two friends to the walk, too. "I thought this would be cool," she said.
Tony and Gail Lowenberg did a "short walk" in memory of Gail's sister-in-law and two other friends who suffered from Alzheimer's. "I used my walker to walk, but I believe in this," Gail said.
Also present was top individual fundraiser Nancy Holscher of Bertrand, who raised $2,100 since mid-August simply by asking friends and coworkers in the Bertrand-Holdrege-Elwood area for contributions. "I lost my sister to Alzheimer's. I used to work in the Alzheimer's unit at Christian Homes in Holdrege," Holscher said.
Holscher, who is a perennial top fundraiser, firmly believes in the cause. There is no cure for Alzheimer's.
"Last year there was no walk due to COVID, but I walked by myself in my neighborhood to raise money. It's nice to get to do this in person again," she said. "I want to thank all of my family, friends and businesses for helping me raise money."
The Walk to End Alzheimer's began here in 2005 with a goal of just $2,257. It has grown in size and fundraising power since. The 2018 event raised $49,000. All funds raised further the care, support and research efforts of the Alzheimer's Association.