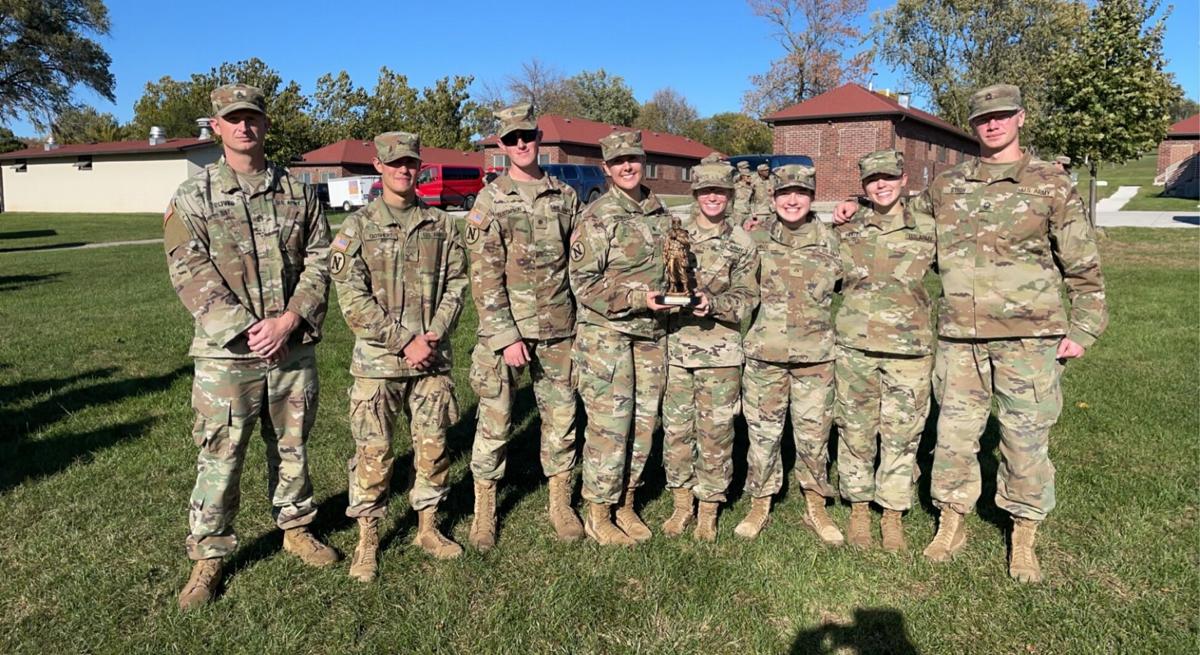 KEARNEY — The University of Nebraska at Kearney ROTC team recently claimed first place at the Task Force Leavenworth Ranger Challenge Competition.
The five-person team and two alternates traveled to Camp Dodge, Iowa, where they competed in physical and mental challenges over two days.
Members of the team are Rachel Proehl-Thompson, Sam Gustafson (team captain), Addy Hergenrader, Devin Stroh, Maddy Hinze, Seneca Hertel and Isaac Goshert.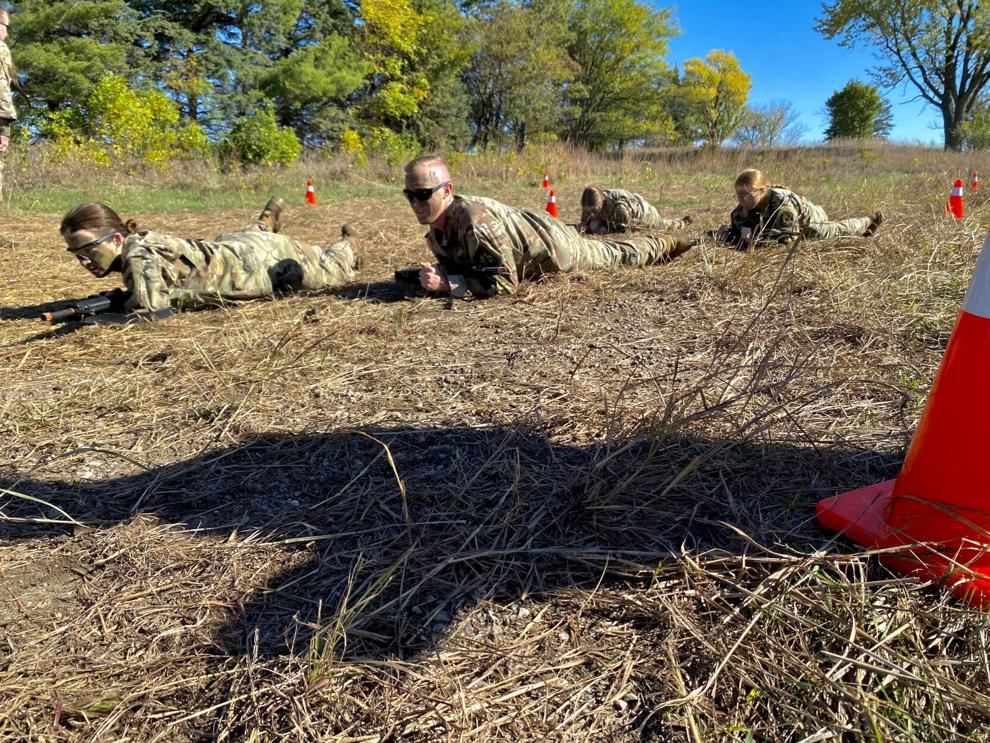 The team will move on to the next level of competition on Nov. 6 at the Brigade Level Ranger Challenge Competition at Fort Leonard Wood, Missouri.
UNK's ROTC program hadn't had a team compete in the challenge until last year's competition.
"Most years we haven't had enough people that were really skilled enough to get a team together, but the last year we have had enough people to get a good team together, and they've just done better and better," said Military Science Chair Capt. Damien Cullen.
The program currently has 30 cadets and about 46% are female. With these numbers, UNK qualified to send a five-person team to the challenge. In the spring, UNK had a team compete at the challenge for the first time in 11 years, and they clinched third place.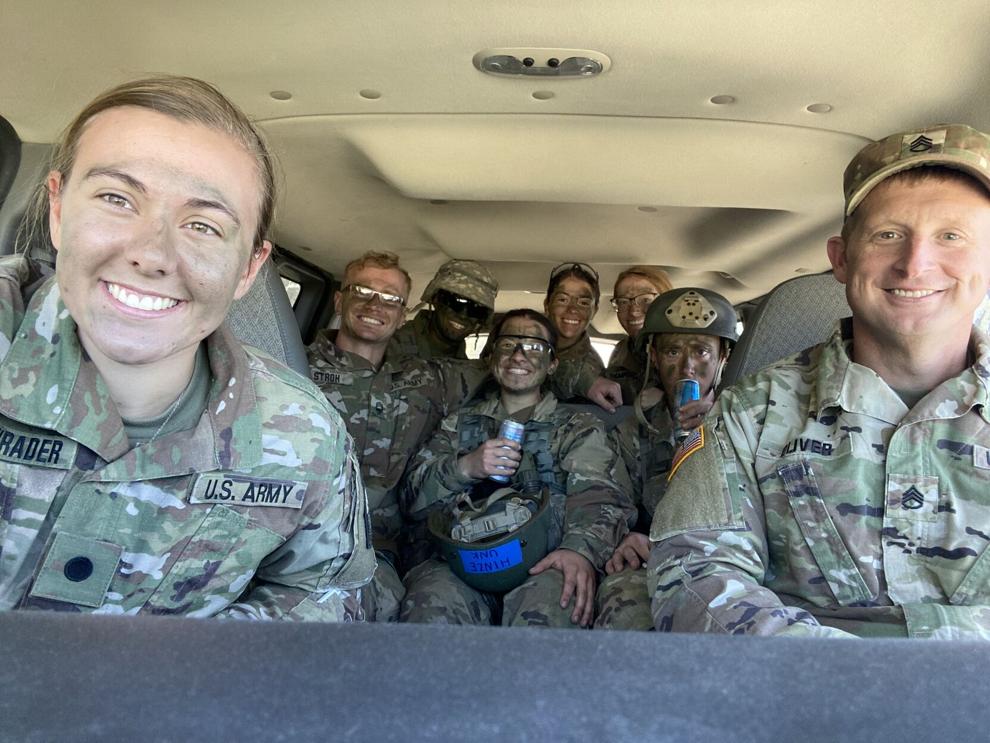 "Last year was the first year that I think they placed since '92-'93, and they got third. And this year they won the Task Force. To my knowledge, the school has never gone beyond the Task Force level," Cullen said.
On the first day of competition, the team takes part in basic rifle marksmanship, Army Combat Fitness Test, ruck march, 240B and 249 disassembly/assembly with parts familiarization, general knowledge/map reading test, functional fitness with rope climb, hand grenade assault course and one-rope bridge. The second day consists of land navigation/skills lanes, first-aid lane, skills lane, physical endurance, tactical lane and patrol lane.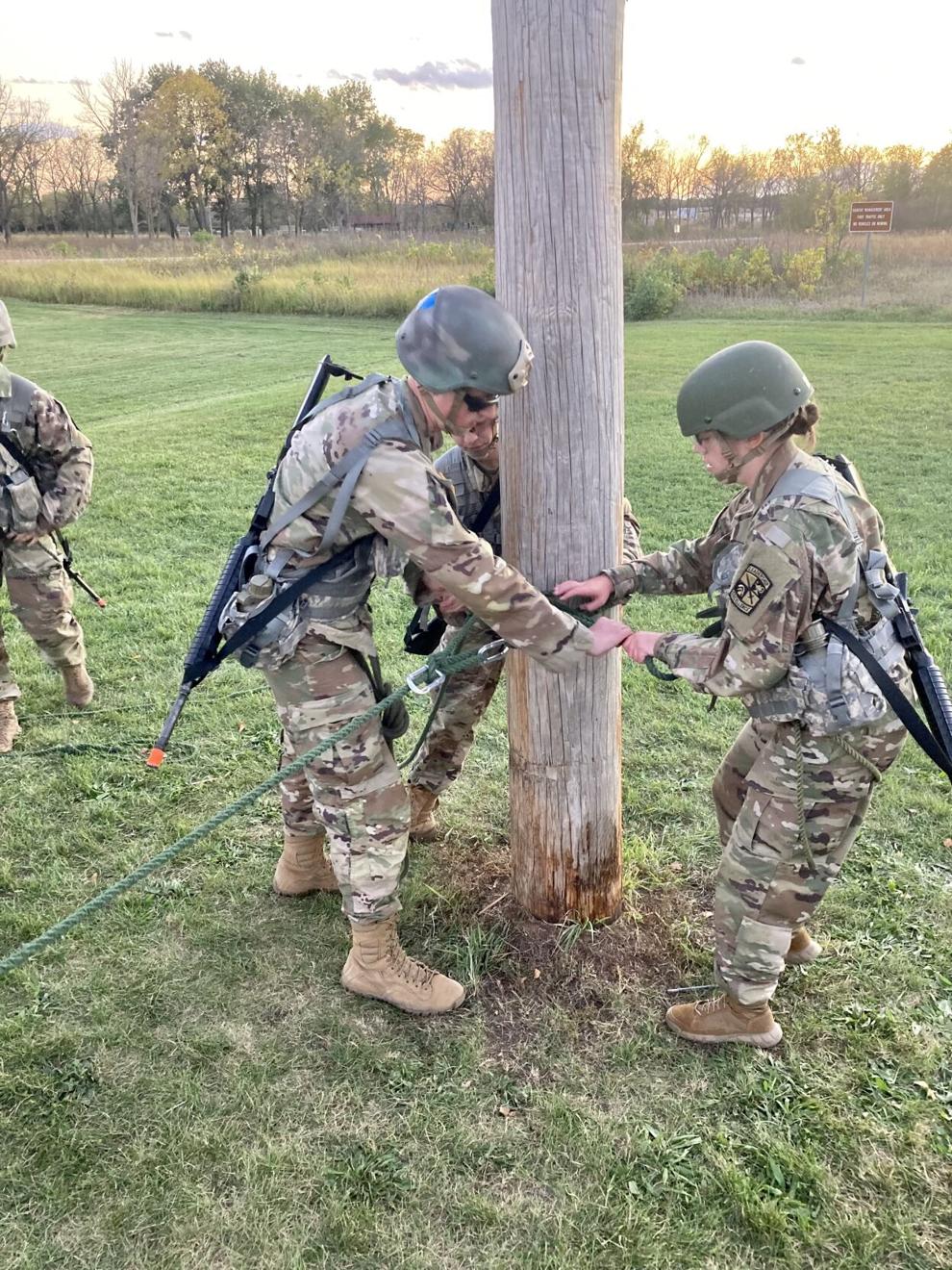 In order to prepare for the competition, team practices at least twice a week, including going to the armory to work on weapons disassembly/assembly. They also have physical training three to five times a week and ruck once a week.
"Rucking is you carry a bag, kind of like a backpack at least 35 pounds. and you just have to carry it for several miles," explained Proehl-Thompson.
The team members also took medical classes and researched through reading and watching videos. The time they have spent together has helped them form a familial bond, said Proehl-Thompson.
The competition typically starts around 6 a.m. and goes until 4 p.m. each day. It can be a grueling experience.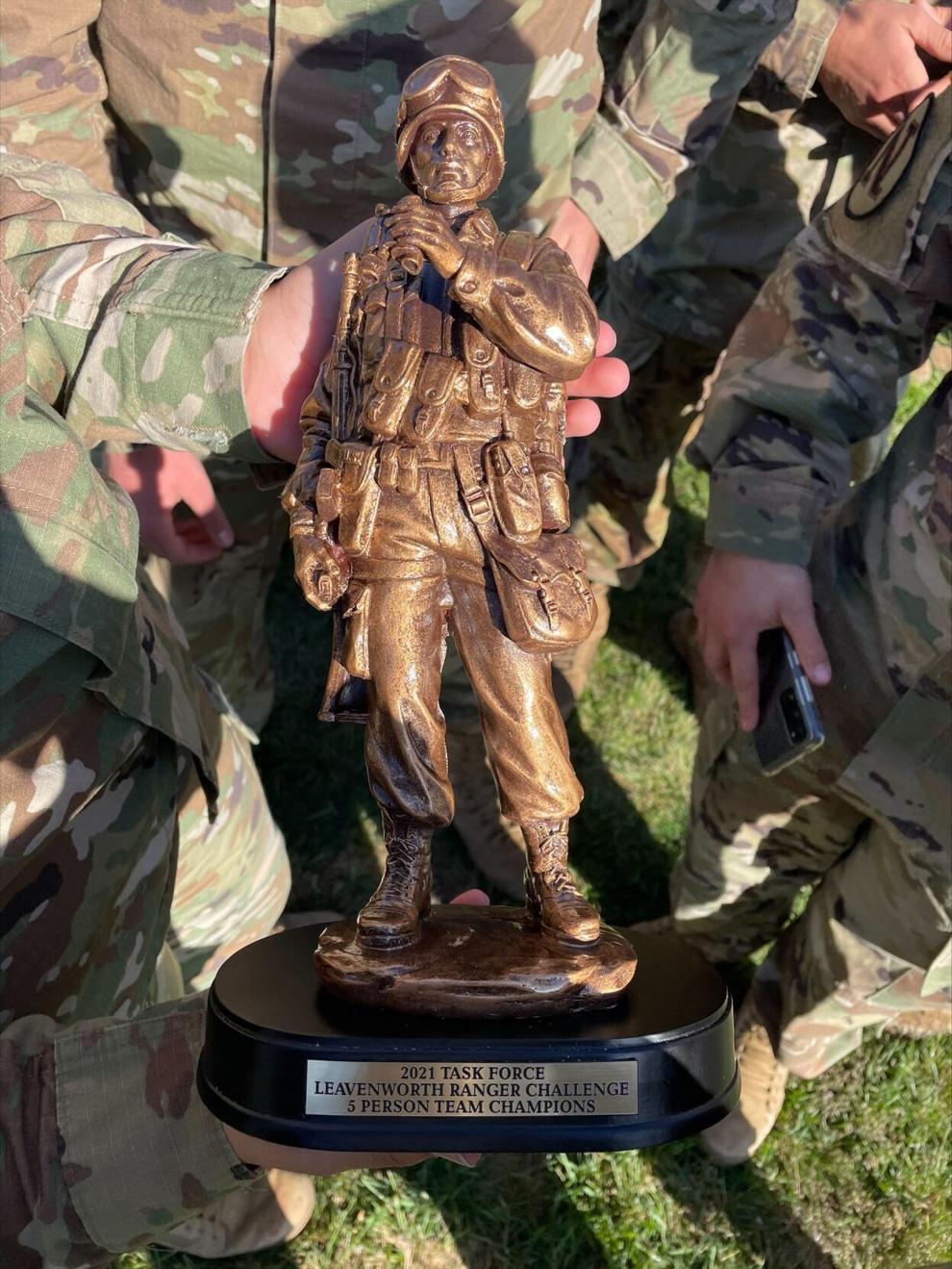 "I think the biggest hurdle like with anything is the mental block. Are you really hurting as bad as you think you are? Are you really as tired as you think you are?" Gustafson said. "I think once everyone realized they can do it, it was easy."
With only a few weeks in between competitions, the team took a week off to rest but then resumed training.
"We are taking a really critical look at areas we didn't score as high as we could of and individual classes to fine-tune them," Gustafson said.
The team is confident that if they can win at the Task Force level, they can also claim the championship at the Brigade.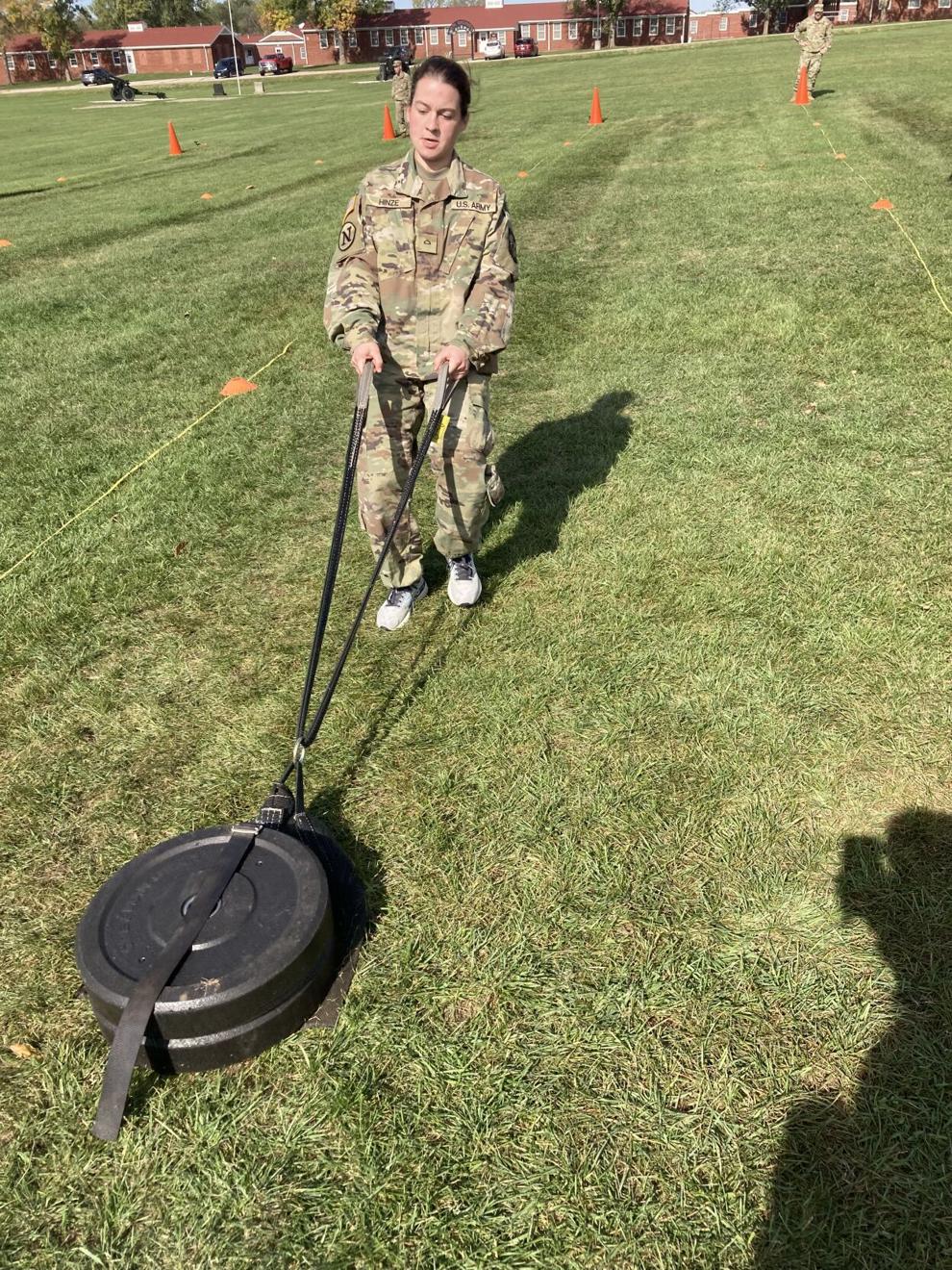 "The cadets in the program are so smart and so hardworking," Gustafson said. "They just bring a wealth of experience and knowledge. If we can win in our Task Force, there is no reason we can't win at Brigade."
The program has about five or six other students who could be competitive on the team as well, and Cullen is optimistic they will continue to grow and attract high-quality cadets. He knows this particular group is capable of bringing home more trophies for UNK.
"I will be proud of them however they end up," Cullen said. "With the skills of this group of cadets, I wouldn't be surprised if they won that one (Brigade), too."