KEARNEY — Jeremy Eschliman, health director of Two Rivers Public Health Department, compares wearing masks during the COVID-19 pandemic to wearing seat belts in cars.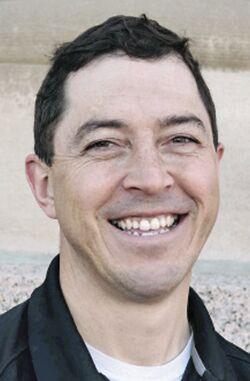 "Seat belts save lives. Science has proven that. The same could be said about COVID-19 if a wide swath of the population wore masks," he said.
Eschliman made that request at a Two Rivers Zoom session with community leaders in Holdrege Monday. Identical sessions are set for noon today in Kearney and again Thursday in Lexington.
His plea came several hours after Gov. Pete Ricketts announced new statewide Directed Health Measures that will take effect at midnight Wednesday. Masks are encouraged but not required, Ricketts said, and that concerns Two Rivers. "The numbers are not going in the right direction," Eschliman said.
Added Aravind Menon, Two Rivers epidemiologist, "Cases are like a stepladder, increasing every week. There is a huge ballooning of cases in Buffalo County."
In Buffalo County, there were 111 new cases Monday, 102 on Sunday, 54 Saturday and 142 Friday. There have been 671 new cases in the last four weeks. Masks would slow that down, Menon said.
Cotton is best
Menon said masks must fit snugly and cover a person's face from the top of the nose to the bottom of the chin.
He talked about the benefits of masks made of two layers of cotton. He said a study at Virginia Tech said that "even a cotton T-shirt" is more effective than a mask of wool or muslin because cotton keeps out up to 67 percent of COVID-19 droplets.
"We see tightly woven cloth masks are really effective. Small particles can't get through, and large particles are stopped almost completely. Mostly small/medium particles are a problem with COVID, but masks manage to capture a large part of them," he said. "The fear is not the virus passing through the mask, but the virus piggybacking on other things like phlegm, etc."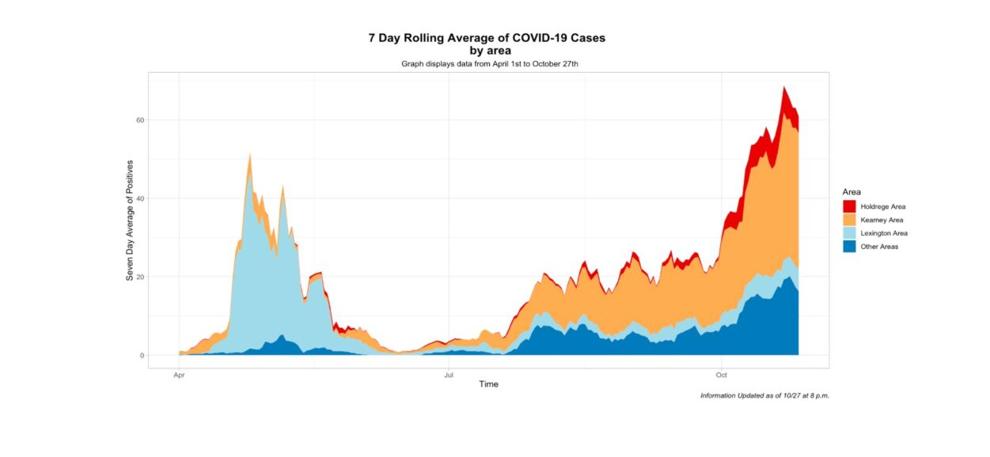 Beds filling up
As cases spike, the region's hospital beds are filling up.
As of Monday, COVID patients occupied 36 percent of the 238 hospital beds in the seven-county Two Rivers area, said Katherine Mulligan, Two Rivers planning section supervisor. She said 75 percent of the region's ICU beds are in use.
"With masks, there would be less prevalence of COVID-19 in the community. There would be more children in schools, more businesses prospering and fewer people in hospitals," Eschliman said.
Todd Hilyard, Holdrege school superintendent, was on the Zoom call. He said the district decided to require masks just a few days before the new school year began in August because COVID-19 cases in the county had begun to rise.
Mask mandate headaches
While mask mandates make sense to Two Rivers officials and others, Holdrege attorney Tana Fye, the legal counsel for Two Rivers, said it's not that simple. The Nebraska Department of Health and Human Services has said mask laws passed by Two Rivers could not be enforceable throughout the region unless there was a formal memorandum of understanding between Two Rivers and each of its region's 50 municipalities.
Without blanket enforced rules, the region would have "a patchwork system," she said.
Rules passed, say in Kearney, Lexington and Holdrege would not be enforceable outside their borders.
The Two Rivers board passed a resolution in August calling for people over age five to wear masks unless they are at least six feet beyond another person. It also recommended that indoor businesses require face coverings. "That was a fairly robust discussion," Eschliman said.
But those resolutions are not mandates. They remain recommendations.
Public weighs in
The public remains divided over the issue.
At the Zoom event, state Sen. Dave Murman of District 38 said business people have told him they "are very much against more restrictive regulations from the health department or the state."
He explained, businesses like cafes, bars and restaurants are struggling right now with the loss of business. Many are just hanging on. I'm all for recommendations, six-foot distancing and even limiting large groups, but I haven't seen any support for a mask mandate."
But Menon said businesses need to prove to customers that they are safe. "Perhaps masking might convince people that a place is safe. If I knew everyone working in a business wore a mask, I'd be more encouraged to go there," he said.
Meanwhile, Menon and Eschliman are worried. Cases keep rising.
"The slope is steep and seems to be getting steeper. Holdrege was really quiet, but now we're seeing the magnitude of the pandemic increasing week to week," Menon said.
Last spring, cases of COVID-19 were largely concentrated around I-80, he said, but now, they are "quite far-flung from that, in Holdrege and Franklin County and smaller towns in that area," Menon said. Cases are also on the rise in Gothenburg.
Cases are rising quickly in people aged 18-50. They then pass COVID-19 on to their parents and grandparents, who often become very ill, he said. Some do not survive.
Without masks and tighter restrictions, Eschliman said hospitals will be hit hard. "This will be a real challenge in the near future when there is no room for people who are severely sick to go," he said.
He said mask mandates have been issued in Omaha and Lincoln. He believes they should be issued here, too.
"I'm interested in hearing from you. Call us. E-mail your thoughts," he said.