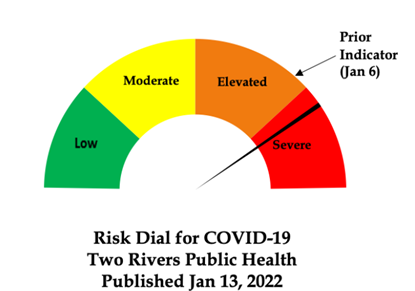 KEARNEY — The Two Rivers Public Health Department has confirmed an all-time record of 764 cases of COVID-19 for the week of Jan. 5-11.
That is the highest weekly number since the pandemic began on March 20, 2020, and more than double the number of cases reported Dec. 29-Jan. 4. That week's figure of 398 was nearly double the 186 cases of Dec. 20-28, and this week's tally is more than four times as high.
"From a population level perspective, we are in a dire situation," Jeremy Eschliman, health director at Two Rivers, said Thursday. "This is likely to only worsen over the coming weeks because death and hospitalizations always trail case counts."
Two Rivers' weekly risk dial, issued Thursday, has returned to the red "severe" zone. It sat there for 13 consecutive weeks, from Sept. 16-Dec. 21, before dropping to the "elevated" zone for two weeks. The new reading reflects the explosive increase in new cases, scarce testing availability and dramatically elevated test positivity rates across the Two Rivers district.
Over 20% of all tests recorded in the district have been positive. More than 15% of all positive tests in the past six months have been reported since Dec. 28.
In the past week, six of the seven Two Rivers counties — Buffalo, Dawson, Franklin, Gosper, Kearney and Phelps — had a positivity rate of 30% for tests. Most affected have been people aged 18-50, but testing services remain scarce.
UNK, hospitals react
The University of Nebraska at Kearney has re-instituted its mask mandate through Feb. 5 out of precaution for the current surge. Tuesday, UNK reported nine new cases of COVID-19 — six in students and three in employees.
CHI Health Good Samaritan reported 16 hospitalized COVID patients Thursday morning.
Kearney Regional Medical Center reported 13, with two on ventilators. COVID patients make up 23 percent of patients currently at KRMC, according to Amanda Polacek, marketing manager. COVID patients are being placed in the hospital's ICU and its progressive care unit.
"We have seen a steady amount of COVID patients in our facility since early November. We have been hovering around 10-15 patients per day," Polacek said.
She said the respiratory clinic at the adjacent Platte Valley Medical Clinic had an average of 55 appointments per day last week, nearly triple the average 20 patients a day seen in October. In November, that figure rose to 30 and 40 patients a day. Patients were being seen for COVID-19, influenza, strep throat and similar ailments.
The Emergency Room has seen more patients in recent weeks as well, and KRMC is also getting requests to transfer patients here from critical access hospitals, she said.
"We are managing these requests on an hourly and case-by-case basis. We recently took a patient from a nearby facility that had contacted 70 other facilities before it was able to find them placement," Polacek said.
The hospital is also facing challenges with moving patients out to step-down levels of care, including long-term care and skilled care, she said. The recent closures of Good Samaritan Society facilities in Ravenna and Arapahoe removed 60 available beds, and the Nebraska Hospital Association has reopened a few alternative care sites.
"Our team is working diligently to keep patients close to home, but unfortunately, with the limited placements available, some must travel many miles outside of the Kearney area to receive ongoing rehab when recovering from COVID-19 and complications," Polacek said.
Vaccinations lag
Despite the surge, vaccinations continue to lag. Two Rivers holds regular clinics in Lexington, Holdrege, Franklin, Kearney and Cozad, but as of Wednesday morning, just under half the total 97,132 people in Two Rivers had received at least two doses of the COVID-19 vaccine.
"Attendance at our clinics has steadily declined over the past several weeks," Von Lutz, clinical services supervisor at Two Rivers, said Thursday.
In November, Two Rivers administered 1,699 COVID-19 vaccines, but in December, that fell by more than half to 779 vaccines, he said. For the first week of January, Two Rivers held five clinics and administered a total of 132 shots.
"Our numbers are declining, but we continue to move forward with clinics offering education and vaccines to anyone interested," Lutz said.
Added Eschliman, "Our concern at this point, as it was over the last year, continues to be directed towards the population that is not fully vaccinated with a booster. This population is at most risk of health complications."
He stressed that people should stay home when sick, and wear a face mask if they need to go out in public. "People should wash their hands and maintain a healthy lifestyle. It will take a population-based approach to reduce the disease burden and protect our health systems," he said.