KEARNEY — Two Rivers Public Health Department is pleading with the public to wear masks as COVID-19 cases continue to blast through the city like a runaway train.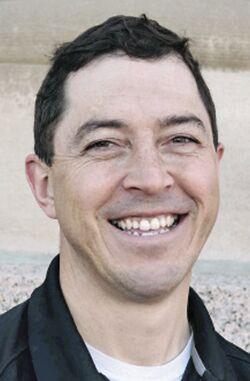 Two Rivers Health Director Jeremy Eschliman told community leaders Tuesday via Zoom that masks were the only effective way at present to stop the virus. Two Rivers favors a county or city measure requiring masks to be worn in public, although it realizes that may be unlikely.
"I've seen the science. Data from Lincoln that shows that COVID cases decrease after mask requirements are implemented, We can't do this alone," he said. "This is a gold standard aimed at changing people's behavior, but it takes leadership. If we continue to do nothing, we're going to see health systems under duress."
Masks do not prevent COVID-19, but they are a strong deterrent, said Aravind Menon, Two Rivers' epidemiologist. He said cotton masks are "not like a pill" but a barrier that "just makes sense."
Leah Gleason of the Fye Law Office in Holdrege said mask regulations are not locally enforceable without a memorandum of understanding, and each of Buffalo County's 50-plus municipalities would need a memorandum of understanding. "Some municipalities passed them last March, but some refused to bring them to a vote, and others rescinded them," she said.
On the state level, Dr. Gary Anton, the state's chief medical officer, who is appointed by Gov. Pete Ricketts, will not implement a statewide law requiring masks, and the Nebraska Department of Health and Human Services has said such laws are not enforceable, she said.
Here, Eschliman said, attorneys told Two Rivers that the health department could not implement a mask mandate.
The Kearney City Council has approved a resolution supporting masks in public places, but it has no legal teeth. "We went as far as we could," Eschliman said.
'Best protection'
Two Rivers is frustrated.
"Masks are one of strongest (COVID-fighting) strategies we have, the best protection against COVID-19 and its spread," Eschliman said. "People are reluctant to engage in economic activity if they are concerned about the virus. Masks can help economic activity."
He told the story of visiting friends who were headed to a "great restaurant" when they visited Kearney, but when they walked in and saw nobody in masks, "they walked right out."
Menon said the most effective masks are two-layered, "and the tighter the weave, the better," he said. The best masks have two layers of different materials, such as cotton and silk, which he said "can catch aerosol particles more efficiently. Even a cotton T-shirt can block half of inhaled aerosol particles, and about 80 percent of exhaled particles," he said.

Overseas evidence
Also making powerful pro-mask arguments was Ali Khan, dean of the College of Public Health at the University of Nebraska Medical Center. He said countries that mandate masks have far fewer cases of COVID-19 than does the U.S., which is currently the world leader in COVID cases.
Australia's goal is "double donuts," or zero cases and zero deaths. "It is possible to get to zero cases," Khan said. He called many cases of COVID a "choice" because people refuse to wear masks.
"In Nebraska, we see seven unnecessary deaths a day. Someone died who didn't need to die," he said. "The U.S. response has been problematic to say the least."
TTIQ
Khan said COVID-19 can be traced back to one person in China last October or November. "I like to frame it that way to get to what a prevention strategy looks like," he said.
He said the best way to get it under control is simple: Test. Trace. Isolate. Quarantine.
"But this is something we haven't done well in the U.S.," he said "We also need community engagement, and we've had a lot of difficulty with this within the state," he said, including the refusal of state leaders to require masks.
"This is not a secret. I am not saying it's easy, but we know what it takes, and a real important part of that is leadership," he said. He praised Eschliman and Two Rivers for providing that here.
Virus before economy
Khan also disputed the political belief that officials must choose either the virus or the economy. "China taught us that until you focus on the virus, you won't fix the economy. If people's loved ones are sick and dying, they won't go to the mall. You won't get kids back into school or fans back into stadiums," he said.
He said states such as Maine, Vermont, Connecticut and Rhode Island have succeeded in stopping the spread of the virus through community cooperation. "They have one-tenth of the cases compared to what we're seeing, but I don't believe the people in Maine are any different from people in Nebraska," he said.
Behavior must change
Eschliman said the crisis — its hospitalizations and deaths — will get worse unless behavior changes.
"Cases in Kearney have significantly been above average for quite some time. It's pretty stark. We see long-term care facilities with the majority of staff and residents coming down with COVID. We have 20-, 30- and 40-year-olds coming down with severe disease. Can we do more? Absolutely," he said. He said mask mandates are essential.
Khan urged community leaders to show the way. "I know we all have COVID fatigue, but we're not showing people a brighter horizon. We've failed to do that from the beginning," he said.
He said the Two Rivers communities cannot wait for a vaccine.
"Step up and do what we need to do now so we can get back to normal," he said.