KEARNEY — In an ideal world, schools wouldn't open for 18 months to keep students, teachers and staff members safe from COVID-19.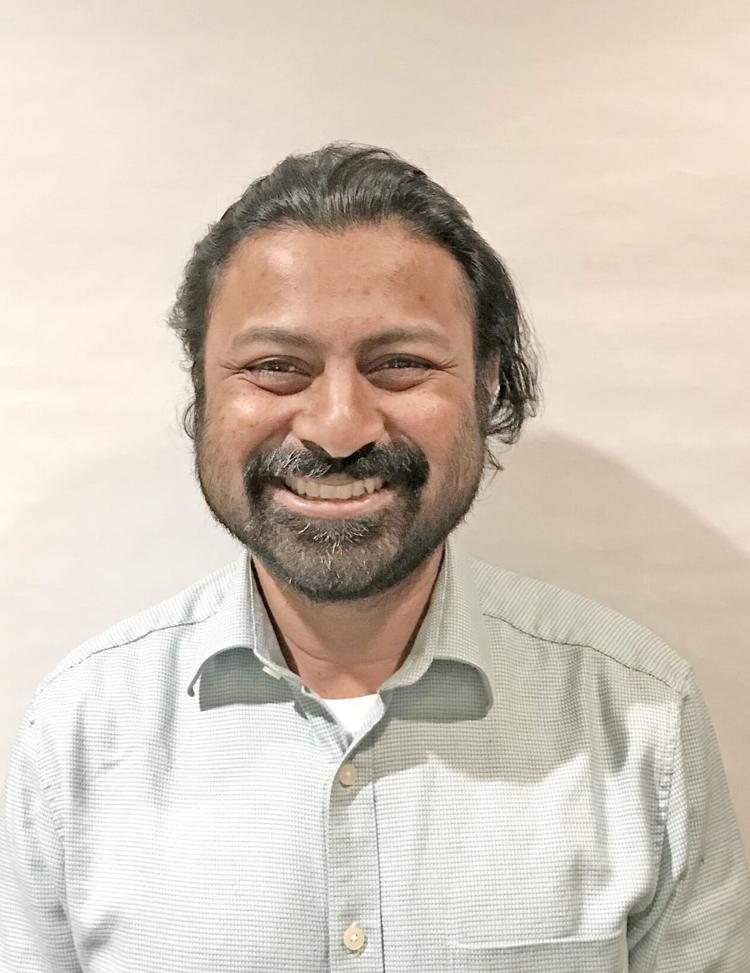 Aravind Menon smiles as he says that, then shakes his head.
"We owe children an education. For them, COVID-19 symptoms are no worse than the flu. They're not at risk of dying, yet we're asking them to give up on a whole year of schooling," said Menon, himself a father of two.
But then he has a caveat: "Schools must have an alternative plan, just in case."
Since April 1, Menon has been the epidemiologist at Two Rivers Public Health District. He eyes daily trends, keeps track of numbers, provides seven-day averages and much, much more.
"COVID-19 is unique. It's a novel virus. Most of the experts don't know much yet," he said.
Menon is a native of southern India. Prior to emigrating 10 years ago to the U.S., he had 15 years of public health experience in India and southern Africa. An advanced researcher, he is fluent in multiple Indian languages.
"People believe children are not affected by COVID-19, but this is not true. Eleven percent of children between the ages of 5 and 17 test positive. That's comparable to the rate of infection for people between the ages of 50-64," he said.
"Women are more likely to be tested, but men are a little more likely to get COVID-19, but nobody knows why. Women are infected at lower rates, but a large number of school employees are women, so it's inevitable that schools need a contingency plan," he said.
"Seniors are at greater risk of severe illness, but that doesn't mean children are immune. That, to me, has huge implications," he added. As far as varsity sports this fall, he said swimming would be the safest, but "football? Not so good," he said.
Buffalo, Dawson hit hard
The Two Rivers district is one of 23 public health department districts in the state.
Menon said numbers can be a bit misleading.
Of nearly 100,000 people in the seven-county district, half are in Buffalo County and a quarter are in Dawson County. "We have higher rates in Buffalo and Dawson counties, versus much lower rates in the other five counties," he said, adding there are more people in those counties.
Buffalo and Dawson counties account for 1,211 of the 1,288 confirmed cases of COVID-19 in Two Rivers since it began keeping records in March. Dawson County had 917 positive cases and nine deaths through 6 p.m. Tuesday, and Buffalo County had 293 cases and one death, according to the Nebraska Department of Health and Human Services.
Younger people sick, too
While patients older than 65 have gotten considerable media attention, Menon is worried about those between the ages of 50 and 64. They are extremely susceptible.
"There's been no focus on them. A lot of people working in schools are women of that age group," he said.
Younger people deserve attention, too, especially now. The number of soaring cases across the country are largely of people from 18 to 49.
According to statistics and graphs on the Two Rivers website, out of those 885 positive cases through July 21, 422 were women and 457 were men.
In Dawson County, nearly half, or 389 people, worked in the food production industry, which reflects the COVID-19 cases that swept through meatpacking plants.
There have been 67 people in Dawson County hospitalized and 17 in Buffalo County.
Worldwide training
Born and raised in India, Menon graduated from medical school in southern India and became a physician there.
"As a doctor I could write prescriptions and sew up a wound, but I couldn't do anything to address public health," he said, so he went back to school and earned a master's of public health in India.
He has worked all over the globe, and did AIDS research in South Africa with the National Institutes of Health.
Meanwhile, in India, he met and married a woman from Lincoln. Ten years ago, they returned to the U.S. She finished medical school while he earned a doctorate in public health at Johns Hopkins University. She is now a family physician in Lexington. They have two children.
He considers it a rare opportunity to deal with COVID-19 and to make efforts to understand and tame it. He warned that vaccines could take months to perfect and distribute worldwide.