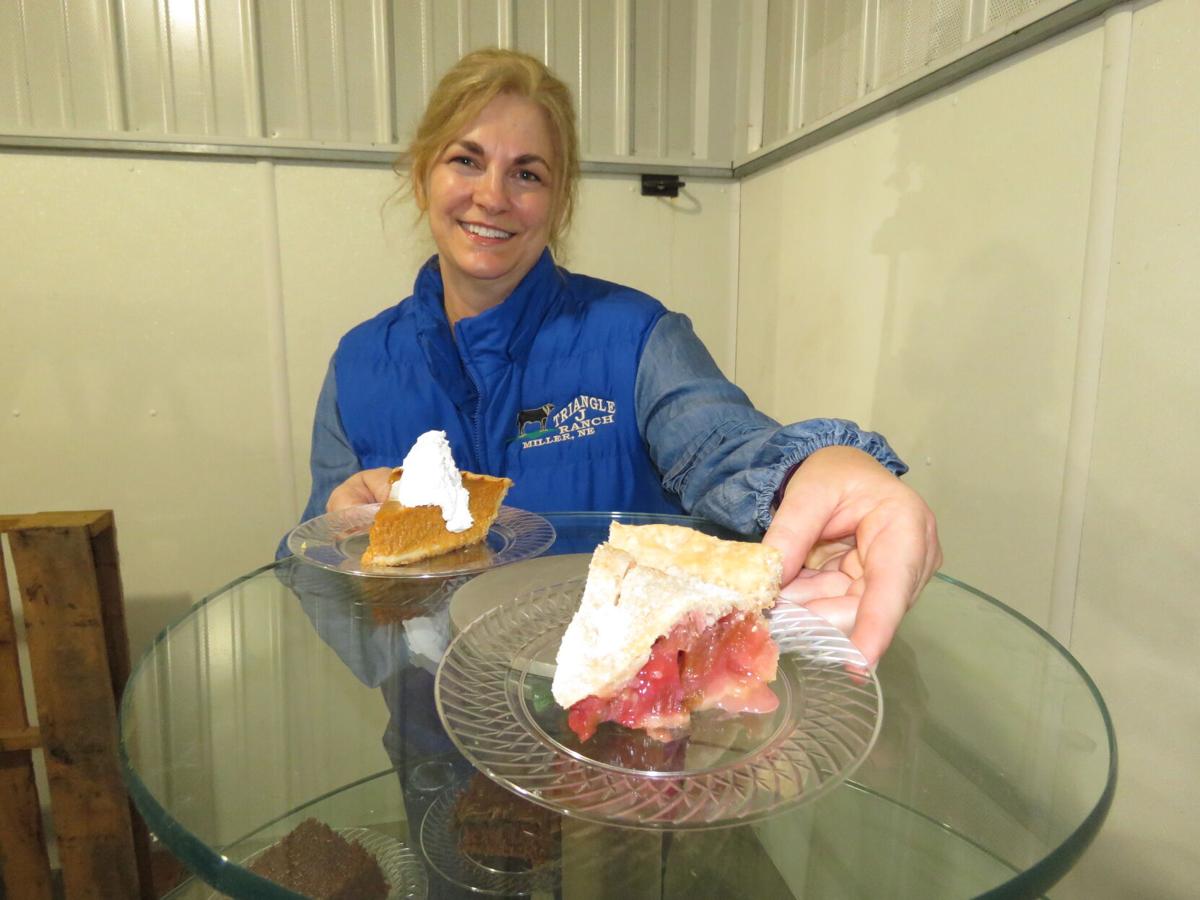 MILLER — A scrumptious Sunday dinner.
That's what Annette Line prepared on Jan. 31 for nearly 250 people.
It was a simple menu — roast beef, green beans, scalloped potatoes and irresistible cakes and pies — offered to customers at the Triangle J Ranch's annual bull sale, a 31-year tradition at the ranch on Arrow Road that is owned by Annette and her husband Darby. The event always includes free lunch.
"We offer this meal to our customers as a thank you for supporting our sale," she said.
Begin before dawn
Long before dawn, Line and other women gather in a kitchen inside the building used for the sale. This year, they prepared 150 pounds of beef, 8 gallons of green beans and three roasters of scalloped potatoes.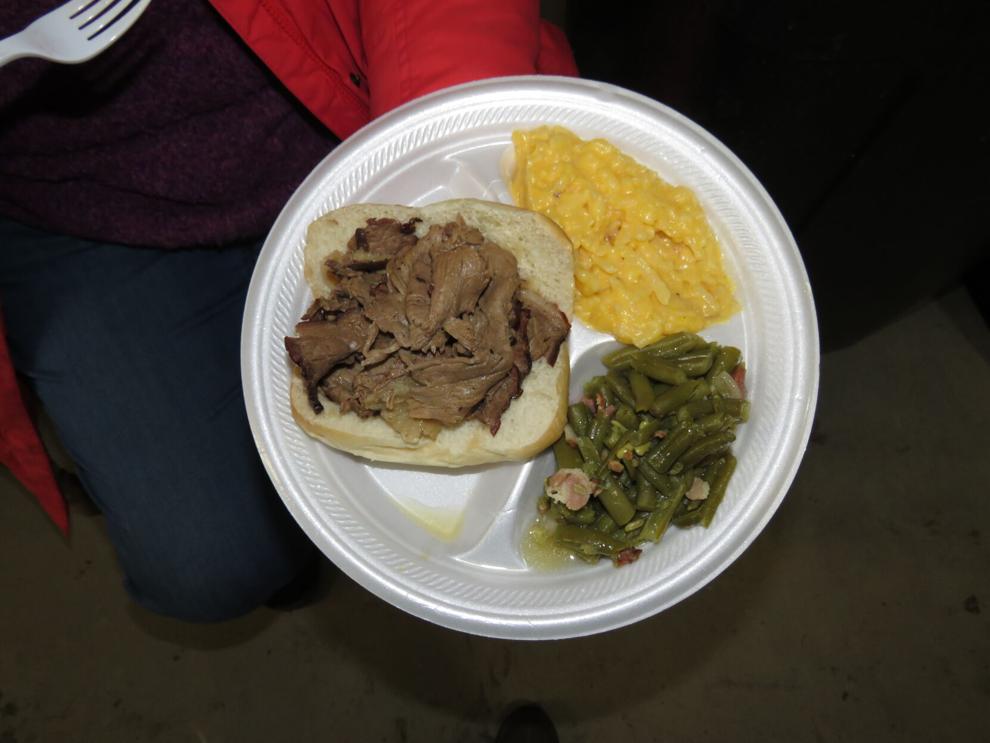 "We finish cleaning the barn at 5 a.m. and start mixing ingredients and putting food in the roasters to start cooking," Line said. They cook everything "low and slow" to prevent food from scorching. Family members own enough roaster ovens so the family can cook in bulk using different outlets in the barn kitchen.
Meanwhile, outside, at 10 a.m., the men bring the 1,200-to-1,400-pound yearling bulls up to the sale pens. Pickups begin arriving. Men, women and children in blue jeans and cowboy hats spill out of the vehicles to wander through the pens holding the bulls that are up for auction. A few people come inside to get warm and chat with friends.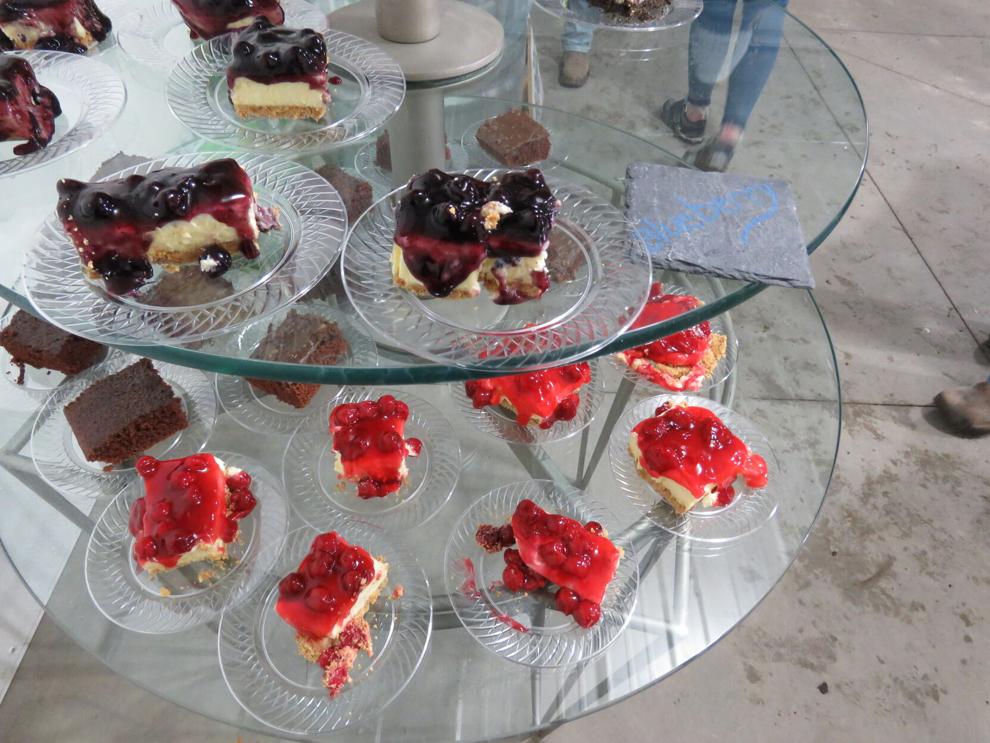 Inside, Line and her helpers keep busy. They set out scrumptious desserts ranging from pumpkin pies and cherry pies to cheesecake, brownies and home-baked chocolate chip cookies.
Come and get it
Around 11:30 a.m., the Lines start serving lunch. Customers walk past a table as people load their paper plates. This year's servers included Dan Sleicher of Kearney; Melissa Mixan of Glenwood, Iowa; and Jodi Eckhout of Miller. Eckhout's daughter Ember, 8, helped her mother. All are extended family members.
Disposable knives and forks wait in a basket nearby. Hot coffee and bottled water is available, too. People eat wherever they can find space, from a single long table in the back of the portable bleachers set up for the auction to a folding chair or two. Others eat standing up.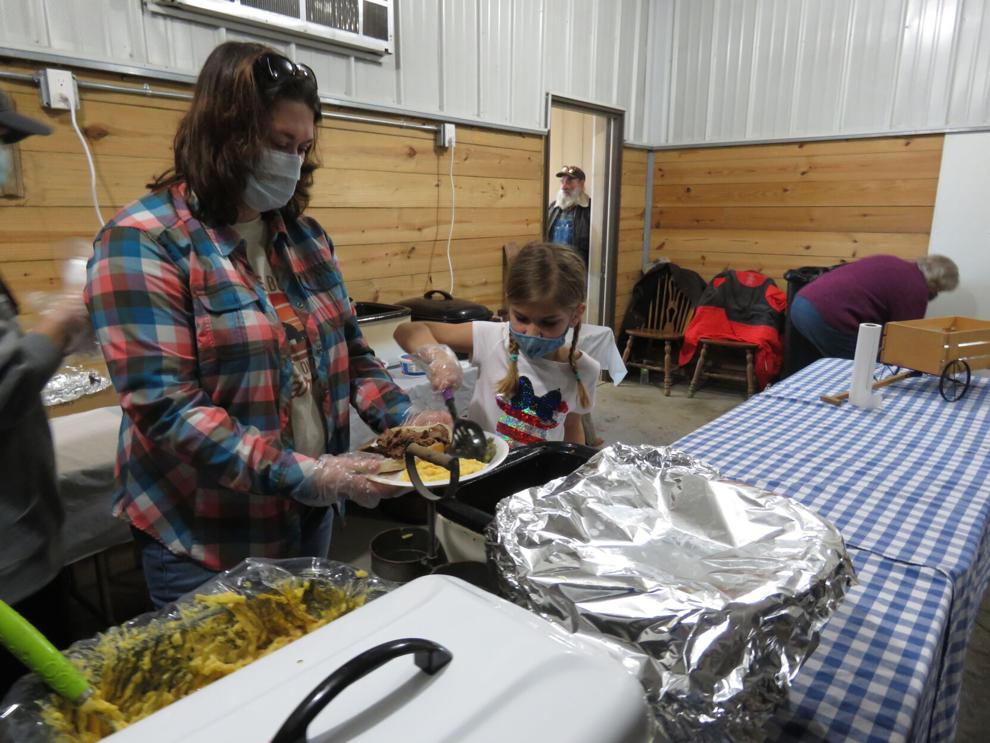 By now, Line is at the kitchen sink "since I know where everything is and I can 'leave my station' to help as needed elsewhere on sale day," she said.
People finish eating before the sale begins at 1 p.m., but desserts remain out all afternoon.
Snacks and desserts are part of the menu, too. Annette's father, Jim Eckhout, refurbished an old popcorn maker that had been used in a movie theater. After he pops several batches, the women put it in small bags and set it out.
The Lines manage to squeeze weekend Mass into the schedule, too, at 5 p.m. Saturday or 8 a.m. Sunday. "We are blessed to be able to attend church services over the weekend, then enjoy gathering with family and friends to visit about cattle and share a meal," she said.
Years ago, when the crowd numbered from 50 to 100 people at their twice-a-year auctions, the Lines roasted the beef themselves, but these days they purchase it from several small markets and bring it to the barn early Sunday morning.
"It's ready to heat and eat," Line said. "We started out serving potato salad and baked beans as side dishes, but we've settled on scalloped potatoes and green beans for the past several years."
The desserts come courtesy of Line's mother-in-law Dixie Line, who is in charge of the baking. Her recipes include cream and fruit pies, cheesecakes and cinnamon rolls. Many are made ahead of the event and frozen.
"When Dixie's mother Viola Hoos was alive, the two women baked everything," Line said. "Now we need a little help baking from family and friends. Dixie knows what her family and our hired help like to eat and she caters her baking to them. It turns out that our customers have similar tastes."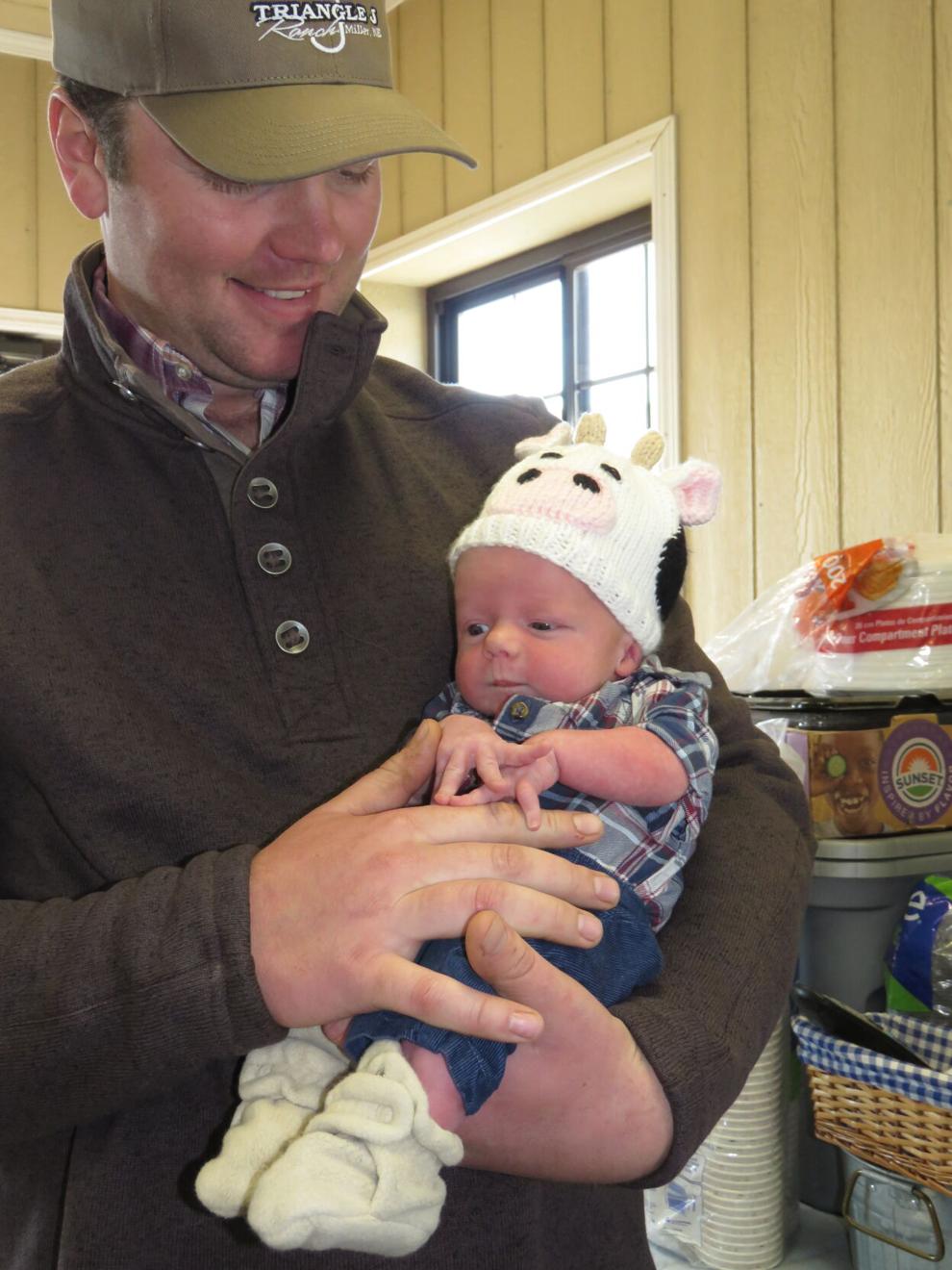 Voukan's Cafe
Line has been helping with food since childhood. Her parents, Jim and Barb Vokoun Eckhout, lived on a farm north of Amherst, about 8 miles from where she and husband Darby now live. Line's grandparents, Fred and Sylvia Vokoun, owned Vokoun's Cafe in Pleasanton.
"I loved 'helping.' At least I thought I was helping Grandma cook and serve meals and Grandpa stock shelves and coolers. They retired when I started high school," Line said
She also enjoyed helping her grandmother Mary Eckhout prepare Sunday meals for their extended family after church in Amherst. "Grandma Hoos taught me how to make her cinnamon rolls, but I need a lesson from Dixie on how to make cream pies," Line said.
When the sale began in 1990, meals were served in Darby's parents' garage, which sat about 25 yards from the modern sale barn. In 1995, they moved meal preparation to the auction barn and served from one corner of the barn. When they added a kitchen and a bathroom, they also added a separate room where food is now served.
Since 2015, the Line family has held a heifer sale the first Saturday in November. Line cooks for that event, too, but the crowd is only about half as big as the bull sale, so it's a smaller operation.
"Our grandparents, parents, siblings and friends have been so supportive to us over the years, especially on sale day," she said. "We are beyond thankful for everything they do to help this whole process go smoothly, from cleaning to cooking to clerking," Annette said.
Cleaning up
As for cleanup, the women set plastic liners in the roaster ovens where scalloped potatoes are cooked. "That saves a lot of scrubbing and soaking as long as nobody gets too aggressive when they are stirring and poke a hole in the liner," she said.
Pies are baked in disposable pans, "but they are too flimsy for the rest of the desserts," Line said.
Once it's time for her to start clerking on the auction block — another responsibility on auction day — she turns the kitchen over to her family crew. "I am grateful for the way they organize the chaos," she said.
The auction ends around 4 p.m. As for leftovers, "Fortunately, between family, friends, sale help, basketball team meals and youth church groups, the leftovers are devoured within a couple days," she said.
As for the cost of this meal, Line can't say. "We offer this meal to our customers as a thank you for supporting our sale, so I don't budget too closely. I've never really figured a cost per meal," she said.
"Our grandparents have all passed away, but I remember a lot of what they taught me. I feel fortunate to have grown up with such hard working, caring role models," she added.