SMITHFIELD — There were smiles and laughter Sept. 17 at the Schwarz farm southeast of Smithfield as the family — Tom, Linda and their children Becky and Alex — harvested half of their first crop as state-licensed commercial hemp growers.
The hemp was cut from an outside plot of 800 plants. Leaves and buds were removed from the stems, and placed in mesh bags and on shelves in a small shed for drying, with the help of a dehumidifier and two fans.
There was excitement even before the first hemp plant was cut.
To be legally harvested in Nebraska, hemp cannot have a level of THC — the most common psychoactive component of cannabis that is found in marijuana — higher than 0.3%.
Linda checked a phone message revealing the Sept. 16 results of required pre-harvest tests from hemp samples collected Sept. 9 by the Nebraska Department of Agriculture. The THC range in their crop was .000% to .048%.
The Nebraska State Hemp Plan indicates the state Department of Agriculture will require all hemp testing above that limit to be destroyed and disposed of in accordance with the federal Controlled Substances Act and Drug Enforcement Administration regulations.
The state also requires harvest to be completed within 15 days of sampling for THC. So by today, the Schwarz family finished harvesting their remaining 300 plants in large pots and 800 more in small pots in a greenhouse.
Two cannabinoids were the focus of hemp harvest. Half of the crop has genetics for CBD and half for CBG.
The plan is for the CBD oil to go to the Pacha Soap Company in Hastings, which makes soaps, lotions and bath products.
Alex said a marketing decision still is being made for the CBG oil.
"It's the most difficult to get, so we probably won't have any trouble getting rid of it," Tom added.
Also to be determined on the first harvest day was where and how all of the dried hemp will be processed. Options range from distilling to using a screw press.
Alex explained that the press method gets a "broad spectrum of natural stuff," not just 100% CBD. It's easier and cheaper, but the end product isn't as valuable.
Allan Jenkins, a University of Nebraska at Kearney economics professor who is licensed to process hemp and is working with the Schwarz family, said processing options also include steeping the plants in palm or coconut oil to make lotion or sending them to a Colorado processor.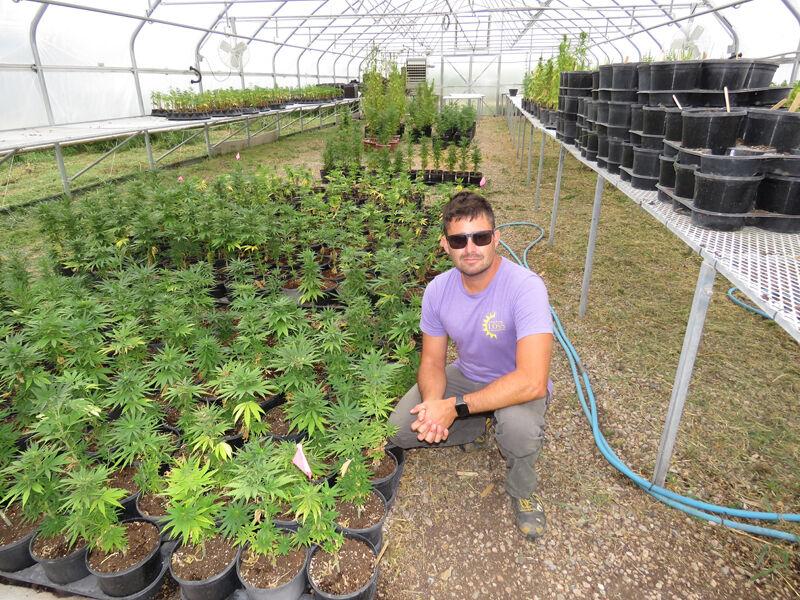 Getting started
The Schwarz family's advantages over some other commercial hemp license holders are greenhouses and experience as organic farmers. They already know about producing crops that require lots of recordkeeping and other paperwork, and could test inside and outside hemp production this year.
Their other 2020 farm crops are corn, soybeans, field peas, barley, wheat, oats, white corn, alfalfa and greenhouse vegetables mostly for their own use. Tom said it's all certified organic production except one 160-acre alfalfa field in transition to organic.
"Since I finished LEAD (a Nebraska ag leadership program completed by all four family members) people have asked me what I'd like to grow," Alex said, "and I said medical marijuana."
While that isn't legal in Nebraska, they have one of the first licenses to legally grow hemp.
Although potential medical applications for CBD, CBG and other cannabinoids still are being researched, Alex said, "it's a really neat growth market and it's going to be at the forefront of a growth industry in the state."
The U.S. Department of Agriculture approved Nebraska's commercial hemp plan on Jan. 27, 2020, and the state ag department began accepting growers license applications Feb. 3.
Alex said his mom submitted the family's application within three days.
Applying early helped them meet the requirement for background checks before COVID-19 made that increasingly difficult. Tom said they drove to Denver to complete that step at a regional FBI office.
Learning curve
"Alex had a different job and we said we couldn't do it without him," Linda said about the family's decision to grow hemp. She added that there's a learning curve when planting any new crop.
While hosting an Aug. 11 tour for a Tri-Basin Natural Resources District group, Tom said, "We're starting from zero ... everything we're doing here this year is experimentation."
Because of what they've learned in 2020, he said they might do some things similar next year, but nothing exactly the same.
Alex said one change will be to plant in early April instead of early June because they have the greenhouse available to start in colder weather. "The (2020) plants are a lot smaller than recommended," he noted.
Most of their hemp seeds are from California, where they are developed for THC levels below 0.3% and to produce the desired cannabinoids.
Even though an earlier growing season test of the Schwarz plants had THC too low to register in some cases, the actual harvest time test results were a relief. Alex had said in August that THC tends to increase as hemp plants mature.
The first hemp production lesson came at planting time. Alex said that when they tried using a corn planter, they learned the tiny hemp seeds needed a clay coating to create seed pellets.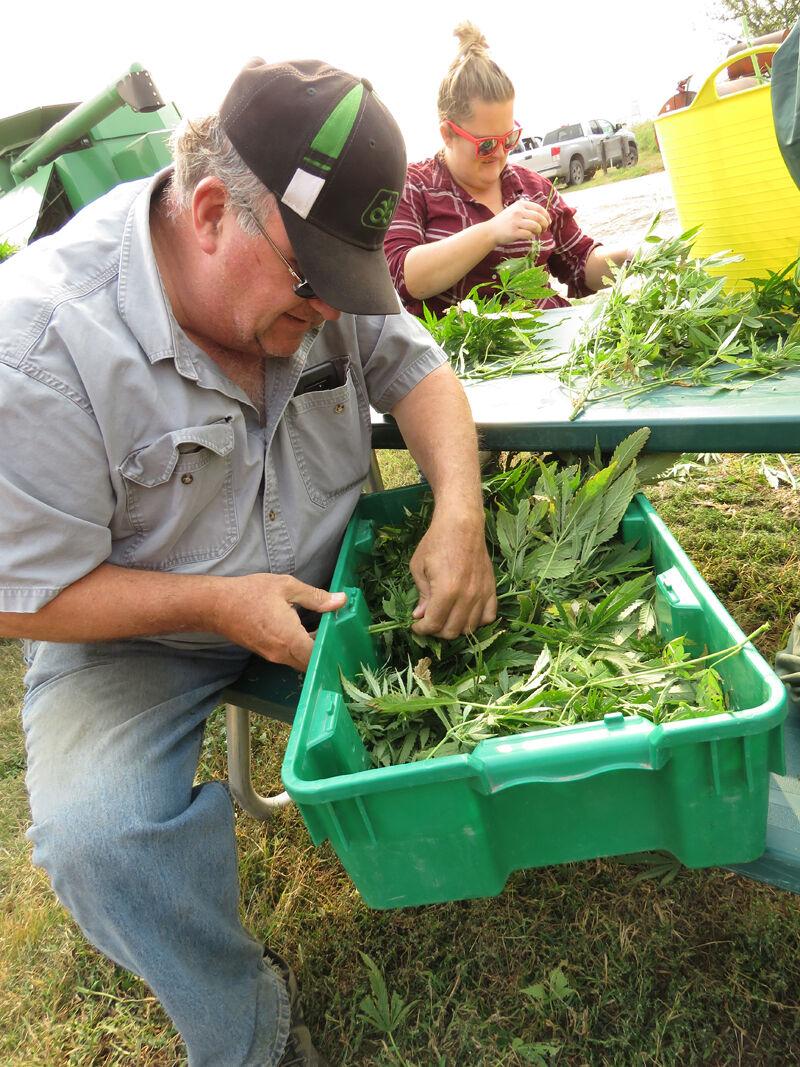 So they planted, weeded, applied fertilizer — chicken litter purchased from Joey Robinson of Bertrand — and harvested by hand. Tom added that hemp doesn't like a lot of water, so it needs to be rationed.
Alex said a concern during growing season was a hemp borer, and they also had to watch for mold and aphids. "It has to be as clean as possible," he said.
Any pest treatments must fit the family's organic production requirements, such as releasing lady bugs or praying mantises for aphid control.
Alex said another challenge is protecting hemp plants bred for CBD and CBG production from being cross-pollinated by all the feral hemp in Nebraska.
Looking ahead
Alex smiled when saying his dad often reminds him that the goal of the family's hemp business is to make money. However, that may be difficult this first year because of a small crop and all the man-hours involved.
"Right now we're doing big gardens," Tom said, noting that profits will come if they can plant and harvest with machines, and increase production to 5 or 10 acres or more.
He hopes hemp will be a good fit in crop rotations some day. "It does wonderful things for the soil. If we get this up to field level of 20 to 30 acres, maybe we could go into a rotation," Tom said.
After harvesting the rest of their crops, family members will make decisions for 2021 about hemp varieties to plant, machinery and, maybe, more greenhouse space.
"Nebraska should have been the leader in industrial hemp for the nation," Tom told the NRD tour group last month. "We have the perfect conditions. That's why it grows well in the pastures."
"The future of hemp is bigger than anything I've ever seen," he continued. "Of all the crops we've grown here, this has the most potential ... things we haven't even thought of.
"I hope I can live long enough to see where this goes."