KEARNEY — To Stetson Hamilton, Seth VanHorn is a hero.
VanHorn, a community service officer with the Kearney Police Department, simply says he was doing his job.
Last fall, Hamilton and his father Ray were in a serious crash near 25th Street and Second Avenue. VanHorn was the first emergency responder to check on the Hamiltons.
On Wednesday, the Hamiltons met VanHorn at Callaway Public Schools where Stetson, who has autism, is a junior with special needs.
"Stetson was top dog and was happy as a clam," Ray Hamilton said of VanHorn's visit.
In October, Stetson and Ray were involved in a six-vehicle crash that spanned nearly a two-block area. The Hamiltons' car was broadsided by a semitrailer on the front passenger's side where Stetson sat.
The door was jammed shut when VanHorn arrived, and Stetson was pinned between the front door and the center console. When VanHorn reached inside the car to check on Stetson, he didn't have a pulse and was unresponsive. Ray sat unconscious in the driver's seat.
Through the window VanHorn began chest compressions on Stetson until paramedics arrived. Moments later the Kearney Volunteer Fire Department and VanHorn worked to extricate the Hamiltons. Stetson suffered a broken pelvis and ribs and a collapsed lung, while Ray had a brain bleed and broken ribs.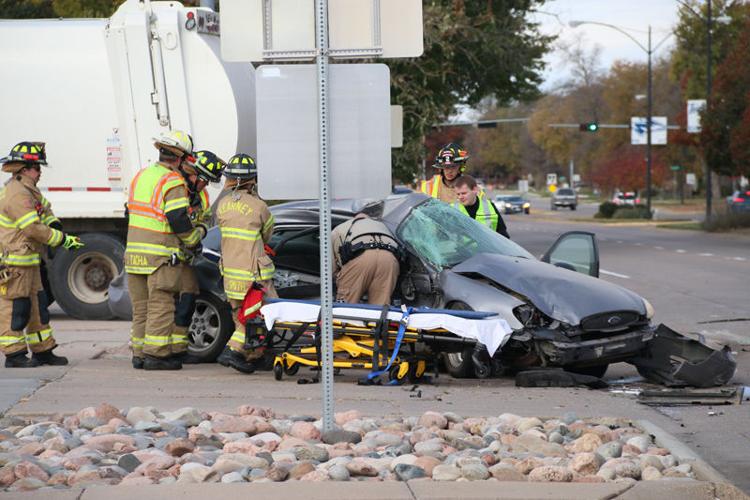 Ray was hospitalized in Kearney for 10 days, while Stetson was stabilized and taken to the University of Nebraska Medical Center at Omaha. Later, they both were transported to Madonna Rehabilitation Hospital in Lincoln.
After two weeks of recuperating Ray and Stetson returned home where Ray says they've both fully recovered.
Ray doesn't remember the crash, other than he knows Walgreens was on his list of places to go that day. He thanked VanHorn for his quick response to the scene and for saving Stetson's life.
"I would've lost my mind if I would've lost Stetson," said Ray, who works as a ranch hand near Callaway.
Stetson proudly took VanHorn around the Callaway school introducing him to teachers and classes on Wednesday. VanHorn gave Stetson a KPD arm patch and other police memorabilia. In exchange Stetson gave VanHorn a hand-written card saying VanHorn was his hero.
For VanHorn, meeting Stetson was closure.
"You don't always have a success story out of accidents that serious," he said. "It's something you carry with you for a year; hoping that he was OK, until you actually see that he is OK.
"He honestly cried when I left."
In November, VanHorn received the American Heart Association's Heartsaver Hero award for his efforts. It's given to someone who saves a life using CPR. VanHorn has had CPR and AED certification since 2002, and like all other emergency responders, must recertify every two years. VanHorn was also given KPD Chief Bryan Waugh's first Chief's Coin for his efforts.
Anyone interested in learning CPR may log on to the American Heart Association website at cpr.heart.org to find an upcoming class.
Get local news delivered to your inbox!
Subscribe to our Daily Headlines newsletter.