Congratulations to Hanny Arram Center freshman Madalynn Hanna, named the Star Student of the Month by Eaton of Kearney!
Madalynn was nominated by teacher, Stacie Pearson.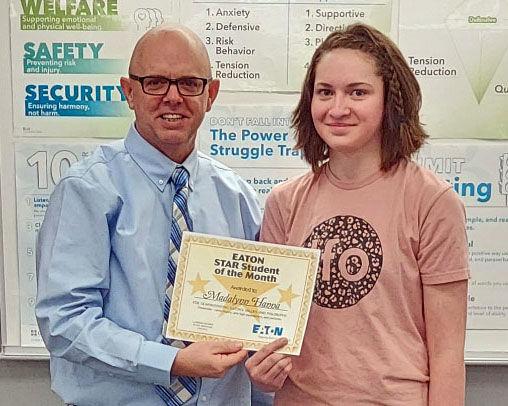 Mrs. Pearson recognized Madalynn for her passion, and that she "cares deeply, sets high expectations, and performs." Mrs. Pearson went on to say "Madalynn represents what learning and succeeding at the Hanny Arram Center for Success is all about. She has been a true leader at our school. Madalynn has embraced the academic and social-emotional growth opportunities available at our school and has gone above and beyond to reach her potential. Her intelligence and capability to succeed is evident daily through her work. Her commitment to her education is amazing, however she also finds many opportunities to show kindness to her classmates throughout the day. When Madalynn's school day is over, she helps at her mother's daycare where she is able to share her gifts with many young children. Madalynn is a young lady who is making a difference in our school and community."
Each month during the school year, the Eaton team recognizes one area student and rewards them with a $100 prize package. Nominations for the award are open to the public and can be made online at kearneyhub.com/starstudent.