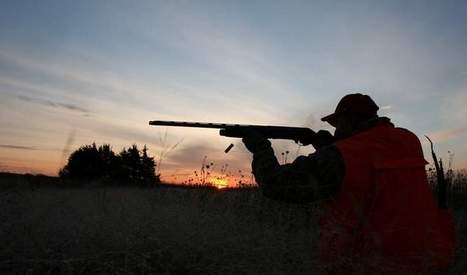 Nebraskans have hunted, fished and trapped since frontier territorial days.
Hunting and fishing are part of the state's legacy of conservation and stewardship of the natural heritage. And they are big business. Hunters and anglers spent $709.1 million on trips, equipment and other related expenditures in Nebraska last year.
Now voters will be asked on Election Day whether to enshrine a right "to hunt, to fish and to harvest wildlife'' in the Nebraska Constitution.
Amendment 2 also would make public hunting, fishing and harvesting of wildlife a "preferred means'' of managing and controlling wildlife.
The proposal would allow the Nebraska Game and Parks Commission to continue regulating the activities as the agency does now. It also makes clear that the right to hunt, fish and trap would not trump private property rights or laws governing water use.
State Sen. Pete Pirsch of Omaha proposed the constitutional amendment, which state lawmakers voted in March to put on the ballot. Pirsch said it was needed to counter potential threats from national animal rights groups.
Such groups helped ban the use of bait and dogs in the hunting of bears, cougars and bobcats in Colorado in 1992 and the hunting of mourning doves in Michigan in 2006. They also scored a temporary victory against New Jersey's black bear season in 2007.
Omaha Sen. Brenda Council, who spoke against the bill in the Legislature and continues to oppose the amendment, said the amendment would trivialize the constitution.
"It is absolutely unnecessary,'' she said. "Hunting and fishing are not threatened in Nebraska."
Nor are the activities ever likely to come into the sights of future state senators, she said.
"I can't imagine any composition of the Legislature that would support any type of limit to hunting, fishing and trapping,'' she said.
Pirsch said it's not overkill to constitutionally protect hunting and fishing for future generations. He said it's important to protect the activities from potential assaults by "deep-pocketed, fringe activist groups."
Although he knows of no pending challenge to hunting and fishing in Nebraska, Pirsch noted that the Humane Society of the United States has a Nebraska office.
"Time will tell," he said. "I can't predict strategy for the other side.''
Pirsch need not worry, said Jocelyn Nickerson of Omaha, state director of the Humane Society of the United States. The organization has not taken a position on the amendment, she said.
The Humane Society of the United States is a national nonprofit group that is not connected with local animal shelters in Nebraska.
The organization has launched initiatives on farm animal welfare and succeeded in outlawing tight-confinement practices for pregnant sows, veal calves and laying hens in at least a half-dozen states — but has repeatedly said it doesn't intend to mount a petition drive in Nebraska.
The organization, however, has played a role in more than 25 successful ballot measures involving a range of animal issues — puppy mills, cock fighting, farm animal confinement and hunting — in other states since 1990.
During the committee hearing on the right-to-hunt bill last year, several speakers touted the amendment as important to block potential efforts by organizations such as the Humane Society to erode livestock production in Nebraska.
Council wouldn't bite then and still snubs the bait.
"If that's the case, then have a constitutional amendment to protect the rights of livestock producers," she said.
During debate on an early version of the bill, Lincoln Sen. Amanda McGill proposed — then withdrew — a playful amendment protecting rights as varied as farming, ranching, napping and watching Husker football. She said Pirsch's bill wasn't necessary because Nebraskans would never approve infringements on hunting and fishing.
Pro-hunting and fishing initiatives have popped up in several state legislatures in recent years.
Thirteen states guarantee the right to hunt and fish in their constitutions. A ballot measure in Arizona was rejected in 2010 with help from the Humane Society of the United States, which characterized the proposition as taking away the right to vote on wildlife issues and a giveaway to special interests that defend extreme and inhumane practices.
Jeremy Rine of the Ohio-based U.S. Sportsmen's Alliance said many of the constitutional amendments are defensive maneuvers to outflank potential assaults by anti-hunting groups.
Rine said some organizations have the ability to unload big bucks in rhetorical and emotional campaigns intended to "sway voters in ways not based on managing wildlife with the best science-based information but pushing an anti-hunting agenda.''
The great majority of Americans recognize the value of hunting and fishing and support the activities as the best way to manage wildlife populations, said Tom Franklin of the Theodore Roosevelt Conservation Partnership.
"To clarify in the constitution that hunting, fishing and trapping are values that need to be retained is a pretty strong way to make that statement,'' he said. "We want to sustain healthy populations of these animals, but they always must have a healthy fear of people, or we'll have human-animal conflicts."
Jeff Rawlinson, outdoor education manager for the Nebraska Game and Parks Commission, said hunting and fishing are time-honored activities that tie Nebraskans to the land. Wildlife conservation relies on hunters, trappers and anglers to fund refuges and other preservation activities through the fees they pay when buying permits and gear.
Nebraska is one of four states where voters will consider protecting hunting and fishing rights in their constitutions in November. The others are Idaho, Kentucky and Wyoming.
Eight states — Hawaii, Michigan, Missouri, Mississippi, New Jersey, New Mexico, New York and Pennsylvania — considered similar legislation this year to amend their constitutions but were unsuccessful, according to the National Council of State Legislatures.
No organized efforts have emerged yet either for or against the amendment, but it has the support of the Nebraska chapters of the American Fisheries Society, the Izaak Walton League, Ducks Unlimited, the Nebraska Council of Sportsmen's Club, the Nebraska Farm Bureau Federation, the Nebraska Firearms Owners Association, the Nebraska Game and Parks Commission, the Nebraska League of Conservation Voters, the Nebraska Sportsmen's Foundation and the Nebraska Wildlife Federation.
---
Proposed Amendment 2 | Hunting and fishing
A vote FOR this constitutional amendment would set forth a constitutional right to hunt, to fish, and to harvest wildlife and would designate public hunting, fishing, and harvesting of wildlife as a preferred means of managing and controlling wildlife. The right set forth by this constitutional amendment would be subject to certain laws, rules, and regulations, and this constitutional amendment would not be construed to modify current laws relating to trespass or property right laws or constitutional provisions pertaining to water.