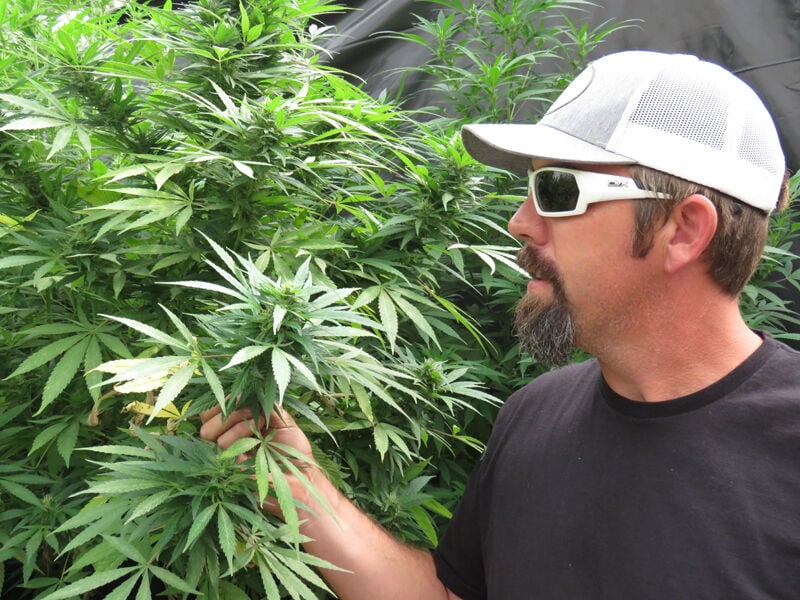 PLEASANTON — Cruise Farms southeast of Pleasanton has grown traditional and not-so-traditional crops for 150 years.
"We love growing," fourth-generation farmer Rory Cruise said. "We've been farmers our whole lives."
That explains the 3,300 acres of corn and soybeans he and his dad, Ron, grow in area fields, but maybe not the large Sprout House greenhouse where herbs are grown for transport to more than 300 Walmart Supercenters in 13 states.
Or the 16,000-square-foot building constructed across the road, near the intersection of Sweetwater and 280th roads, that soon will process CBD from hemp.
Cruise said the day-to-day managers of the herb business are his two sisters and brother-in-law, Amanda Albers, and Megan and Brett Mayo. There are 18-20 employees, plus Sprout House Trucking to make store deliveries.
"We're one of the first companies to sell in the produce section (at Walmarts), not in the gardening section, year-round," Cruise said about sales of fresh herbs and potted plants. "COVID has actually boosted Sprout House" because of more home cooking.
This is the first year Nebraska has licensed hemp growing and processing. Cruise's Sweetwater Hemp Company is one of the few businesses licensed for both.
All of his 900 plants are the "Stormy Daniels" hybrid and grown in the Sprout House greenhouse.
"I wanted to do research and development ... to learn all about how the plant grows, so I can help the farmers who grow it" for the company's processing plant, Cruise said.
His first hemp seeds were planted on May 15 and the small plants were put into bigger pots in mid-June.
Cruise said he can adjust light and other factors in the greenhouse, which could allow future hemp growing year-round.
Another reason to grow hemp inside is to avoid cross-pollination by wild hemp.
"The hardest thing about growing CBD in Nebraska is the feral hemp ... It's everywhere. It can actually pollinate up to 10 miles away," Cruise said.
"This is CBD I have in here (the greenhouse) right now, so we will be going after the CBD oil," he said, adding that he may plant hemp next year to produce another cannabinoid, CBG.
To harvest and process hemp, its levels of THC — the psychoactive component of cannabis — must be below 0.3% when pre-harvest samples are collected by the Nebraska Department of Agriculture and tested. If a crop meets that standard, harvest must be completed within 15 days after the samples were taken.
The Nebraska State Hemp Plan says NDA will require all hemp testing above that limit to be destroyed and disposed of in accordance with the federal Controlled Substances Act and Drug Enforcement Administration regulations.
The timing is a balancing act because both THC and CBD increase as the crop matures, Cruise explained. Harvesting too early means a lower CBD percentage, but harvesting too late runs the risk of going over the THC limit.
He said his harvest is expected 30-45 days after plants began to flower, depending on the genetics, and he saw the first flowers in mid-August. So harvest probably will start by Oct. 1.
The processed CBD oil will be sold to wholesalers and also used in Sweetwater Hemp Company retail products sold from the plant and online.
"Customers can come here to a store shelf," Cruise said. "We have our own website, so we will be able to sell online right out of the building."
Products will include tinctures, creams, salves, cosmetics and food products. The labels and marketing must follow Food and Drug Administration labeling rules, even though they aren't FDA approved.
"You can't say it's for a specific ailment ... You can't say it's going to heal," Cruise said.
He hopes his family's Walmart ties will lead to doing hemp-related business with the giant retailer, when FDA approves rules that would allow such sales. "It's really about them putting it (CBD) in a dietary supply category," Cruise said.
He's been studying hemp and hemp production for approximately six years.
Cruise went to a "hemp college" in Iowa and has attended many trade shows, which is how he connected with Whistler Technologies of Whistler, Canada, for the ice water processing technology to be used in the Sweetwater Hemp processing plant.
He also met other industry innovators along the way.
"I've been using CBD for about three years," Cruise said. "The tincture form, with drops under my tongue. It helps me sleep and is for pain."
Terpenes — another cannabinoid that gives flowers and herbs their aroma and flavor — help with inflammation and will be combined with CBD in the Sweetwater Hemp processing. Cruise said that will make it one of the top products in the country.
The CBD will be mixed with golden hemp seed oil or MCT, an organic coconut oil.
All Sweetwater retail products will be analyzed by the Doane University hemp-certified lab in Crete for third-party certification of ingredients on labels, Cruise said.
He expects that plant operations will require up to 10 employees. He started interviews last week.
The management team is in place. He is the chief executive officer, his sister Megan Mayo is production manager and Jessica Krzycki is digital marketing manager.
Get local news delivered to your inbox!
Subscribe to our Daily Headlines newsletter.